An important aspect of running a successful business and acquiring new consumers is to market the brand's product or services. However, spending a lot of money on marketing without receiving a considerable amount of sales will bring the business to a standby position.
Below are 6 ways that can help reduce marketing costs without endangering the business:
Begin with Unpaid Campaigns
It is advisable to start with projects or social media campaigns that are less expensive and may not directly generate sales. Google Analytics may help to determine the low-cost or the low-producing marketing schemes which can be used as a project to start with. The money that is saved can be used in other areas of the business.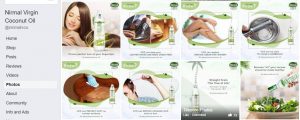 Nirmal VCO hosted a short campaign on the various unusual uses of virgin coconut oil.
Focus on Quality
A brand should utilise its budget in quality marketing efforts like digital marketing instead of investing in a number of average projects. If a brand receives more leads from online advertising then more budget should be invested in this area instead of investing in ideas that might not generate substantial leads. This will help generate more sales within a budget.
Do not follow-up with uninterested Leads
Contacting leads again and again who have fewer chances of converting into customers is a waste of time and resources. It is wiser to target potential customers who suit the 'ideal buyer persona' since there are maximum chances of them getting converted into customers.
Utilise free Social Media Tools and Features
Posting or scheduling posts on Social Media is free and a simple yet effective way to market business if done thoughtfully and strategically. A brand can share its business updates on Social Media channels like Facebook, Twitter, Linkedin or Instagram, free of cost without any paid advertising. Plenty of hashtags can be used along with the posts for increased reach, free of any kind of charges!
If a brand wishes, they can also consider sponsoring a limited number of posts in a limited budget or can also cut down on the frequency of updating sponsored posts on social media sites for social media marketing. This will help target potential customers yet keep the investment level within budget.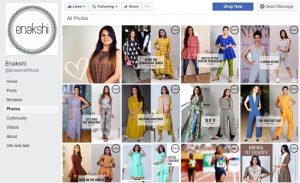 Opt for Free Publicity
A brand may choose to hire local journalists, small PR agencies or free press release websites to cover their stories, promote their products or submit press releases for SEO and to increase website traffic. Usually, if a news source has information that a brand is organising a charitable event or releasing a new product they will cover it without having the brand spend a penny.
Upload Blogs on a Regular basis
B2B marketers who blog generate 67% more leads. Blogging and sharing blogs on social media platforms like Facebook can increase traffic on a daily basis and provide readers or the audience with insights about a brand's product or its industry. This helps a brand with marketing as well as provides free and useful information to consumers. If this is done consistently, then a brand may also create guest posts for other related blogs which in turn will provide helpful information to an extended audience and help get backlinks to the brand's website.
Cutting down on budgets is not easy for businesses or brands. The requirements of a brand keep changing and fluctuating over time. The initial marketing budget need not be the permanent one. The budget cuts that have to be made while investing in a brand's marketing should be wise and prove to be beneficial for the brand.
For more ideas on how to cut down your marketing costs, leave us a message in the comments section and we will get back to you!
"Websites promote you 24/7, no employee will do that."
In today's time, a brand without a website means only one thing – losing out on great opportunities in business. However, just having a website does not mean the job is done. In a survey by HubSpot, 76% of the respondents indicated the most important element for them while visiting a website is when "the website makes it easy for me to find what I want."
Establishing easy-to-follow directions through planned website navigation will help your customers explore your site effortlessly. Here are 6 tips to make your website easier to navigate –
1. Ensure you have your headings right
"On average, 8 out of 10 people will read the headline, but only 2 out of 10 will read the rest."
The first thing that a user will notice when he/she visits your page is the heading, so you cannot afford to go wrong there. Make sure that all your headings and subheads are clear and straightforward. It is also aesthetically better to keep all headings in the same length and parallel structure. Proper headings and sub heads are also important for SEO services.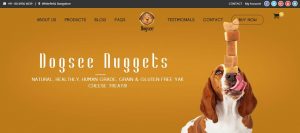 When the headings and sub heads are clear and directly address the questions that the audience come looking for in your website, it makes your site easier and more comfortable for navigation.
2. Add relevant and original images
"It has been estimated that 84% of communications will be visual by the end of 2018."
Images are a great way to make your website look more appealing, but only when chosen carefully. A big mistake in this regard is to use stock photos for your website. Though it is easy and a cheaper option to use stock photos and may also look professional, it is often perceived to be impersonal, uninteresting and unrelatable by the audience.
The human brain is known to identify images in almost 100 milliseconds. Therefore, selecting images that are an ideal reflection of your brand's product or services can be a great opportunity to attract the audience even if they do not read a single word on the website.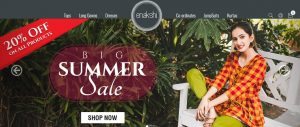 3. Pay attention to your content format
If the content on your website looks dull or monotonous, people are more likely to skip the page without reading anything. Just like the style and tone is important in writing, so is the formatting and visual appeal.
Instead of publishing your content in long paragraphs, break it up into sub heads, shorter paragraphs and bullet points.
"70% of people look at lists with bullet points while 55% look at lists without bullet points."
Different content formats, even on the same webpage enhance the visual texture and will help grab the attention of the audience.
4. Make your website interactive
An interactive site is most likely to make users browse your website for a longer time and encourage them to keep coming back. There are different ways to do that – one can be to make the text and images interactive when an user hovers the mouse over it or maybe detailed text information over a certain product or service.
Other creative options for an interactive website include embedding polls and quizzes on the website.
5. Your site should be mobile optimized
"67% of shoppers are more likely to buy from a website that is compatible with mobile devices."
The algorithm update by Google in 2018 focuses on mobile-first index. This means that the search engine will primarily look at mobile content for search engine ranking. Hence, if you want your business to stay on top of the search results and people to keep coming back to your page, your website should be easily viewable and readable on all compatible mobile devices.
A mobile-friendly website also has other advantages like improved user experience, search visibility, brand identity and even lead generation.
6. Make your 404s interesting
A 404 error can have a negative effect on your website, driving users away. However, there will be times when this issue can crop up, so the best thing you can do is be prepared for it.
Keep checking your page from time to time so that you find the errors before your users find it. Apart from that, instead of keeping your error pages general, customize them to make it friendly and attractive (and humorous, if you wish). Another great way to keep your page audience entertained instead of being annoyed is by integrating some kind of games in the 404 error pages.
Remember that a good website design and experience is not only about having useful and genuine information, but also presenting it in an organized and appealing way. It is important to keep a tab on your website and make improvements from time to time for better user experience. To know more about how to make navigation easy on your website, leave us a message and we'll get back to you soon!
"58.6% online shoppers abandon a cart during checkout because of a long and complicated checkout process."
A majority of ecommerce businesses take special care to optimize the homepage and front end of their website, with beautiful designs and interactive user experiences. However, they often overlook the importance of optimizing the checkout page. For an online store, the checkout surpasses every other page of the website in terms of importance and to increase ecommerce sales.
Studies say that 7 out of 10 shopping carts are abandoned. However, there are multiple ways to improve the checkout experience of your customers and reduce cart abandonment –
1. Provide the option of guest checkout
"25.6% of online consumers will abandon your cart if you force them to register first."
When a customer wants to purchase a product from your ecommerce store, after making the selection, they would always want the process to be simple, secure and fast. In such a situation, forcing the customer to register by making a new account can prove to be a hindrance. In fact, studies have proved that this is one of the primary reasons of cart abandonment.
As a business owner, you would definitely want to get customer information for further notifications and offers, but the best practice would be not to force them into it. Keep both the options of registering and guest checkout for customers. You can keep the option of saving the details and creating an account after the checkout process. As an incentive, you can provide a special offer for registering to encourage customers to create an account.
2. Keep a minimalistic checkout page
As your customer reaches the checkout page, it is important to keep them there to complete the whole process. Any unnecessary information on this page can distract customers from doing what they intended to. Avoid keeping social media icons, testimonials and promotional offers on that page.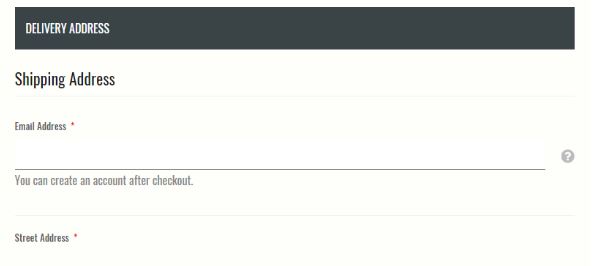 The steps should be few and the process should be fast so that customers reach the order confirmation page as quickly as possible. Also, single checkout pages work better compared to multiple ones.
3. Design well for easy form filling
If the web form looks boring and difficult, it can discourage the customers from completing the entire process. Mark cleanly and clearly every required field with asterisks and pay attention to the field size and alignment. Using drop down menus is also a smarter and more user-friendly option.
Clicking, instead of typing has always been preferable in the checkout process. This is specially feasible when a customer is making the purchase from a mobile device. It makes the work much lesser, easier and more engaging.
4. All costs should be made clear beforehand
Not all surprises are pleasant. A customer would not like to go through an entire checkout process and then find some added delivery or shipping charges added to their bill. A lot of users can also leave the page without completing the process and keeping the purchase incomplete – and forming a negative opinion about your site.
Inform your customers as soon as you can about all the charges that are applicable, including shipping costs, delivery charges and taxes. You can keep the option of keeping the pincode right at the beginning so that the delivery charges can be calculated beforehand.
5. Assure customers of a secured payment system
Show all security credentials to customers when asking for their card details to assure them that it is safe to make the purchase. Use padlocks and https wherever applicable and provide security information and encryption about the databases where you are storing their information. It will reassure customers to go ahead with the purchase without any security concerns.  SSL certificates can authenticate the security of data during checkout.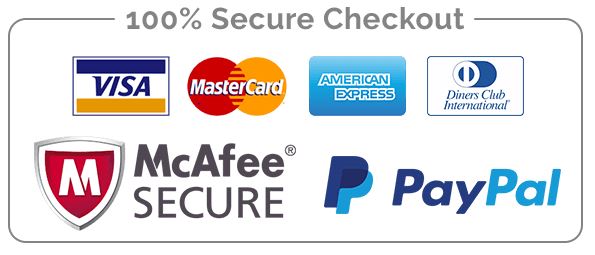 Ensure that there is multi-layered security on your e-commerce platform. Monitor every transaction and keep a lookout for any suspicious activity.
6. Provide phone/chat support
"44% of online customers say that having their questions answered by a live person during an online purchase is one of the most important features of an ecommerce website."
In case there is a problem during the checkout process, it needs to be addressed immediately, or else you may lose a customer. In this situation, sending an automated mail saying that it will be looked into in the next 48 hours may not help, especially if your competitors provide real time support.
The checkout page is indeed the most important page of your ecommerce store. A very minor error or distraction can impact your business in a great way. That is why it is all the more important to identify every problem and keep your page optimized. To know more about how to improve user experience on your page, leave us a message and we'll get back to you.
ICO or Initial Coin Offering is a fundraising mechanism where blockchain startups issue their individual tokens known as crypto tokens and sell them in exchange for ether and bitcoin. Although the concept of ICO is relatively new and has been in the limelight since 2013, the record-breaking year for it has been 2017.
Someway similar to Initial Public Offering (IPO), where investors purchase shares in a company, investing in an ICO has the following advantages –
More opportunities for upcoming projects

No unnecessary paperwork required

Provides an extra incentive to be more innovative

Opportunities for startups to build a loyal community

Investors can get early access to valuable tokens
There are mainly two main reasons why investors buy tokens  – one is to sell it later at a higher price and the other is to use it for benefits like profit share, discounted fees or premium offers. Before purchasing any token, investors look at the competition and the team who is running the project. Therefore, it is very important to market your ICO well to capture the attention of maximum potential investors.
Keep in mind the following tips that will help you market your ICO successfully –
1. Know if you fit in
The concept of ICO is new and also probably exciting, but it does not necessarily mean that it is the best fit for every company. The first thing that you should consider before thinking about ICO is whether the concept of digital tokens matches your business model. If including digital currencies does not add value to your business, then there is no point in implementing it.
2. Follow the rules
With cryptocurrency becoming more mainstream, it is becoming more regulated and secured. Security laws can be confusing and complicated to understand sometimes, but it is important that you have a basic knowledge about the same. Following the rules is one of the best ICO practices.  This will ensure that you are aware of what is about to happen and if your business works in compliance with the laws. For your ICO to be successful, it is important to fulfil the criteria laid down by SEC (Securities and Exchange Commission) on digital coins.
3. Identify your audience
Though progressing fast, there are still a lot of misconceptions and confusion when it comes to blockchain technology. You can expect two different types of audience when you think of launching an ICO – first people who know everything about digital coins and how it works and second – the ones who probably understand the importance of ICO but are not aware of the technicalities at all.
To market your ICO successfully, you need to address both these audiences. With crisp strategies, social media marketing and PR articles, send across your message clearly.
4. Share your story
Honesty is indeed the best policy when it comes to making your investors or the audience believe in your project. Providing valuable insights to potential investors about the goals of your company can encourage them to support you and backup your business.
"69% millennials want businesses to better facilitate customers getting involved in social issues, and many investors do the same."
5. Always keep your website updated
It is important to keep your website updated with all recent news and offerings and not only your social media. You'll be meeting a lot of people before launching an ICO and there will be a lot of things happening simultaneously. So there should be one place where all information and updates about your project are present so that investors have a clear knowledge when they are researching your company.
6. Show your data
Data and statistics are very important to build credibility for your brand. Moreover, investors who are willing to invest in your ICO will need proof to believe whether it is worth investing in your brand. Showcasing relevant data is like a concrete proof of the success and scope that your ICO is capable of. Apart from that, giving out data from time to time will also help you be in the news and gain more exposure.
Marketing an ICO successfully may not be a very easy task, but with the right preparation and understanding of the market, it can be very rewarding for your business. To know more about ICO or how it can impact your business, leave us a message and we'll get back to you soon!
"Content marketing costs 62% less than traditional marketing and generates about 3 times as many leads."
Behind the success of every great brand, lies valuable and relevant content that could successfully connect with the audience. Content is an important pillar that supports every other aspect of a brand's digital marketing strategy.
"78% customers prefer knowing a brand via articles instead of ads." This explains the importance of creating good content. However, producing quality content is not enough, it needs to be marketed well for greater reach. Here are 7 actionable content marketing tips for 2018 –
1. Focus more on content remarketing
"Almost 96% of people leave a website without completing the action the marketer would have liked them to take."
Content remarketing is like a second chance to get what you wanted from website visitors.
Producing good quality content is great, but without content remarketing, there is a possibility that you'll not be able to reach the goal you've set. Tag the regular visitors to your site whenever new content is published, which will increase readability and shareability – and the bonus point is you can grab the attention of your existing users.
2. Emphasis on keywords is necessary
"61% marketers prioritize improving their SEO and growing their organic presence."
There has always been mixed opinions regarding SEO, with many experts advising on not to focus on keywords and only concentrate on high quality content. However, keywords are imperative to remain on top of search results and increase visibility.
Finding relevant keywords first and using them in your content will help you rank as well as market your content well.
3. Include data for authenticity
Relevant data, when used properly can add great value to a brand. It also establishes authority – and chances are the online audience will approach your content for getting all the data they need.
Your brand can also earn media mentions and your data can be used on other pages too. Backing up your content with data means more credibility and encouraging people to read your content more.
4. Keep your content original
Copying content from other popular blogs can lead to loss of brand value and affect your website ranking on search engine results. Moreover, with Google's recent algorithm update, duplicate content will greatly suffer and lose visibility.
Original content is of prime importance in order to do content marketing effectively. Even if you are using someone else's content, make sure to give credits.
5. Content should speak in your brand voice
The object of content marketing is to publicize your brand and take it to the next level. Therefore, it is very important to speak to your audience in the brand voice. An inconsistent brand voice will only create confusion among the existing audience, and also be a hindrance from getting new ones.
Ensure that everything that you conceptualize, plan, create or publish is aligned with the overall branding and strategy of the brand. A brand to look out in this regard would be Zomato.
6. Publish the best without overdoing it
Large volumes of content get posted on the Internet every single day and that may encourage you to post more. However, it can have a detrimental effect. Posting too much or irregularly can affect the engagement rate. The best option in this regard is to post only the best content, even if it is just once or twice a week. Avoid posting unnecessary content that won't serve any purpose.
Tip: Keep your status updates on social media platforms short and simple to grab attention.
"Facebook posts between 100-250 characters get about 60% more likes, comments and shares."
7. Check how your content is performing
Writing good quality content and publishing does not mean the job is done. It is equally important to evaluate how the content is performing and whether the audience is actually reading and liking it. There are numerous tools available like Google Analytics that can evaluate the performance of the content that you put up on your website.
The number of likes, mentions, comments share and re-publication indicate the kind of content liked by your social media audience, the visibility of your content, how engaging it is and if it is valued by other bloggers or experts in the same field.
Content marketing does not happen in a day, it requires patience and perseverance. However, the right approach, strategy and evaluation can yield great results. To know more about how content marketing can benefit your business, leave us a message and we'll get back to you!
Buzz marketing is a technique which focuses on word-of-mouth communication or the potential of people to speak about the activities of a brand or it's campaigns, either through conversations among themselves, critics or through large scale discussions on social media platforms or groups.
The goal of buzz marketing is not only to make people aware about a brand but also to get people talking about it. There are few principles through which buzz can be generated for brands and if brands make use of such techniques, then they can surely perform better than others.
For buzz marketing, brands need to offer people something to talk about that will generate buzz constantly and consistently. Mark Hughes, the author of the book named Buzz Marketing unlocks the key to six basic principles of Buzz Marketing which can make brands successful and get people talking about them:
1. Taboo marketing:
Taboo refers to selling what people would rather not talk about or even controversial marketing. Brands unleash topics that give people a chance to talk about, debate or argue. This definitely creates a buzz but brands need to be careful to not do this too often otherwise the impact can be negative.
Example: 'Go Daddy' recently created an ad of an Israeli fashion model, Bar Refaeli kissing an IT person. It was a controversial ad that spread like a fire and got people talking. It drove more attention and engagement than most other ads.
2. Unusual or Unique marketing
:
Here, the goal for a brand should be to create content and strategize the positioning of its product. A brand has to perform something unique and different that has not been tried by others before so that people start talking about it.
Example: Ian Klein developed a dating website called OverweightDate.com for people who were overweight and looking for a dating partner. The news about this website was spread via word of mouth, online advertisements, flyers and usage of strong keywords. But by itself, a dating site for overweight people is a topic worth talking about.
3. Remarkable marketing:
The next way to stay ahead of competition is to do things in a remarkable manner. A brand should aim to create content and marketing strategies for a product or service of extremely upgraded and high quality. People tend to talk about things that are remarkable and extraordinary.
Example: Usually most ecommerce brands provide 15-30 day "Return Policy". But Zappos, an online brand came up with a "365 day Return Policy" and provided outstanding customer service that stood out and compelled people to talk about their brand.
4. Outrageous marketing:
Creating buzz is not a difficult task. But creating buzz with the appropriate content marketing strategy relevant to the brand is a major concern to look into. So while outrageous, the content should be related to the brand in order to truly generate awareness.
Example: 'Blendtec', a brand whose product is a blender, created a series of youtube videos showing different objects like iphones, marbles, balls turning into smoothies. This turned into a talking point and also kept a strong connection with the brand since the videos indirectly showed how strong the blenders are.
5. Hilarious marketing:
Creating good quality content that spreads like wildfire and gets people talking, is not as easy as making random viral videos. These videos or articles have to be funny and engaging while maintaining a strong relation with the brand.
Example: Jeff Gordon and Pepsi Max came together to produce videos which shows Jeff Gordon taking a salesman and a journalist on a high-speed car ride. The message that Pepsi Max wants to convey is that it is a diet cola in disguise of a regular looking cola.  
Toyota, created a funny 'Swagger Wagon' video which shows children and parents rapping together inside a minivan. This video received over 10 million views and through this video Toyota Sienna portrayed that their minivans are cool and unique unlike others.
6. Secretive marketing:
Businesses can generate even more buzz by revealing or keeping secrets. Revealing a secret involves letting a few people in on your secret. One of the ways a brand can use this formula is by revealing their behind-the-scenes experience to loyal consumers, which may create some credibility for the brand. The other way is to provide a sneak-peak of an upcoming product to a select group of influential people and making them a part of the campaign. To keep a secret means to let the masses know that something new is arriving but not providing the exact details.
Example: During the initial launch of Gmail, Google had decided to send invites to few people who could download and use their Gmail app. This developed curiosity around email-services because not all people could not download the app or use it. Here, Google was successful in creating a situation where people could not wait to be invited to use the app. This feeling of restlessness made people talk about it, thereby generating more buzz and inquisitiveness.      
Apple usually provides a hint of their new launch but does not let out all its details until its launch. This creates some kind of hype, develops interest and gets people talking about it when the product is finally released.  
For a productive and powerful buzz marketing campaign that will lead to a successful digital marketing campaign, at least two or more of the above principles should be combined and instilled in a single campaign. The content should be exciting and interesting so that it can generate buzz automatically. Buzz marketing is a great tool to create awareness, build excitement, invite opinions, drive traffic and increase sales for a brand. There are also some tips on buzz marketing that should be kept in mind during a buzz marketing campaign.   
Google is known to change its algorithm almost 500-600 times every year. While it is true that most of these changes are minor, but occasionally an important algorithm update takes place that can severely affect the way brands appear in search results.
On July 24, 2018, Google Chrome started marking all non-HTTPS websites as unsafe. Keeping security as a core principle of Chrome, this update helps users recognize the sites where connection is not sure and at the same time encourages site owners to improve security.
Moving ahead from that, on August 1, 2018, a 'broad core algorithm update', also known as the Medic Update was released that significantly changed website ranking for many many brands. This overall update affected how content gets ranked on search results.
Pages that give out 'life-affecting advice' are known to have been the most impacted by this update.
"Some types of pages could potentially impact the future happiness, health, financial stability, or safety of users. We call such pages 'Your Money or Your Life' pages, or YMYL."
Below are some of the aftereffects of the core algorithm update by Google in 2018 –
1. Most relevant content will be benefitted
Google's update this time, was not focused on penalising spammy content or websites with low quality. Instead, it aimed at boosting relevant content and improving organic search results. In other words, if the content you provide is more relevant for a certain search query, Google would rank it above pages that are not completely related to that query.
For brands to now perform well, content must be of good quality, more targeted and highly specific in order to outrank generalized content and be on top of search results.
"…changes to our systems are benefiting pages that were previously under-rewarded." – Google
Interestingly, analysis revealed that pages that did not have visibility previously started appearing on the first page of search results after this algorithm update.
2. Duplicate content will suffer
Websites that have copied content from other sites or have near duplicate content have lost rankings after the update. Taking into consideration the virality of fake news in present times, Google has decided to pay more attention to factual content. Sites like Daily Express and BuzzFeed witnessed a drop in organic search visibility by 20% and 30% respectively.
Brands that rewrite content from other sites have also lost visibility in search engine results. Original content is now the ruler and that is the only way to find a place in the top search results.
3. Lost rankings cannot be fixed
"There's no "fix" for pages that may perform less well other than to remain focused on building great content. Over time, it may be that your content may rise relative to other pages." – Google
Brands cannot recover loss of visibility after the update. However, that does not mean there is a reason to panic or that you've been doing something wrong all this time. It indicates that your website content may not be most relevant or your competitors have put up better content compared to yours.
A few ways by which brands can improve their website ranking are –
Perform an audit and check for technical glitches like slow page loading speed or broken links. Fix them and keep a tab on your rankings.

The update will affect a lot of websites. Keep a track of other sites relevant to your industry, follow up and discuss with them to know if they are experiencing the same.

Going through Google's Quality Raters' guideline can give a basic idea and tips on improving website content.

Analyse what your competitors are doing and see if there's any room for your improvement. Explore other forms of content like infographics,

short videos

, long format posts, feedback and genuine reviews so that the audience visits your website more.

Update your current content whenever possible, as Google would prefer that over outdated content. It can be done by adding more relevant data, changing texts to videos, updating statistics and conclusions, etc.
Google's advice on the whole algorithm update for brands is to 'build a site that people want to visit'. If it matches the search queries and intent of the users, your website will perform fine. What do you think of the new algorithm update? Tell us in the comments below.
It takes a lot of patience, commitment and multiple marketing strategies to market an ecommerce store and increase sales. With the average cart abandonment rate almost 69%, audiences are not easy to engage. Choosing to bombard customers with aggressive marketing may have a negative impact. An effective marketing strategy can boil down to reaching the correct audience repeatedly, building familiarity with them and encouraging sales. The right set of techniques can enable long term connections with returning customers as well as provide engagement and attract new buyers.  
Learn how to maximize profit sustainably even with a small budget with the steps mentioned below:
1. Build a community
Building a community is a time-consuming but important task. Facebook groups, discussion forums and even your own blog page is a good place to start interacting with your audience. Community fosters attachment which is good in the long-term. First time buyers get converted to repeat customers which helps in sales. The community is also good to spread positive word of mouth. It is effective and costs nothing.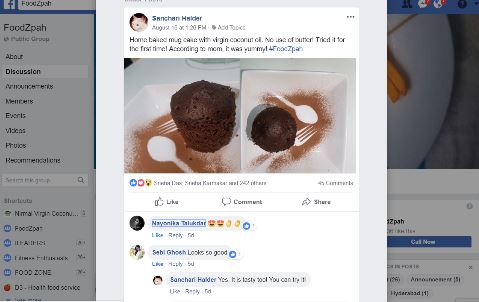 2. Generate interesting content
Content marketing is an effective way to drive traffic to a website even with a small capital investment. If a brand can create engaging, creative, entertaining as well as informative content to attract customers then there is a high possibility of experiencing increase in sales. To drive long term traffic, brands need to create 'evergreen content' such as explainer videos, blog posts or training sessions. This type of content will drive traffic for years. If a brand wants to focus on short-term traffic boost, then the content type should be industry news, case studies or unusual ways of using their product.
3. Choose the right influencers
Today, influencer marketing is a key to a brand's popularity and has become quite expensive because famous influencers have a huge mass following. In order to try influencer marketing within a specified budget, choose influencers who serve content to a niche audience. Usually, their rate of engagement is much higher than many big influencers simply owing to the ratio. Their audience although small, tends to be much more invested in their universe and therefore these smaller influencers are often a better marketing investment for smaller brands.  
4. Include strong CTA buttons
The visitors of a brand's website need to be told what a brand wants them to look for. A good, strong call-to-action button helps to drive traffic to the right page of a brand's website. CTA's like 'Shop Now' or 'Buy Now' can guide visitors to buy a product whereas other CTA buttons can be used for signing up for emails or subscriptions.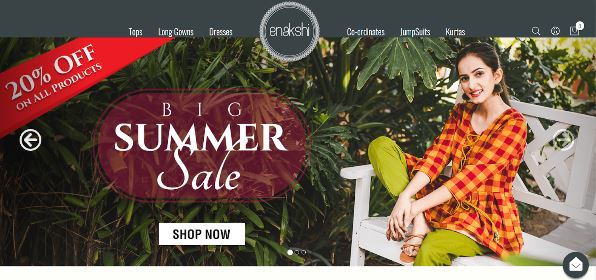 5. Indulge in giveaways
The audience is encouraged to interact with a brand when there is a chance of winning a prize or a free gift hamper. A brand may ask audiences to subscribe to, share, like or follow their social media channels or visit their website in order to participate in the contest. This will drive traffic to a brand's website, create brand awareness as well as increase the number of followers on their social media platforms. This is a cost effective method since it would cost most brands close to nothing to offer 5 small hampers as giveaways.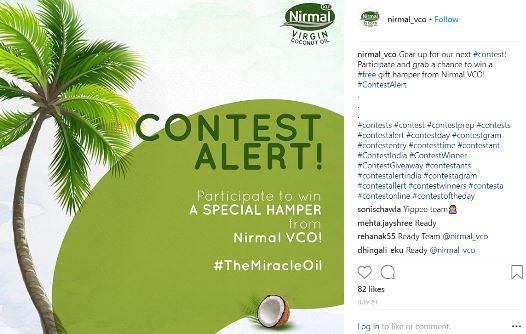 Marketing an ecommerce website within a low budget is definitely a demanding task. To increase sales, the most important thing is to increase traffic to the website. This can be done by building communities, creating engaging content, leveraging the audiences of influencers and clearly displaying relevant call-to-actions.
Know any other cheap methods of marketing an ecommerce website? Share your tips with us in the comments section below! Reach out to us for any marketing questions by sending us a message.
The first Sunday of every August is welcomed with great gusto, to celebrate friendship. Apart from personal celebrations, the topicality of this day on social media has resulted in top brands taking active interest in the same.
With fun, meaningful campaigns and innovative ideas, various brands have managed to touch the right chord with the audience. Take a look at some of the best friendship day digital campaigns by brands in 2018 –
1. Platinum Days of Love – #FriendsFirst
Based on the age-old theory that friendship is at the core of every love story, PGI India released a series of digital videos for Platinum Days of Love named #FriendsFirst. This series of 6 videos highlight the honesty, respect and companionship between couples in love, based on friendship.
Watch one of the videos here – https://www.youtube.com/watch?v=E7khFuL_56o
The videos received 160K+ views each, 6K+ reactions, 100+ comments and 200+ shares. They also ran a contest on social media, urging people to share their #FriendsFirst stories.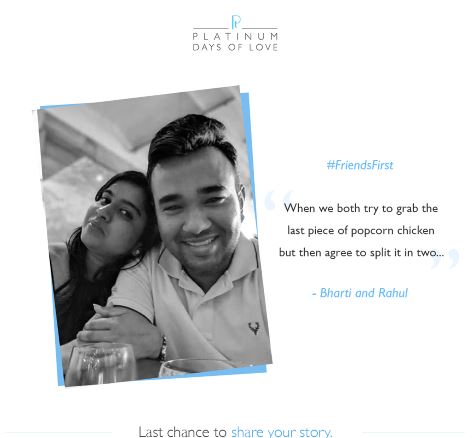 2. McDowell – Yaari
Two real life celebrity friends, Ayushmann Khurana and Raghu Ram featured in the Yaari campaign by McDowell. The video celebrates the spirit of brotherhood and the honest relationship shared by true friends. The campaign urges people to thank their true 'yaars' for their honest opinions and love.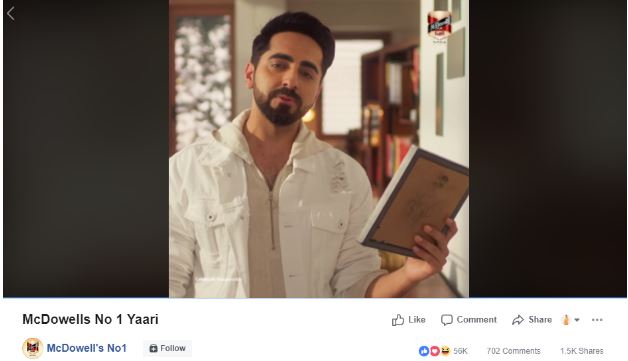 The video garnered 4.1M views, 56K reactions, 700+ comments and 1.5K shares on Facebook and 1.8M views on YouTube.
Watch the video here: https://www.youtube.com/watch?v=vA2AUZO38es
3. Dairy Milk – Say #ThanksYaar
Cadbury Dairy Milk has always been a representation of emotions, be it togetherness, shared happiness or good feelings. This Friendship day, the brand rolled out a campaign Say #ThanksYaar, where it encouraged people to thank their friends for every little or big thing they do – for sharing notes (and answer sheets), for letting your crush think its your bike or for just simply being there!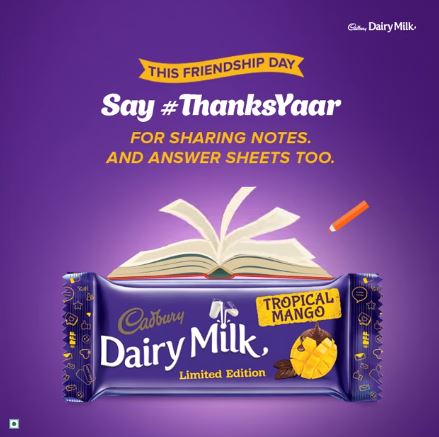 Dairy Milk also bought out a limited edition of topical mango flavour for Friendship day.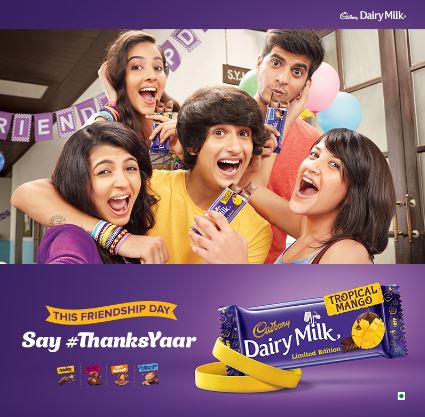 The Facebook posts collected 119K reactions, 1000+ comments, 500K+ views and 1.8K shares.
4. Britannia Bourbon – #FriendlyMatches
Celebrating friendships that are unpretentious and real, Britannia Bourbon released a series of video clips that showcased different friends in various avatars. For the Friendship Day edition, the brand released a video series featuring Abish Mathew and Mallika Dua performing various tasks to test the compatibility of the two friends.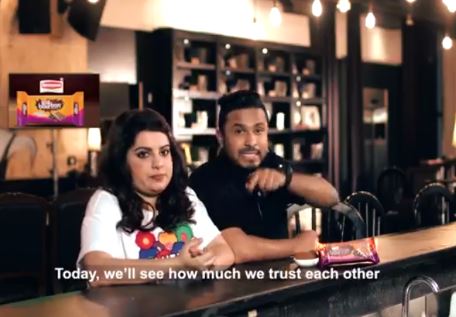 The series gathered 1M+ views each on YouTube. Watch one of the videos here – https://www.youtube.com/watch?v=CvIZGUFcGOQ
5. Nykaa & Filter Copy – Friend v/s Best Friend
Nykaa, in association with Filter Copy rolled out a digital video on Friendship Day, highlighting the difference between friends and best friends. Taking instances from everyday life like meeting your friend's mother, sharing information to clicking pictures – the video captured the true essence of what distinguishes a best friend from a friend.
Watch the video here – https://www.youtube.com/watch?v=YNxipjkMiGE
The video garnered 1.6M views on Facebook, 1.9K reactions, 460+ comments and 200+ shares.
Did you come across any other friendship day campaign that you liked? Share with us in the comments section below.
If you're looking for any social media marketing services, feel free to leave us a message below and we'll get back to you soon!
Facebook is one of the most popular social networks in the world, and especially in India- it has more number of users than any other social network. With its ever growing popularity and user base, Facebook is a great tool to use to promote anything, including blogs. While there are other superior methods of increasing traffic to your blogs such as influencer marketing and guest bloggers, SEO and SEM- these are more time consuming. Facebook's large and highly targeted reach allows you to reach out to a dedicated audience and convert them into followers.
Following are 5 simple yet effective ways to use Facebook to increase traffic to your blogs:
1. Use images that speak
Posts with images on Facebook receive 120% more engagement than posts without images. Therefore, choosing the right feature image for your blog is imperative. Images make the first impression and are often the reason for a reader to click on the blog. In order to attract even more readers, make sure that your image is the right size, relevant and features real people.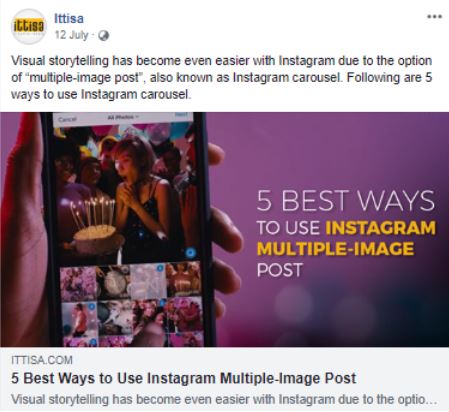 2. Share short updates
A short, crisp update that is witty and engaging will compel readers to click on the link below. In comparison with long, winding paragraphs, short updates see more interactions and click-throughs. Since the reader will get to read a lot of content on clicking, it's better to keep the update precise- in order to only give a glimpse of what the reader can expect. An important thing to note here is that most Facebook readers access the channel through their phones- in which case a short update is key for engagement.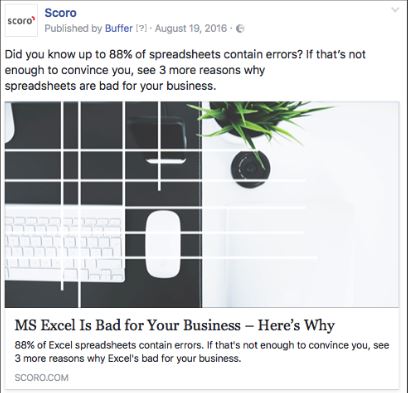 3. Create value with how-to blogs
How-to blogs are a great way to add value to the lives of readers. Through these blogs, you are not just selling a product or service but actually adding to the experience by providing useful content. No matter what topic your blog addresses, keeping in mind a few valuable tips to add good quality content to it would always go a long way. Blogs on popular recipes, easy user manuals, fashion looks etc. help readers use your product or service in real life and promoting this on Facebook is a great way to increase traffic.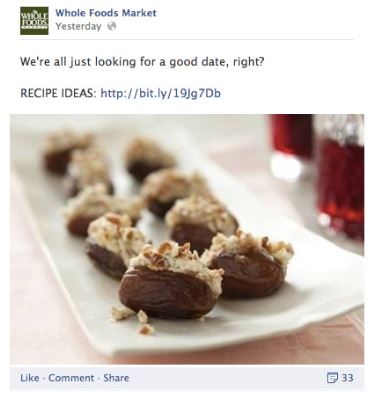 4. Clear out the junk
While sharing a blog post on Facebook, it's important to keep the post update as clean and readable as possible. This is so that all possible distractions that might keep your readers from clicking on your blog are removed and so that the post looks as appealing as possible. One must keep in mind the psychology of shareable content. One great tip is to remove the link from the update before posting. Facebook automatically adds the link to your image and summary making it clickable. The only time you might need to include a link is when you use a full-sized image. In that case, always shorten the link before adding it to the update.
5. Make use of Facebook ads
Facebook offers highly targeted ads that you can use to promote your blog to the desired audience. You can target based on gender, age, location and even interests and preferences. In some areas, you can even target based on occupation. Along with this, there are some more advertising features of Facebook which you should be aware of. Boosting a blog post for a minimum of Rs.40/ day can also show a large amount of interaction and reasonable increase in traffic.
 The above ways are in no way conclusive and are only a small dent into the various methods of increasing blog traffic. Do you have more ways to increase traffic? Let us know in the comments below!