How Digital Marketing Boosted Baahubali's Success
July 16, 2015
When it comes to shattering box office records, no recent movie has done better than Baahubali. Arka Media Works' first installment of the two-part epic film has gone on a record-breaking spree, crossing the ₹200-crore mark in 5 days. Although its success is largely attributed to its cinematic greatness, part of its triumph has been achieved because of the way it was marketed over the past not just one, but two years.
Baahubali's digital presence came into light as early as January 2013, a solid two and a half years prior to its release. Although it is not unheard of for a film to use social media as a tool to promote itself, Baahubali used it in a myriad of refreshingly new ways.
Facebook for Casting
The marketing team for Baahubali used Facebook smartly when it came to their primary requirements: a cast. In a move that was rooted in simplicity (yet never considered by others movie-makers so far), the team announced casting calls on Facebook via YouTube crosslinking. The response was encouraging, given the generally limited response to a page's initial post. This move was greatly beneficial to the producers and casting directors as more than 1200 emails flooded their inbox in a matter of two weeks, indicating a healthy response to the post on social media.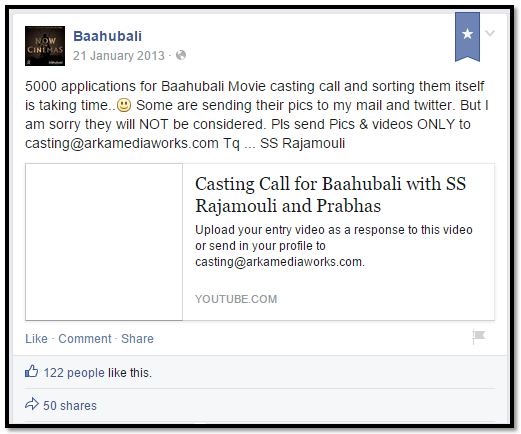 Interactive Games
Although the plotline is predicated on the days of old, Baahubali did not rely on the now-traditional method of using mobile apps to reach out to the younger audience. Instead, it took the interactive quiz route. The marketers set up a fun quiz (http://storygag.com/story-personality/which-baahubali-movie-character-are-you/) on popular website storygag.com to allow users to find out which Baahubali movie character they were. This was done immediately after the movie released – a great example of post-release marketing to keep engagement high even after a movie has been watched and reviewed.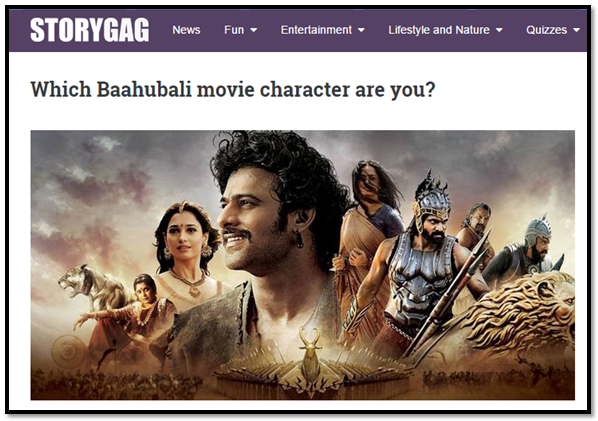 Getting the Hashtag Right
It is very easy to create hashtags that are relevant to a movie, but sometimes, relevance has to be coupled with showmanship and spectacle. Baahubali used the hashtag #LiveTheEpic, generating immediate interest merely by use of the word 'epic' which helps strike online conversations faster.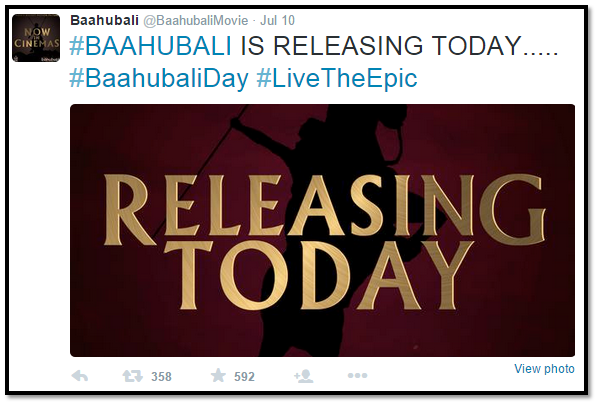 Showing Rather Than Telling
Many movies get talked about in terms of pre-release buzz. A lot of the cast and crew tend to tweet about how tickets were sold out in minutes before the first day of the movie's release; starring actors post pictures of themselves at the premieres; music directors post pictures of the promotional events; and so on. But Baahubali's distribution partner Dharma Productions stepped it up a notch by posting a video of an eager audience queueing in front of theatres in order to book their tickets for the movie. This helped build adequate buzz on Twitter, around the hashtag #Baahubali.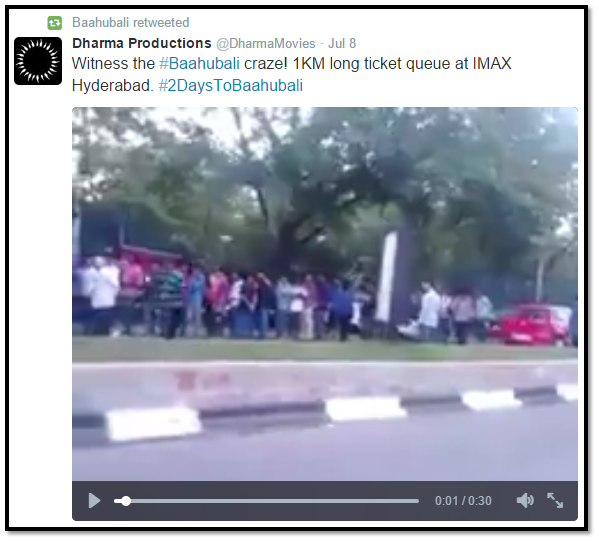 Encapsulating a Year-long Journey in a Video
One of the easiest ways to promote a movie on YouTube is by maintaining a separate channel for it, and uploading weekly videos of behind-the-scenes moments, dialogue promos, songs, etc. but Baahubali took the path untrodden yet again. Around September 2014, the makers released a video that had collated special moments of the making of Baahubali, and along with others shorter videos, uploaded it on their YouTube channel. This type of effort has never before been seen in any recent movie of any production unit, however big.
It can be said with some confidence that Baahubali has utilised social media in a way that was refreshing, hence effective. With viewers eager to see something new on Facebook, Twitter and YouTube, Baahubali gave them exactly what they wanted in ways they did not expect, and that's where they stood out with their digital marketing campaign. There was positive buzz online, with hashtags populating most 'Trends' lists during the months leading up to the movie's release, and the Facebook feed was never at a loss for promotion.
At Ittisa, we understand just how much effort goes into digital marketing, with so many tiny details that need attending to taking up a chunk of creative time and energy. Therefore, we see Baahubali's digital marketing efforts as nothing short of phenomenal. It comes as no surprise that viewership (even after the first tremendous week), still remains high.
---
Going Social: Dil Dhadakne Do's Digital Marketing Strategy
June 4, 2015
Zoya Akthar, the director behind the massive entertainer Zingadi Na Milegi Dobara, is all set and ready for the release of her next flick, the multi-starrer Dil Dhadakne Do (DDD), across cinemas on June 5, 2015. However, the journey to its long-awaited release started months ago. We're not talking about production here. No, we're talking about the movie's promotion and marketing efforts, which have been simply outstanding.
If Zindagi Na Milegi Dobara raised the bar when it came to using social media as a means to market a movie, DDD doesn't just raise the bar even higher, it sets all new standards. Which other movie has gone that extra mile, and started its social media efforts a whole year in advance, at full steam? Here is a sneak peek into DDD's stupendous digital marketing success:
FACEBOOK
The promotional mood was set on May 26, 2014, when DDD film producer Ritesh Sidhwani updated a status that was shared by the official page of the movie on Facebook.
This triggered the movie's digital marketing campaign. It got the ball rolling in the right direction, as people began talking about it on Facebook. Soon, updates began to trickle in – but none of them had anything to do with the movie itself. Photos of starring celebrities – Priyanka Chopra, Anushka Sharma, Ranveer Singh, et al –began featuring on the movie's Facebook page. They were teasers of an unusual kind, because they were fan-friendly. Pictures of locations where shooting took place, pictures of the cast and crew lounging on the beaches of Barcelona, and the like. This generated a lot of interest among fans.
The page shared the starring cast's photos from different channels, using cross-channel linking effectively. Videos were shared on Facebook, too, on which people shared their heightening interest to watch the movie.
YOUTUBE
No movie's social media campaign is ever complete without the proper use of a dedicated YouTube channel. The DDD team released behind the scenes videos of the stars on the sets, teasers and trailers, and were prompt with the new tactic – dialogue promos. The music partner – T Series – was also quick in its scheduled and well-timed released of teaser videos of songs in the movies, which in turn were shared by the full cast and crew of DDD.
The film too had its own Instagram account, where there were real-time updates galore, including everything from the cast having fun together during lunch breaks, to their meeting with Milkha Singh (set up Farhan Akthar). In a matter of 2 months, the account had posted more than 150 photos on the media tool.
INSTAGRAM
With celebrities being so open today on Twitter and Instagram, fans are pouring in just to get a glimpse of their life secrets. DDD's marketing team tapped into Instagram's full potential to rope in the interest of fans ever more. Priyanka Chopra, in particular, was tireless in her efforts to keep her Instagram account both personalised as well as promotional.
The film too had its own Instagram account, where there were real-time updates galore, including everything from the cast having fun together during lunch breaks, to their meeting with Milkha Singh (set up Farhan Akthar). In a matter of 2 months, the account had posted more than 150 photos on the media tool.
TWITTER
Twitter was one of the smaller fractions of the movie's social media marketing efforts. Relying primarily on cross-linking, Twitter helped the film in a small yet significant way as it did garner some popularity amongst loyal fans, who kept the hashtags trending. The film came up with hashtags that weren't just about the film, but surrounding elements as well. There were contests run around hashtags such as #PhirBhiYehZindagi (a song from the movie), asking audiences questions. These were retweeted and favourited extensively. Other hashtags included, #2DaysForDDDTrailer, #DilDhadakneDoWithHiFi and #LeonardoSeDilDhadakneDo.
DUBSMASH
This was where DDD really grabbed attention. Dubsmash, a craze among the collective youth of the nation (and incidentally, the TG of the film itself), was used by Ranveer Singh and Priyanka Chopra, both cast members of the blockbuster. It was no coincidence that the stars took to the media tool, though – it was pure, classic strategising: get fans to watch the video, indirectly remind them that their movie is forthcoming, thereby reinforcing a desire to watch it.
MOBILE  MARKETING
Athough DDD didn't have fancy apps like films like Krish and Ra-One, it did create contests that saw a lot of participation. @Pictures, which secured exclusive telecast rights to the film, invited viewers to share their fun and crazy family photos/videos via Whatsapp. This was part of the movie's 'Crazy Family Contest'. Shortlisted winners, @Pictures promised, would get to hang out with the cast of the movie.
The efforts that have gone into the digital marketing process of DDD cannot be attributed to one person, team or channel alone. It cannot be more evident that everyone has pulled their support for this movie, and harnessed the power of social media perfectly. The movie did something unusual by shifting focus constantly from the movie to the stars to their 'behind-the-scenes' goofiness. DDD's team also went the whole hog and used the latest 'BAE' meme to connect with younger audiences. The cherry on top, however, was use of Dubsmash to generate more buzz than ever, on social media.
---
PIKU's Digital Marketing Success – Promotion Se Hi Emotion!
May 5, 2015
Gone are the days when a simple gif, a grainy clip and a picture on cyberspace could complete your entire digital marketing strategy. Today, there are new tools, and newer technologies at work constantly, to change the face of a movie's online promotion strategy. Going viral may seem herculean to some movie-makers, but some are now so adept at using social media devices, that getting their video to the top of the shared list is a cakewalk. Today, if your movie does not have its very own dedicated Facebook page, Twitter account with several hundred followers, and a dozen or so gifs floating around the internet, your movie is believed to have flopped even before its release.
When the posters came out for upcoming Bollywood flick PIKU, there was no lingering doubt in anyone's mind that its promotion too would be as different and quirky as the poster looked. And as Mr Amitabh Bachchan (one of the movie's megastars) promised, the promotion tactics used by the movie's team have been refreshingly hilarious and definitely something to take note of.
Here's a look at how effectively the movie's promotion methods have used the power of the internet:
YouTube :
The teaser that was released prior to the movie, kick-started the promotional campaign.What this teaser did brilliantly was showcase the simplicity of the characters in the movie, rather than show off about the movie like any other run-of-the-mill teaser.
MSM Motion Pictures began the task of uploading video after video of promotional events such as the music launch and fashion apparel launch, tempting fans of Deepika Padukone to click and upvote everything.
Brand partners such as Parachute Advansed – for which Ms Padukone is also incidentally the brand ambassador – even launched their own video showing Deepika massaging her head with their product.
All in all, the movie was seldom out of sight on the popular video-sharing portal.
WhatsApp:
Talk about rapid-fire sharing! The promoters left no stone unturned when it came to all things net-based. Their mantra seemed to be 'PIKU trailers: now coming to tablets, PCs and even phones near you!' Soon after the teaser was released, an innovative strategy was followed, wherein personalised video invites were sent on WhatsApp, for the trailer launch of the movie.
Facebook:
Given its resounding power to make everything go viral, Facebook was an automatic choice for PIKU's promotion. The page started its activities in October 2014, keeping the audience guessing with the first few posts. The page also installed apps such as 'PIKU trailer', 'PIKU title track', and 'PIKU song', to keep audiences constantly engaged. Dialogue promos were also shared on this platform.
Twitter:
This is where PIKU perhaps overshadowed other digital marketing efforts by other recent Bollywood movies, with the exception of Ra One, Chennai Express and Zindagi Na Milegi Dobara. Hashtags were used superbly, such that one of them – #8thMay – became a Trend on Twitter India, meaning that most of India was talking about the movie's release date, in one context or other.
Movies today are widely discussed on all digital and social media platforms. People comment, review and rate movies on websites, blogs, Facebook, Twitter and YouTube. While the post-release phase of the movie is the most widely anticipated, it is equally important to generate that much-needed buzz before a movie in order to ensure that people flock to see it. To make sure that the target audience is receiving all the movie's promotional updates in this day and age, digital marketing is the way to go.
PIKU has pushed the traditional boundaries by using Facebook and Twitter in tandem, and encouraging their brand partners to do so as well. Their hashtags and buzzwords on Twitter, and frequent photos of exclusive behind-the-scenes moments from the movie on Facebook, are perfect examples of how best to employ these digital tool to take a movie from just a form of entertainment to a brand in itself.
---