"The holy grail for a marketer is not a transactional relationship but an emotional relationship with the consumer."
The world just celebrated Friendship Day, and it gave brands the perfect opportunity to be at their creative best to connect with the audience and strike an emotional chord. Unconventional friendships, distinctive concepts and strong messaging were some of the key points in the social media marketing campaigns by brands this year. By celebrating the different facets of friendship through unique creatives and digital films, marketers have successfully portrayed the love and affection of one of the most important relationships of mankind.
Here are top 5 Friendship Day campaigns by brands from various sectors –
1. Cadbury Dairy Milk – #HeartTheHate
Cyberbullying is a cause of real concern in today's world and Dairy Milk's social media campaign on friendship day was about standing up to such bullies – just like friends would always do.
Reports state that 37% of Indian kids are bullied on social media and Cadbury, which is renowned for its meaningful campaigns encourages everyone to come together to fight the issue. The campaign also highlights the importance of friends in fighting bullying. The video showcases a young girl being bullied online just before she is about to give a live performance which makes her upset. Seeing this, her friend sends out a purple heart in the same string of comments, helping her fight the negativity. Purple Heart Do, Dost ka Saath Do forms the essence of the video.
The campaign was a huge hit on social media with 12M views, 63K reactions, 1K+ comments and 2.4K+ shares on Facebook. Celebrities like Radhika Apte, Karan Wahi, Asha Negi and Kusha Kapila also supported the campaign and expressed their views on fighting cyberbullying. YouTube garnered 39M views on the video.
Watch the video here – https://www.youtube.com/watch?v=ABPGn6TDZxw
2. Vodafone – #FriendsUnplugged
Highlighting the importance of offline social interactions, Vodafone launched the #FriendsUnplugged campaign urging friends to initiate more face-to-face conversations instead of just commenting on social media posts. In order to introduce the campaign, the brand roped in celebrity friends Neha Dhupia and Soha Ali Khan who unfollowed each other on social media. The reason was later revealed that they did it so that they can catch up more in real life and make meaningful conversations.
qSource: FacebookThe concept of the campaign has been executed beautifully, with visuals that are relatable to everyone. It witnessed 1.9M views on Facebook, with 47K reactions, 600+ comments and 4.6K reactions. There were 940K+ views on YouTube in just two days.
Watch the video here – https://www.youtube.com/watch?v=KvceI57Dl8A
3. Mercedes Benz – #MBFriends
Mercedes Benz is known for its creative campaigns and this time too, the brand went the extra mile with their #MBFriends campaign. Mercedes released a digital video where they thanked their 'competitor friends' for always inspiring them to do their best. The team also visited a few car owners of competitive brands and surprised them with a Mercedes band on their car and an exclusive gift hamper.
The brand created a special Friendship Day filter on Facebook where users were asked to use the Mercedes filter on spotting cars from other brands and upload it on social media in return for exciting goodies.
The campaign witnessed 9.9K views on Twitter, with 900+ likes, 120+ retweets and 44K+ views on Instagram.
Watch the video here – https://www.youtube.com/watch?v=kbS_QxPujsE
4. Dogsee Chew – Friendship Day with Dogsee
Dogsee Chew, the international pet treat brand celebrated the unique friendship between humans and dogs through all the highs and lows of life. The video depicts everyday life – whether that's coming home after a tiring day at work or when you simply need a healing hug – and how dogs have always been there to provide comfort and care. The campaign encourages users to celebrate this purest form of friendship with the purest dog treats.
The video garnered 19K+ views on Instagram and loved by the audience on all social media channels.
Take a look at the cute video here – https://www.youtube.com/watch?v=gRDEPlIMNZQ
5. HDFC – #YaariNotUdhaari
HDFC came up with an interesting campaign, #YaariNotUdhaari around the awkward situation that friends face when they borrow money from each other and then fail to return it, eventually leading to avoidance. The campaign shows a friend avoiding another friend after borrowing from him, in every way possible – by lying, by trying to be unrecognizable or pretending to be over a phone call. The campaign sends out the message of not hampering your friendship in the name of borrowing, as the bank is there to help in this case.
The video received 545K views on Facebook, with 4.8K reactions, 200+ comments and 600+ shares. On YouTube, it garnered 112K views in two days.
Watch the video here – https://www.youtube.com/watch?v=sLEdqxuEkUA
Here are some other trending Friendship Day creatives from top brands –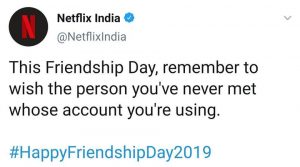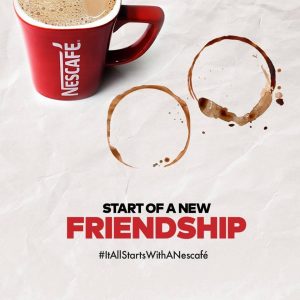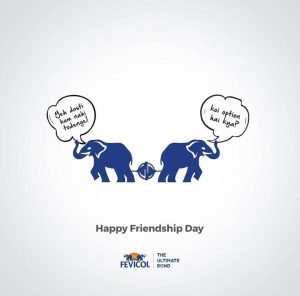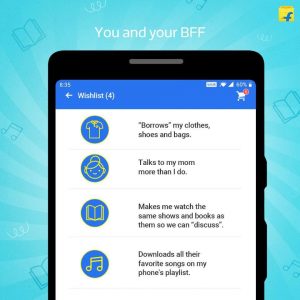 Can you think of any other unique Friendship Day campaigns? Tell us in the comments below.