What's Up? Says WhatsApp to desktops and laptops!
January 22, 2015
You are at your office, peering into your desktop screen with no time to spare for the overflowing Whatsapp notifications on your mobile? Then this feature is just for you.
Facebook's WhatsApp is now available for the Web. So hereafter, use your desktop or laptop and punch in your witty comeback line the very instant you are pinged!
Visit https://web.whatsapp.com in the Google Chrome browser to go to the WhatsApp Web client. A QR code will appear, which the user has to scan with the WhatsApp mobile app on their phone to get started.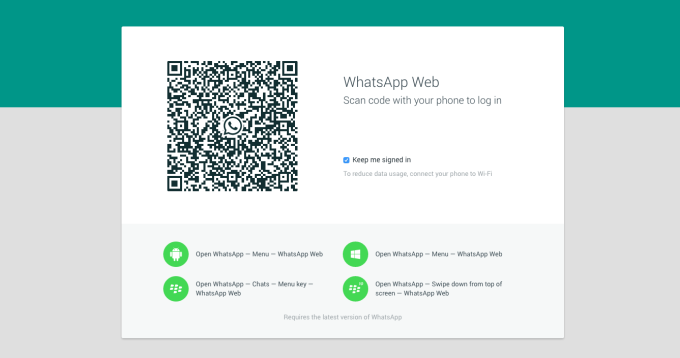 The move intends to spread WhatsApp's reach to more and more devices and hints at Facebook's desire to ramp up the world's communications. WhatsApp now has more than 600 million users and is one of the most used social chat services in present times. Now, Isn't that wonderful?
But hold on, there is a catch!
This service is for now limited to Google Chrome and works only on Android, Windows and Backberry. iPhone users will have to wait for now. As per official reports, "platform limitations" have kept Facebook from rolling out this feature on Apple's iPhone.
Also, the whole process is managed through your phone. The phone has to stay connected to the internet for the client to work and if your phone's battery is down, then your desktop access too dies.
Nevertheless, this new initiative by Facebook is definitely only the tip of an iceberg. It won't be long before Facebook rolls out new and sleeker features for this all time favourite chat service and ramps it up to an entirely new level. Keep an eye out, WhatsApp users!
---
7 Digital Marketing Trends to look for in 2016
January 19, 2015
Latest digital marketing trends 2016 – Know about the latest digital marketing trends like brand personalization, visual storytelling, real-time marketing
It's the time for predictions, resolutions, and new strategies. So what are the predictions and trends that are sure to influence the ever evolving Digital Marketing space in 2015? Let's take a look
1) Optimization of mobile marketing
Every ragtag and bobtail now carries a mobile phone and has access to the internet. Concise and easily comprehensible content available on a 3-inch mobile screen reaches out to people more effectively and quickly.
Now with Google stating that mobile usability of sites will be relevant criteria for optimizing search results, marketers have to go beyond merely presenting a responsive mobile site.
Equal attention should be paid to all facets of mobile marketing : a receptive site, separate content for the site and even separate ads. So, make sure to efficiently leverage the mobile technology to successfully promote your brand.
2) Visual Storytelling: Newest of all Digital Marketing Trends
Gone are the days when websites were purely content-centric. Brands these days are ever eager to create an appealing visual image for themselves that 'shows' and not 'tells' the message and the brand identity.
Driving this trend is the growing importance of Social Media sites like Facebook, Instagram, Youtube and Pinterest that allow marketers to showcase their services visually. Even in Twitter too, the twitter cards option where one could add rich images, videos and media files are drawing immense traffic. From pictures to videos, memes to infographics, visual content have the ability to send a loud and clear message and create a lasting impression on the audience. So if you wish to generate more traffic, influence the audiences and improve sales then harnessing the power of visual storytelling is the trump card.
From pictures to videos, memes to infographics, visual content have the ability to send a loud and clear message and create a lasting impression on the audience. So if you wish to generate more traffic, influence the audiences and improve sales then harnessing the power of visual storytelling is the trump card.
A picture really is worth a thousand words!
From Samsung to Nissan to Oreo, all of them are leveraging real-time marketing to promote their brands. Samsung's lampoon of Apple's iPhone 6 announcement, Nissan's and Oreo's efforts to play around the birth of Kate and William's royal baby grabbed eyeballs in 2014.
Otherwise known as 'trend-jacking' or 'culture-jacking', real-time marketers whip out immense creativity, ingenuity and speed to make the tide of real-time trends work well for them. In fact, what better real-time attention than to incorporate your products and services to actual events?
Real time marketing is here to stay because relatable content gets quick response from the people and improves the brand visibility.
4) Content specification across Social Media platforms
We have all heard of this age old adage, A pen is mightier than a sword! Marketers are particularly aware of this because content holds a key significance in the marketing field. But merely producing content in bulk is not going to work out.
Social Media platforms have proliferated immensely and although there could be an overlapping of your brand followers in LinkedIn and Facebook, the way people perceive things differ from one another. Each site demands a different set of content that resonates with the distinguished tone of the platform.
Content in a formal setting like LinkedIn should markedly differ from content published in an informal setting like Facebook or Twitter. Customisation of content is therefore very important for a successful marketing campaign.
5) Intelligent Analytics: Brightest of all Digital marketing trends
If you fail to follow up your assertions with concrete and well analysed data, then your marketing is most likely to fall flat on the ground. But merely spewing graphs and charts with numbers will take you nowhere.
Marketers need to know how to customize the analytics tools for the betterment of their business. As technology progresses new tools are becoming available, but only a skilled analyst will know how to effectively use the data to produce some actionable outcome.
It should be used to clearly and effectively project the goals, the achievements and the identity of the brand. So, 2015 will see marketers indulging in smart and intelligent analytics instead of throwing around some random numbers.
6) Personalisation of brands for the customer
User interaction with the brand is necessary for its growth and value. To make sure their brands are interactive and are able to engage the customer, marketers must personalise the brand through location targeting and by gathering information about the individual being marketed to.
This is one sure shot way of ensuring customer loyalty and consequently improve sales. This is exactly what the high sailing online marketers like Amazon, Flipkart, and Zivame are doing. They track the purchasing history of the customers and then populate their inbox and home page with similar products.
These brands have therefore ensured improved sales, customer satisfaction, and loyalty. 'Behavioural retargeting' is increasingly becoming the norm with more and more brands trying to exploit it for better business.
7) Rise of paid advertising in Social Media platforms
Facebook, Twitter and their bevy of Social Media sites are the dominating presence in today's digital space. By the third quarter of last year Facebook had reported a 64% increase in its ad revenue over the previous fiscal period.
But with the recent decision by Facebook to crack down on overly promotional posts from reaching people's news feeds, organic posts will fall drastically, hitting social media marketers the hardest. So what is the way around this roadblock? Paid advertising.
This year too, businesses will continue to buy ads to find discussion group members, boost mobile app installs and grow their email list, as these have proved to be worth the expense. But make sure you pay special focus on mobile marketing because as compared to other mediums mobile technology now rules the roost.
Share your thoughts on more trends and predictions over latest digital marketing trends. Happy Marketing!
---
Ride the Online Horse
August 29, 2014
My Television is on, some music playing in the background and what am I doing?
I'm surfing the net on my laptop.
You have a headache, fever and sore body? What do you do? Go to the doctor instantly?
Oh no! You "ask Google" first.
Well yes, the World Wide Web has become an integral part of our existence now.
Before we eat out, we go on Zomato to check for reviews. Want to fly? Let's check Makemytrip for the cheapest airfare.
So do you honestly think that promoting brands can be restricted to television commercials, radio jingles, hoardings and news papers?? Hell no!!
Why online marketing makes such a difference now is simple – With the rise in technology the amount of consumers that chose to use websites, apps and other online tools is on the rise like dry hay on fire!
Picture this- You're on facebook, stalking some ex colleague of yours and wait! What do you see, "The Closet Label has a 30 percent discount on your favorite pallazo pants".
You're reading an article on your friend's blog and a small window suddenly discloses this funky looking logo!
Will you not click on it to see what it opens up to? I definitely would.
The primary reason for beginning an Internet Marketing campaign is to increase product awareness. As we are browsing the web or performing internet searches, we may come across the business name or logo and get interested in what the company has to offer.
Television, radio and print ads still have their places in the marketing industry, but with technology on the rise, more and more consumers have access to the web. By beginning an Internet Marketing campaign, businesses can keep up with this ever-changing technology.
Online purchases have been increasing sharply over the last several years. This is partly due to busy lifestyles and the convenience of getting information and ordering products via the Internet. Business owners can capitalize on this convenience by providing consumers what they want—instant access to products and information. Internet Marketing is one of the most cost-effective methods of advertisement. The costs associated with starting a website, and then, using marketing articles or Social Media to establish an online presence is minimal as compared to the costs of traditional forms of advertising.
Advertising online is a very effective way to provide customized offerings to a very targeted demographic. Internet marketing strategies will usually call for advertisements to be placed in such a way that the target audience will see them and respond.
All in all its needless to say- whether you're a business owner or a brand fanatic online is where you need to be!
Feeling that all this is too much to handle alone? Come meet us at Ittisa.
We can be your BFF's when it comes to online marketing. Come over for a cuppa tea. Its on us 🙂
---