February 15, 2019
How to find the right Influencers for your Business
Influencer marketing has become one of the most effective ways to get a brand noticed. According to studies, influencer marketing is 11 times more effective than other traditional digital marketing channels. 94% of marketers who have invested in this strategy find it very effective in meeting the objectives or goals of the brand. Through influencer marketing, customers purchase products that have been recommended by people they can trust. The conversion rate is much higher in such cases when a product is recommended by a person with a significant identity in the social media circle. In this new social paradigm, the concept of brands partnering with bloggers and influencers with a large and loyal follower base on social media channels like Instagram is popularly known as
"Influencer Marketing"
. It is based on the premise of looking for influencers in a particular niche to create and distribute original and relevant content and share it in an authentic and transparent manner. These influencers produce niche-based content in specialized areas which makes them more knowledgeable about social media and how to create engaging content on social media. There are a number of bloggers especially on Instagram who publish content on beauty products, parenting, books, fashion, lifestyle and more.
Below are 5 things to look out for while identifying the correct influencers for a brand:
Brand alignment
A brand should be particular about the specific messaging and positioning that is to be used in the promotion. The influencer partner should be provided with a relevant brief and mood board so that he/she gets an idea of the brand's specific expectations from messaging or promotion.
Engagement
Engagement portrays the likelihood of a target consumer to act on the message or information by the influencer. An influencer or blogger should have the potential to invite a high percentage of comments, shares, discussions and likes on their posts, proportionate to their follower count. A recommendation from such influencers will have a higher impact on the target audience. How much the audience engages and how often they return with queries, indicates how successful and meaningful the influencer campaign is.
Endorsement frequency
Influencers often need to do multiple brand postings in order for a customer to click and check out the said brand. Therefore when an influencer endorses products and posts high-quality content multiple times on a daily basis, visitors are more likely to return, save posts and share. Bloggers who do not post regularly tend to have less number of return visitors and less loyal followers.
Follower reach
Knowing the profile type of followers may sometimes be useful in filtering low ROI influencers. Traffic and followers are meaningful if the influencer is reaching the brand's target audience. For instance, for a manufacturer of a hotel chain, a travel blogger with a small follower base will be more effective than a food blogger with one lakh unique monthly users.
Authenticity
People perceive influencers with less number of sponsored posts to be more genuine, authentic and trustworthy. Stories that include a genuine mention of a particular product, brand or service seem more authentic than direct product reviews. The authenticity of an influencer is important because the reputation of the brand lies with the influencer when he/she is endorsing their product or service. Also, chances are that the follower base of an authentic influencer is more dedicated and loyal and looks up to the influencer for honest opinions and useful advice. Engaging and compelling stories receive a decent number of shares and comments. For example, a health brand may engage an influencer to create a post about things that would help people to stay motivated and live a healthy life. The audience is highly engaged with this kind of content, it is authentic for the blogger and it engages relevant conversation among a large audience.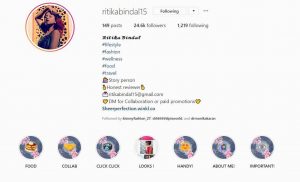 For influencer marketing, though follower count is the most important metric required to assess the quality of the social media account, it is not the only thing. The above-mentioned points play a vital role in choosing the correct influencers to market a brand. Whatever the niche may be, brands can engage with influencers and bloggers to create and publish relevant, authentic content that the target audience expects while associating the brand with the published content.
To know more about influencer marketing, leave us a message below and we will get back to you.