June 19, 2015
The Best Ways To Optimize Your Facebook Business Page
Online marketing avenues are being made available with increasingly attractive features to businesses. This is because it is guaranteed that for any business, at least some of the target audience is perpetually online, particularly on Facebook. Therefore, it becomes necessary for organisations to make sure they are active on the social network in order to reach out to potential customers and connect with existing ones.
A company's mere existence on Facebook, however, does not guarantee a business' success. Facebook constantly changes its algorithms to suit users' needs. As a result, it has become harder for business pages to stand out from the crowd of companies and organisations clamouring for attention. If you want your business to be on top of the pyramid, you need to tweak your strategy to make sure you're getting noticed, and also to keep your engagement levels healthy.
Here are a few tips for optimising your Facebook business page to help you stay head and shoulders above your competition:
Photos
Your brand has to come out clearly in the profile and cover photo. Using correct colour schemes goes a long way in this regard. While refreshing your profile picture is not recommended (it dilutes your brand), changing your cover picture is encouraged.
While uploading pictures on Facebook ropes in a lot of creativity from writers as well as designers, there is every need to make sure people are seeing these pictures in the way they ought to be, and this means logical optimisation. For this purpose, optimisation comes in handy. You should make sure that the image sizes are 940 pixels by 788 pixels – these should be centred, and offer a good preview on Facebook. Adding your logo on these collaterals is also a good branding practice to follow. When the image is posted and shared from your page, it becomes easier to trace the business easily. Nike is a brand that does this really well.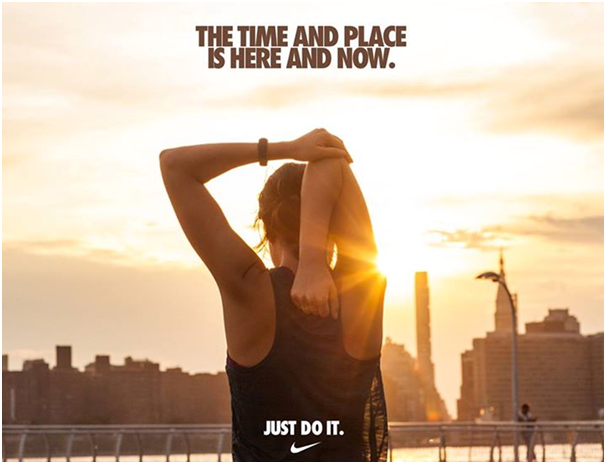 Photo Credits: NIKE Facebook Page
Videos
On Facebook, videos have now become a very popular medium of marketing. Every brand promotes itself by means of videos in its news feed. But in order to optimise them and ensure maximum viewership, the trick lies in posting the video natively – make sure your videos are being posted to Facebook directly, and not via YouTube or third party apps such as Hootsuite or Buffer. From getting more reach to looking good on your news feed, the advantages are plenty. For example, When Vox uploaded a video on YouTube, it accumulated just above 89,000 views. But when they shared it natively on Facebook, the same video acquired a whopping 1.2 million views.
About Us
If you think that your customers are not paying attention to the About Us section on your page, you are sorely mistaken. Even established brands follow the simple yet effective practice of keeping the About U section as informative as possible. The more the consumers know about your product, the easier it is to generate brand loyalty.
A good example of this is the New York Times' Facebook Page, which provides information about the publication in a clear-cut manner.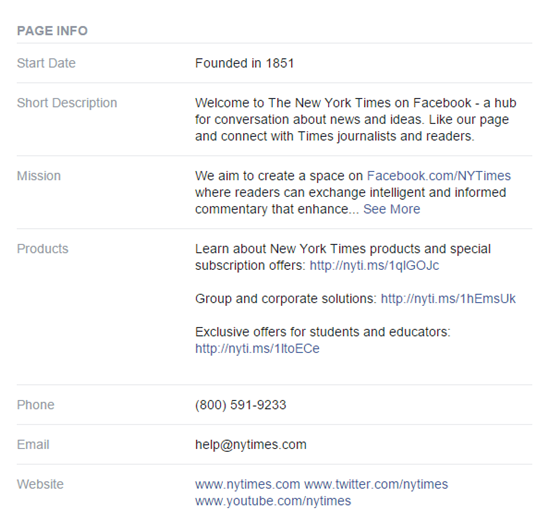 Photo credits: New York Times Facebook Page
Facebook Ads
Facebook ads are a great way to connect with your target audience. Facebook's unique features zero in on specific age groups that your business targets, and positions your ads in their plain view. Today, a lot of B2C businesses benefit greatly via Facebook ads. It is one of the best tools if you want to expand your reach. While Google ads are very popular, Facebook ads have been shown to have grown in popularity above all other advertising streams over the past couple of years.
Sharing
Making your business more visible is the best action a company can take on Facebook. More than likes or comments, sharing your content is important, not to mention effective. Photos, videos, quotes and miscellaneous material that are related to the brand's area of expertise is a great way to draw the customer's attention. Be sure to share your content frequently to get as much reach as possible, and you will begin to see your posts being shared, too.
These are just a few tips that come to a brand's aid with respect to optimising the Facebook business page. With over 1.4 billion active users on Facebook, one cannot cast off the social media tool as a frivolous social pursuit anymore. Not while it has the potential to generate business in great volumes. Facebook helps with Search Engine Optimisation as well, making it one of the richest sources of leads. So, ensure that your Facebook page is fully optimized and ready to attract hordes of new customers!