August 22, 2019
Why Successful Digital Marketing Campaigns Are Dependant On Quality Landing Pages
"48% of marketers build a new landing page for each marketing campaign."
Landing pages can prove to be a powerful marketing tool if used in the right way. Be it for new product launches, promotions, enrolling for a newsletter or for digital campaigns, landing pages can be the best weapon to enrich your overall marketing strategy. Before going into the importance of quality landing pages, it is important to know the three most distinctive features between a landing page and a homepage -
A landing page will exist apart from the main website, unlike the homepage. There will be no button on the website that will take you to the landing page.
Homepages cater to a wider audience, which includes information seekers or just casual browsers. A landing page is for a specific stream of an audience looking for a particular offer or service. This is the reason why landing pages have higher conversion rates.
Homepages have multiple options to choose from - it basically asks users what do you want? A landing page is more liking telling the users that this is the particular action I want you to take.
[caption id="attachment_12311" align="aligncenter" width="500"]
Source: AutoGrow.co[/caption] Developing landing pages that are related to your digital marketing campaigns can make a great positive impact on the results. Whether you use
Facebook
, Twitter or Instagram for running your promotions and campaigns, landing pages can help them become more efficient. Take a look at the 3 main reasons why quality landing pages can make your
digital marketing
campaigns successful -
1. Generate leads
Primarily, a website has two main purposes for every brand - traffic generation and conversion. And according to Hubspot,
61% of marketers say generating leads and traffic is their biggest challenge
. This is where a landing page can drastically improve lead generation and send users to your website. Sending all your social media, email and search traffic to the homepage can be a loss for your business. On the other hand, sending these leads through a digital campaign to a targeted landing page can help you capture your audience at a much higher rate. For example, an Oncology digital campaign for Apollo Hospitals, Bangalore that led to a specific landing page resulted in 5X quality leads in just 2 months and established the brand as a premier Oncology treatment destination in Bangalore. (Read the case study
here
).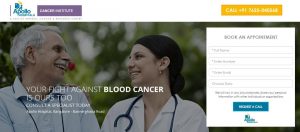 2. Improve paid search campaigns
For running an ad campaign on Google Adwords, maintaining a good quality score is important as it results in a lower cost per click and provides a greater value from the campaign. The Quality Score is determined by the ad Click Through Rate, keyword relevance, ad text relevance and the quality of the landing page.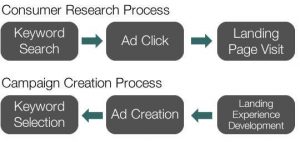 Google prefers showing users ads that can help them take action and solve their problems. Having a good landing page will meet the purpose as it will be specifically designed for those ad campaigns and will not have any extra links. Moreover, the relevant information on the page would encourage visitors to take the action you want them to take.
3. Track data
Every time a prospective lead completes an action on your landing page, you can track the collected data that will give you an idea of how engaged people are. For example, you can understand if a user has signed up for multiple services or downloaded all your ebooks. This is an indication that the user is highly engaged and may make a purchase soon. The data derived from landing pages can also be analyzed to have a clear understanding of how your
social media
campaign or ad campaign is performing. Accordingly, the campaigns can be optimized for better results. For example, your landing page data can help you decide whether you should run Google Ads or Facebook ads. It can also help identify the right CTAs and messaging for better user experience and lower cost per lead. [caption id="attachment_12315" align="aligncenter" width="500"]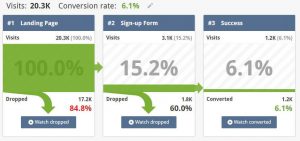 Source: Mouseflow[/caption] Do you know that companies get 55% more leads when they increase their number of landing pages from 10 to 15? The fact is that a landing page is a crucial part of your marketing and digital campaigns, especially for lead generation. To know more about how to use landing pages for your digital campaigns, just leave us a message and we'll get back to you!