September 08, 2017
Introduction of WhatsApp For Business
Attaining a verified account on various social media platforms has been a major goal for businesses to establish communication of trust with customers, and now these businesses have one more channel to use. Following the footsteps of Facebook and Instagram,
Whatsapp has now come up with its own green badge to mark verified accounts and influential personalities.
Over the last few years, WhatsApp has made its mark and become the default messaging app used by majority Indians, with over 200 million users in the country. Soaring with success due to its huge popularity in India, it is taking a step forward by foraying into business. The reason for their entry into a more commercial form of communication is that they want to explore newer ways by which companies that connect and communicate with their customers.
[caption id="attachment_5606" align="aligncenter" width="286"]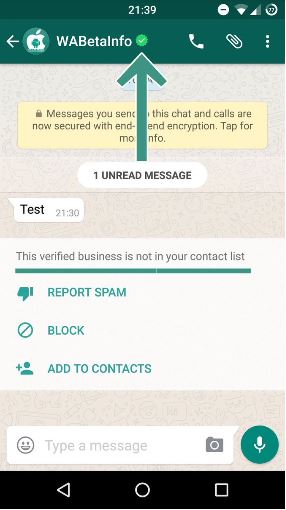 Source:
Twitter
[/caption]
WhatsApp's first collaboration in India is with BookMyShow, India's largest online ticketing platform. When a customer books ticket via the BookMyShow app, a confirmation which was traditionally sent to the customer via SMS will now be sent via WhatsApp.
Apart from BookMyShow, startups like Ola and OYO Rooms and some airline companies, are also expected to follow suit.
[caption id="attachment_5605" align="aligncenter" width="399"]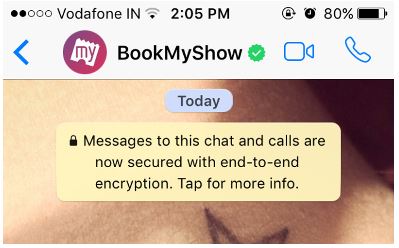 Source:
BGR.in
[/caption]
What does a verified business account mean on WhatsApp?
Simply put, a business account- if verified by WhatsApp will have a green badge next to its name. If a user already has the business number saved as a contact on their phone, the business will appear under that name. If the user does not have the number saved, the business will appear with the name they have chosen for themselves.
It will also inform its users when they start talking to a business account with yellow messages inside the chat that cannot be deleted.
This has been done to protect users/ customers from fraudulent numbers claiming to be some business or the other.
[caption id="attachment_5603" align="aligncenter" width="580"]
Source:
pixr8.com
[/caption]
How does this feature benefit businesses?
1. The biggest advantage WhatsApp has is its very
simple UI/UX
, that makes using it a piece of cake for all age groups. Neither customers nor business operators have to learn anything new to make use of this feature.
2. It is an
easy, cost-effective and quick
way to communicate with customers. People may not always be available or feel comfortable having a telephonic conversation, but a personal message is simple, easy and gets the message across.
3. 
Customer care should get a lot more efficient
with WhatsApp coming into the picture, compared to any other medium. For any matter of concern, customers will find it more feasible to resolve queries/ make complaints via a message, instead of typing out an elaborate email or calling up the helpline numbers. However, a business with a lot of customers may find it difficult to handle all queries via WhatsApp, initially. This is where Digital CRM tools which were so long concentrating only on social media channels will have a major role to play.
4. WhatsApp can qualify as a
great marketing tool for promotional purposes
. Since there will be fewer/ no restrictions on the format, brands can be extremely innovative and creative in their approach. Also the chances of a customer receiving it and viewing it will be very high. It's a great way for direct communication, provided that the business does not spam their customers with an excessive number of messages. [caption id="attachment_5604" align="aligncenter" width="473"]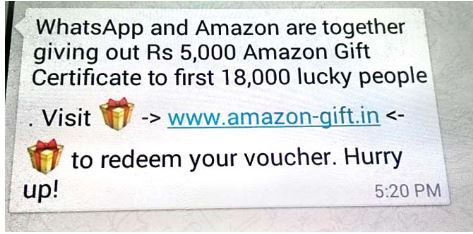 Source: Midday[/caption]
WhatsApp for Business is at present in its initial stage and available for a small number of businesses, but with big names like BookMyShow implementing the new feature, no doubt the messaging app is gearing up for a major role in e-commerce and business. WhatsApp is also said to have an approval on integrating payments within the app, and is in talks with several banks to carry out the same.
To learn about how you can get your business to benefit from WhatsApp for Business drop us a message, and we'll be sure to call you back!