May 24, 2018
10 Ways to Improve Your Facebook Ads With Better Targeting
"Facebook is the number one ad channel for both B2C and B2B companies, with 5 million businesses using Facebook ads to reach their target audience". With billions of people on one platform, Facebook is undoubtedly a great place to reach out and connect with customers. However, with the recent algorithm changes, personal content is getting much more preference than public content. This is where Facebook ads can prove to be an important tool to grow your business online. When done right, Facebook ads can prove to be highly effective. Understanding the targeting methods and following relevant ones can improve ROI of the ads rapidly.
Here are 10 ways to improve your Facebook ads with better targeting -
 1. Know what interests your customer
It is a proven fact that if the target audience is too big, the click-through-rate will be low and the ads will not perform well.
Your targeting needs to be specific and the best way to narrow down audience is by knowing their interests. Facebook offers numerous categories of interests that you can choose from. Apart from that, you can also target people who have expressed interest or liked other relevant Facebook pages.
[caption id="attachment_8726" align="aligncenter" width="500"]
Source: Social Media Examiner[/caption]
2. Use the Age + Gender + Location combination
Name, age, gender and location are the basic information that people first share when they open an account on Facebook. Using a combination of these three data points will help you target your audience better. For example, instead of just setting the target of 20-30 year old females, use 20-30 year old females in Bangalore for a better reach.
[caption id="attachment_8725" align="aligncenter" width="540"]
Source: AdvertiseMint[/caption]
You can also exclude a certain region or state for better optimization. Targeting people based on their location also gives a presumption about their quality of life and also help in targeting specific income levels. However, keep in mind that the narrower your geographic boundary- the higher your ads are likely to cost.
3. Target specific income levels
 If your product is for the elite class, your Facebook ads should also target them, and if your products cater to the needs of college students, the ads should reach out to them. Facebook provides 30 options of financial behaviours to ensure that you reach out to the people who are not only interested in the products but also are willing to make the purchase.
Facebook doesn't accurately know the exact income of its users, but it provides an approximate based on general demography and third party data. However, this feature is not yet available in India.
[caption id="attachment_8727" align="aligncenter" width="233"]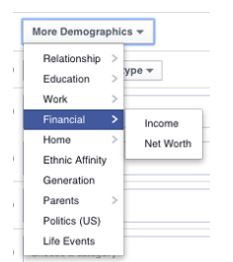 Source: Social Media Examiner[/caption]
4. Target relevant generation
 Baby boomers, echo boomers, generation X or millenials are not just different based on the time period of their birth; they have different demands and show different customer behaviours.
For example, if you run a restaurant that specializes in low calorie, low sodium food, baby boomers are more likely to be your ideal audience. However, if your restaurant offers customizable meals with group-friendly atmosphere and food options, millennials would be your target audience.
Targeting by generation can effectively help narrow down the target audience of several businesses.
5. Find people who are looking for your product
 Over 70% people research for a product online before they make a purchase. And even though it may sound creepy, but Facebook knows what someone is searching for online.
The only thing to consider in this regard is time. In the sense that a customer is most likely to make a purchase within a week of researching- so that's the timeframe within which  you have to convince them to buy your product. Facebook will help you identify users who are about to make a purchase so that the ads can be targeted towards them. Since price is an important factor for most customers, a discount can persuade them to choose you over competitors.
6. Filter audience by occupation
If your product or service is appealing to people belonging to a certain industry or occupation, Facebook allows you to narrow down your audience based on their work. You can do it directly by browsing through demographics and selecting 'work'.
[caption id="attachment_8730" align="aligncenter" width="457"]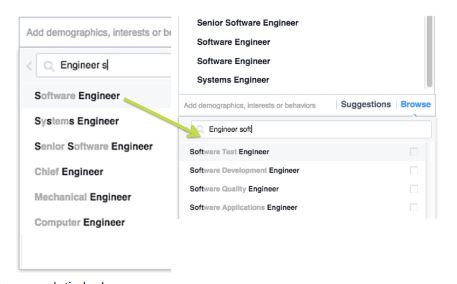 Source: marketingland.com[/caption]
Another indirect way to do the same is to know the likes and interests of users that may help provide a background reference about the industry or occupation they belong to.
7. Filter audience by education
When you're familiar with the education of your target audience, it helps you customize everything better - from campaigns to tone and language of your communication.
[caption id="attachment_8722" align="aligncenter" width="458"]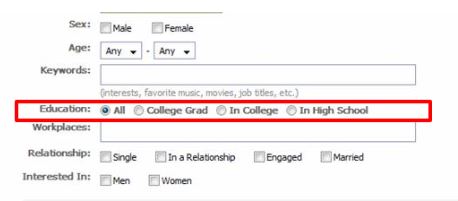 Source: WordPress[/caption]
Apart from that, knowing the education level is also important if your product/service is ideal for only certain people. For example, if you provide graduation level education, you target audience will be only the students who have just passed or are in their final year of school.
8. Target specific mobile devices
Interestingly, Facebook provides the option of targeting people based on the mobile device they use to log in to Facebook. This is very helpful if you're selling mobile phones or accessories.
This feature is also beneficial for companies that build apps. You can identify the devices that are best compatible with your app and target those specific ones and avoid the non compatible devices.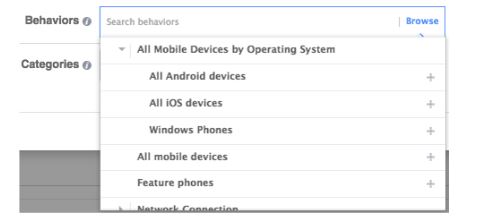 9. Target anniversaries
 If your business involves selling gifts and you want to target people who are looking to purchase a gift, this is a good option that will help you narrow down your audience. Facebook provides you the option to target people who will be celebrating their anniversary in the next one or two months.
[caption id="attachment_8732" align="aligncenter" width="540"]

Source: Pure Residuals[/caption]
 10. Take travel into account
 Facebook allows you to choose your audience based on the way they travel. They can be frequent travellers, business travellers, international travellers, daily commuters, etc. This information can be used in accordance to your products/services.
[caption id="attachment_8731" align="aligncenter" width="544"]
Source: Connection[/caption]
For example, for a B2B business, business travellers are an ideal choice as an audience. For daily commuters, apps or e-books are something they'll probably look for to pass time during their commute.
Facebook is like a storehouse of data that can help your business reach out to the correct people. It is important to invest time and research on the various targeting methods to identify the most relevant ones. To know more about targeting with Facebook ads, leave us a message below and we'll get back to you!