October 12, 2017
5 Successful Social Media Campaigns of Quarter 3 2017
Along with several other things, social media has changed the face of marketing in recent years. Reaching out to an audience is no more a difficulty, and brands ensure that they make the optimal use of the social media channels to increase their brand visibility and spread awareness. The combination of informative as well as creative content, along with the right dollop of emotion have always managed to strike a chord among the audience. 
Let's look at 5 such successful social media campaigns of the 3rd quarter of 2017:
1. Jammu & Kashmir Tourism – Warmest Place on Earth
Kashmir has always been known for its splendid scenic beauty and romantic climate, thus winning the title of 'Heaven on Earth'. However, this social media campaign by J & K Tourism explores another part of this heavenly abode – the warmth that resides among the residents of the state.

The 5 minute long video depicts Kashmir as the warmest place, showcasing the experience of a young couple with a local man whom they mistake to be their driver. Launched on September 23, the video went viral across all social media channels, garnering over 2.9 million views on Facebook alone. From travelers to celebrities, it seemed to touch the right chord with everyone.
Have a look at the beautiful video here:
2. Parachute Advanced – The Tough Talk
September 24 is celebrated as Daughter's Day, and Parachute Advanced showed the world the right way to do it. The campaign highlighted the 'tough talk' on issues like love, sex and divorce between a daughter and her father while he was shown oiling her hair. The video called out to all fathers, with an urge to give their daughters the care and attention they deserve, to help them open up to their fathers and share everything in a casual and comfortable manner – '
the more you'll be there, the more they will share.
"

The campaign successfully crossed 2.9 million views on Facebook, with over 8000 shares. With the hashtag #LoveJatao, people shared and discussed this campaign to a great extent on social media.

Watch the video of this successful social media campaign, 2017:
3. Star Bharat – Bhula De Darr, Kuch Alag Kar
The newly revamped channel, Star Bharat launched a campaign on Dusshera matching their tagline to encourage people to chase their dreams and not quit because of fear. The idea was to burn all fears this Dussehra. If you still wonder how to make viral videos, here is an insider tips:
Make viral videos on small budget
.

Three leading icons from the country – Mithali Raj, MS Dhoni and Ajay Devgn were roped in for this campaign. Recently Sidharth Malhotra has also joined the team. These celebrities speak about their own fears and how overcoming these fears have made them what they are today.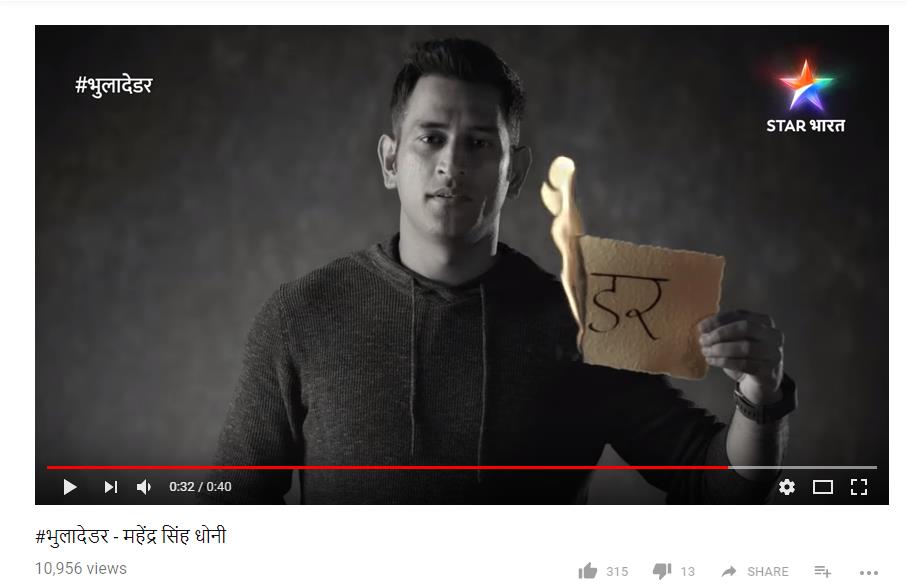 The videos have garnered over 3 million views individually on Facebook with over 50k reactions and above 3000 shares.
4. HDFC Life – Being #YoungAndResponsible
Today's generation is full of young aspiring individuals who believe in their dreams, and with detailed planning and implementation, try to make them a reality. But does the older generation have the same perception about the younger one? HDFC rolled out the campaign #YoungAndRestless or #YoungAndResponsible, where people with age and experience on their side were shown photographs of two youngsters and asked what they could perceive by just looking at them. Their opinion concluded the fact that the younger generation was #YoungAndRestless. It was then that these youngsters met them in person and shared stories of the journey that had made them successful showing to the world that they were #YoungAndResponsible.

Harmanpreet Kaur, batswoman, Indian Women's Cricket Team and Chintan Ruparel, Co-founder, Terribly Tiny Tales were the young achievers that were a part of this campaign. The campaign garnered 9.7 million views with more than 7000 shares and sparked more than 2,30,000 engagements.
5. Britannia Good Day - #SmileMoreForAGoodDay
Titled "A day in the life of a Royal Indian Guard", Britannia Good Day's new campaign showcases the daily duty of a guard in front of India Gate, Delhi. He stands still, on his job, seeing thousands of regular joggers, tourists, guides and balloon sellers visiting the place. He cannot smile even when people urge him to, but makes sure to remember all the smiling faces once he is home.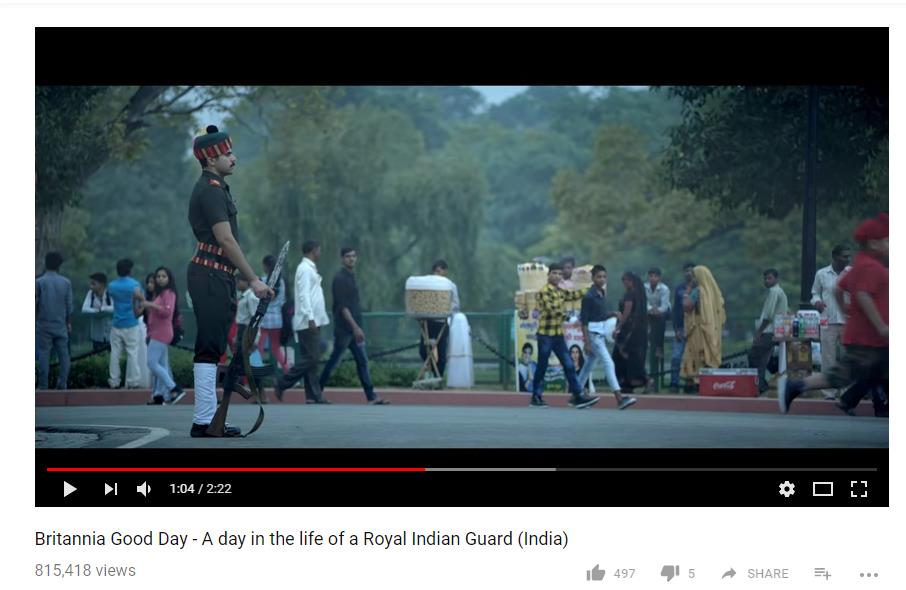 The campaign encourages people to smile as much as they can, and have a Good Day. The video has already crossed 1 million views on Facebook, with over 3500 shares and 45K reactions.
Watch the video here
If Know any videos that we missed but should be part of the list? Tell us in the comments section below. Also, Know more about our
video marketing services
.