July 01, 2016
Advertising On Twitter - Campaign Types, Advertising Cost & Targeting
Advertising on Twitter can help you build awareness and grow your business in real time. Twitter has recently opened up its advertising platform to small and medium businesses as well and late last year, the tool was made available to Indian businesses.
Why Advertising on Twitter?
Before we get into the types of advertising on twitter, let's talk a bit about why you should advertise on twitter.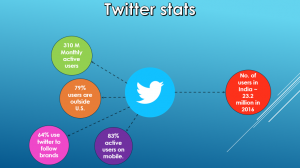 Twitter has 310 M monthly active users, of which around 23.2 million are in India. This is one huge market that you cannot ignore and must take advantage of!
64% people use Twitter to follow brands. And this is also a key difference between Twitter and Facebook – People use Facebook primarily to connect and keep up with friends and family and not so much to follow businesses or brands.
But, twitter is where people go to see content whether it is from people they know or not. It is far easier to connect on twitter, with people or brands you don't know. A whopping 83% twitter users are on mobile, which means they are connected with it in real time, throughout the day.
Employing twitter advertising as part of your digital media strategy, will not help gain traction but will also help increase your prospective customer base.
Twitter allows you to create campaigns based on your business goals and also offers a wide range of targeting options, using which you can create powerful campaigns to get the desired results. The clean and simple interface of Twitter's ad platform makes it very easy for an advertiser to create high-performance ad campaigns.
Twitter Campaign Types:
1. Website clicks campaign on Twitter
As the name suggests, this campaign is ideal when you want to increase visits to your website, drive purchases or downloads etc. You would be creating a tweet with an image and a website link, known as a website card in twitter parlance, to drive traffic to your website.
You only pay when a user takes action that is aligned with the objective of your campaign. Users would see your ads in their timelines and in search results.
2. Followers campaign on Twitter
It is designed to increase visibility and add followers. When people follow your business on twitter, they feel more positive about it and are more likely to tweet about you, retweet your tweets and buy from you. A Followers campaign is a way to grow your audience in a smarter, more targeted way.
Here again, you only pay for the number of follows you get from the campaign. All other by-products such as any website clicks or likes and retweets are totally free of cost.
3. Engagement Campaign on Twitter
This is mainly for increasing engagements for your tweets in the form retweets, likes, and replies. Tweets with visuals are known to do better in terms of getting a response, so include images or videos in your promoted tweets. You can also experiment with Vine to create short, looping videos or add up to 4 images in a tweet.
4. Mobile app installs/promotion Twitter campaigns
This is mainly for driving app installs. Users can download or open mobile apps directly from within your promoted tweet. You only pay for clicks that lead the App Store or Google Play, or to open the app. An India company, BillBachao, saw a 56% increase in its app installs, through their mobile app installs campaign on Twitter.
5. Lead generation Twitter campaign
This is designed to help you collect email IDs from people who are interested in your offer, by allowing them to securely and quickly share their email address with you. Include a Lead Generation Card in your Tweet and make sure to include compelling copy that tells users why they should share their details with you.
6. Quick Promote on Twitter
Just like Facebook's boost post feature, Twitter's quick promote lets you directly promote tweets. Select a top performing tweet from your tweets dashboard and click promote tweet. With just a few clicks your tweet will automatically be targeted to users who have similar interests similar to your followers.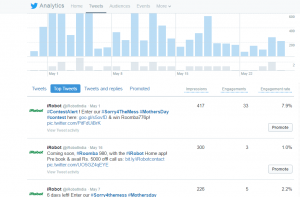 Advertising on Twitter: Twitter Ads Targeting
Of the various Twitter ads targeting options that Twitter offers, there are three that take center stage:
1. Keyword Targeting
With keyword targeting on Twitter , your ads will be served up to people in searches i.e. when they search for topics related to your business, and in their timelines, based on something they have tweeted.
For e.g. if you are a travel company and the words vacation, travel or travel planning etc. come up in someone's tweets, then your ad will appear in their timeline.
When you enter keywords to target, twitter shows you the strength of each keyword in terms of daily volume of tweets containing that keyword. For instance in the image below the keyword 'cleaning' is clearly stronger than the keyword 'carpets'.
Another great feature here is that, based on the keywords you enter, Twitter offers you a list of recommended keywords that can help you target your audience better. In the example below, 'pets' is an entered keyword on the basis of which Twitter recommends you use '#pets', 'pet's', or 'pet' as keywords that have a much higher reach.
2. Followers Targeting on Twitter
Followers targeting makes it possible to select certain Twitter accounts and target users with the same interests as followers of that Twitter account. You can enter @usernames of influencers, bloggers, complimentary brands, similar audiences and even competitors.
Here again, based on your entered @usernames, Twitter will suggest similar @usernames that you could target.
Twitter suggests you add at least 20-30 @usernames in the case of Followers targeting. However, it is best to avoid twitter accounts that have thousands of followers, since such followers will have a wider range of interests, which can confuse Twitter's algorithm and dilute the signal.
It also suggests you segment the usernames by category. i.e run one campaign targeting competitors @usernames and another targeting those of complementary businesses.
3. Interests Targeting
Here users are targeting based on their interests. For e.g. if you are in the business of selling pet food, you would target people with interests such as pets, dogs, cats or PETA even.
Twitter offers certain categories of interests, each of which has sub-categories of interests. Twitter recommends that you choose a max of 2 interest categories and not more than 10 sub-categories each for any given campaign.
Apart from the above, Twitter also offers targeting based on tailored audiences, location, gender, device, behaviour and language as well.
Cost of advertising on Twitter
Twitter's pricing system is different from Facebook's. You pay only when users take an action that is in line with the objective of your campaign; i.e. you're only paying for the exact results that you want to see.
You aren't charged for any resulting organic engagement, and you don't pay more than a cent above another advertiser's bid. The average CTR for Twitter ads is 1-3% which is higher than that of Facebook's .119%.
All in all, based on the number of campaign options available, the superior targeting options available, the extremely easy to use ads interface, the growing twitter user base, the ability to use quick promote for real-time advertising, and the at par cost of advertising, Twitter is an excellent place for you to promote your business by leveraging Twitter ads.