September 01, 2017
The Adwords Features You Shouldn't Ignore In 2017
Google is notoriously good at releasing updates and bettering their already excellent products. 2016 saw some great features for AdWords and 2017 is thankfully, no different. AdWords has a bunch of new features that will help brands and agencies run better and more profitable campaigns. Read on to know the top 10 features you shouldn't miss!
1. Find people similar to your best customers
Google Adwords' Remarketing lists for search ads (RLSA) can help brands re-connect with people who have visited the website previously, and while this is great, it is more important to continuously build a network of new customers. For this, Google came up with
similar audiences
. Now similar audiences for Search and Shopping along with Customer Match for Shopping can help brands use their own data to reach the right customer with the right message. With Customer Match for Shopping, brands can connect with high-value email list subscribers, resulting in a higher click through and conversion rate with these shoppers.
2. Expanded Text Ads
Expanded Text Ads are twice as big as current text ads. The new ads include a longer description of 80 characters and thus can maximize a brand's presence and performance on mobile search results. These ads show up on all devices and the text wraps itself according to the device automatically.
3. Responsive Ads
Responsive ads have the feature of automatically adjusting their size, appearance, and format to fit just about any available ad space. They have a dynamic look and feel based on the hosting website or app. This helps advertisements attract more clicks due to naturally better aesthetics.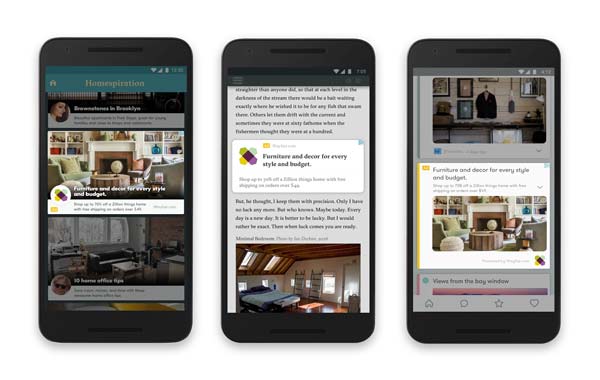 4. Google Maps Local Search Ads
The new Google Maps ads target users who are currently active. For example, a restaurant business can target customers currently shopping or dining or planning to do so. This multiplies the business of the commodity and is best used on a mobile device. A promoted pin appears as a
sponsored pin
in the results section.
5. Device Oriented Bids
Now advertisers can pay customised bids depending on the device they are using to target the customer. The feature has been introduced so as to enable brands to segregate their desktop, mobile and tablet traffic. It lets advertisers split the traffic, and in addition create bidding campaigns for specific devices. These bids are highly useful when an advertiser wants to plan a campaign only for a particular device.
6. Cross Device Remarketing
Cross-device remarketing for Google Display Network and DoubleClick Bid Manager helps an advertiser target the same ads to the same users as they move between their devices.
Adverts are remarketed across Google Display Network (Website, Apps etc.) and the advertiser has full control of deciding the frequency of advertisements displayed to the same user across devices.
7. Enhanced Cost Per Click (ECPC)
ECPC is a new bid strategy that adjusts the cost-per-click (CPC) to help brands maximize conversions. In this strategy, the manual bid is raised when it seems more likely to lead to a sale or other conversion on a website, and similarly the bid is lowered in situations that seem less likely to lead to a conversion. Thus, ECPC can help brands get higher conversions at a highly optimised CPC.
Note: ECPC for text ads is available on the Search Network and the Display Network, but not for app installs campaigns. For Shopping ads, ECPC works only on Google Search.
8. Site Links
Ad Sitelinks is a new feature in AdWords that offers brands the facility to mention links to pages beyond the destination landing page in an ad.

Sitelinks let the customer focus on a specific page and thus decrease bounce rates. It also leads to higher link visibility, which leads to more traffic and an increased Click Through Rate (CTR). The ads look more relevant and legitimate with keywords shown in Bold. Sitelinks help in improving the Quality Score and allow advertisers to send a user to multiple landing pages.
9. Search Impression Share/ Search Lost Impression Share
Impression share is one of the simplest metrics that measures how often ads actually show up compared to when they should show up. Brands might bid on a keyword (in AdWords) but Google doesn't always serve up that ad. Impression share is the number of impressions the ad has received divided by the estimated number of impressions it was eligible to receive. Eligibility is based on current ads' targeting settings, bids, approval statuses and Quality Scores. Impression Share data can be seen at the campaign, ad group and keyword levels.      
One can easily determine the total number of available impressions in the marketplace through successful campaigns and thus for the campaigns not working, Impression Share can be used to find the answers to the actual room for growth.                             
10. Ad Rotation
If there are multiple ads within an ad group, the ads will rotate because no more than one ad from a single account can show at a time. Ad rotation works on both the Search Network and the Display Network. There are different ad rotation settings to specify how often ads in an ad group will be displayed relative to one another. These are:
1. 
Optimize for Clicks (Default) – Here, ads that are expected to perform better are displayed more often i.e ads that are expected to attract more clicks are displayed more often.
2. Optimize for Conversions – Here, ads with higher conversion rates are displayed more often. For eg: Purchase and Sign up ads with high conversion rates
3. Rotate Evenly, Rotate Indefinitely – Here, ads are rotated evenly but for an indefinite period of time.
In Ad Rotation, brands can design particular ads based on the Date/Day. Eg. bid during weekends or a particular time of day based on the user behaviour. This helps in seasonal targeting of sale ads.
Keeping a check on recent AdWords developments and release of new features is important for brands and the agencies that work for them. This is because, newer features are the results of important campaign learnings that help brands put forth better campaigns with higher ROI.
Drop us a message
to learn about our strategies and campaigns and how we keep on top of things.