December 14, 2020
5 Google Ads Shortcuts for Better Results with Less Effort
The process of getting excellent Pay-Per-Click (PPC) results can be long, tedious and confusing. Brands need to test, tweak and look for new solutions constantly and be updated with the latest trends. Undertakings like keyword research, ad text optimization, bid management, landing page optimization and more are vital components of a successful PPC campaign. This is why having
Google Ads shortcuts
are extremely useful. Instead of draining time and energy, brands can save time and get done more with the same amount of resources with the help of
Google Ads shortcuts
.
Below are some of the Google Ads Shortcuts or Google ads trick or Google Ads best practices that brands can follow for better results with less effort:
Organize variant keywords
This
Google ads trick
is quite interesting. Previously
SEM
experts had to be quite specific with
Google Ads
about the keywords they wanted to show. Misspellings and plurals were necessary to keep a check on because Google was literal with the keywords in Phrase and Exact keyword match types.
But now,
Google Ads
has changed how Phrase and Exact match handles these types of queries by matching "close variants" of these match types. Google now gives itself permission to show the ad for terms which are plural, typo, or similar. Nowadays, in the
Opportunities
tab, it will actually recommend not to have those versions to keep the account from getting overloaded with unnecessary terms.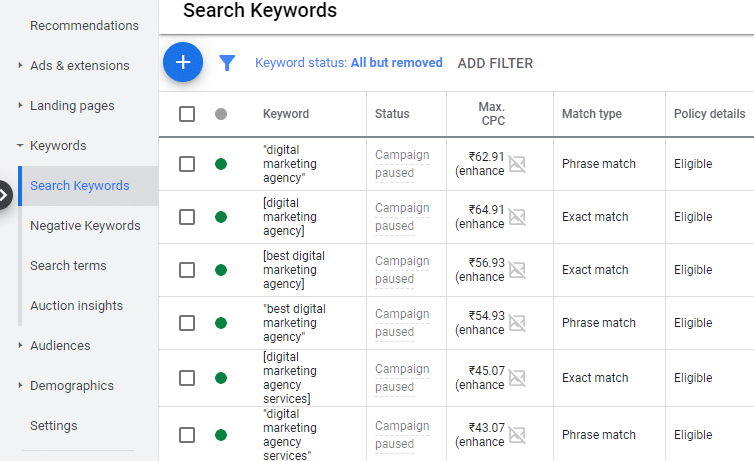 Eliminate duplicate keywords
Sometimes optimizing the same content may increase the usage of the same keywords resulting in duplicacy of keywords. And it could be time-consuming to look for such terms to find the duplicate keywords. Now, the
Google Ads
Editor has a very handy feature or a
Google Ads trick
which can be accessed from the top menu under
Tools
. Out of the many options it provides, one is to find duplicate keywords. 
For instance, one can choose a strict word order or any word order.  If one is mostly concerned with Exact Match, then it is better to choose strict word order. But any word order can be a useful way to clear out modified broad search phrases that are just the same words in a different order. One more option that can be looked up to is the
Location of duplicates
which gives the opportunity to locate duplicates in the same ad group, same campaign or across any selected campaign.
Use Notations
Sometimes while checking year over year data, brands realise that the numbers were better the previous year. This may be due to certain holiday dates which vary every year, any PR bump or for any other reason. Therefore in such cases, using Notes can help record or tally that history, and save time in trying to dig and piece together this kind of analysis. 
To use notes, click on the
Campaign
or the
Ad Group View
in the performance graph. When hovering on the line, the date and performance metrics appear, along with a blue
Add Note
option. The note can be typed on that.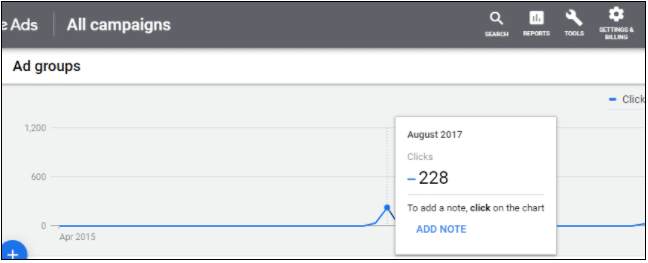 Ad customizers
Sometimes brands want to show a countdown for the number of days an item is on sale. Or an eCommerce brand may want to accurately reflect in near-real-time the amount of a specific product that they still have in stock. Managing these repetitive ads manually is a tedious task. To make the work easier, brands can use
ad customizers
. In this feature, brands have to first create a template with product attributes in it that can be uploaded to
Google Ads
. 
Some of the standard attributes that can be specified are- devices, schedule, customer ID, start date, end date and target location restrictions. This allows a brand to input a snippet of code connected to the informational spreadsheet, which then inputs things like the correct model, brand, price, or other parameters into the ad copy. Such automated processes are a huge time saver and also helps run more effective and relevant ads.
Leverage tools and automation
Reporting and analysis in PPC can take up a lot of time. To minimise that time and make good use of it, brands should use Google Ad Scripts. The ad scripts can be used to create custom reports or make automated edits to the account. Scripts can allow a brand or an SEM expert to track historical Quality Scores, drastic increases in spend, identify underperforming keywords, and more. 
Google Ads
is complex and can sometimes be time-consuming. Administrative tasks can take up a lot of time which can otherwise be spent on strategy and higher-level decisions about PPC. It is wise for brands to take advantage of the above-mentioned
Google ads best practices
provided by Google.
SEM
experts can try their automated bidding, responsive search ads, and utilise the saved up time to create things that will make ongoing management a lot easier. To know more on
Google Ad Shortcuts
or
Google ads best practices,
leave us a message and we will get back to you!