April 16, 2019
Must Have Elements in a Customer Welcome Email
Welcome emails are read 4X times by customers compared to promotional emails, reports a study. Welcome emails receive one of the highest percentages of engagement from customers around the globe. This increased engagement opens up the opportunity for brands to build trust and communication channels from the very beginning. Some common goals of welcome emails are to familiarize new customers with the business; prove why they should choose your product or service and finally state what the brand can do to achieve the customer's individual goals or set them on the path of success.
Let's check some of the steps that should be followed while writing a welcome email:
Mention the services
Restating the value proposition reassures customers that they have made the correct decision by signing up with a particular brand. A customer's expectations from the brand's product or service are cleared and clarified and it also provides the brand with an opportunity to explain its ancillary services and offers. [caption id="attachment_11421" align="alignnone" width="500"]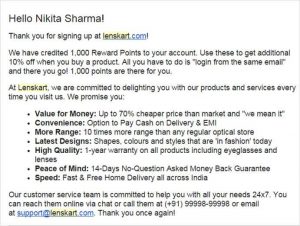 Source: http://www.netcoremarketingcloud.com[/caption]
Assist them with further details
There are some important steps that customers need to follow post signing up in order to fully make use of the brand's product/service.
Some of the steps to get more from the business are:
Complete profile information- To avail complete service from the brand, a customer should provide his/her complete information.
Choose preferences- He/she should select their actual choices or preferences for the brand to better understand them and assist them with the right product or service.
Upload important information- A customer should provide their correct contact information, profile picture, social media profile links for better service from the brand.
Complete an order/ upgrade their account- A customer should always keep their account updated with the present address, contact and email id.
This will provide better customer experience and help the brand grow and prosper. [caption id="attachment_11422" align="alignnone" width="500"]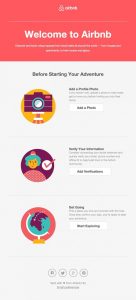 Source: https://htmlemailgallery.com[/caption]
Include helpful resources
Customers might need additional assistance depending on the nature and complexity of the product or service such as- guidance in troubleshooting, utilizing advanced features or how to get maximum value out of a brand's core features. Content for "help" like video tutorials, FAQ page, informative blogs etc are important to include in welcome emails for more complicated/new products. This helps customers check for information in order to avoid problems instead of searching for solutions after the problem arises.
Contact information for customer service
The last step for a customer is to know how to contact the brand in case of difficulties. To build a relationship, trust is the foundation and contact information is a wonderful way to lay that foundation. It drives customer loyalty as well as reassures readers that the brand is available for help when required.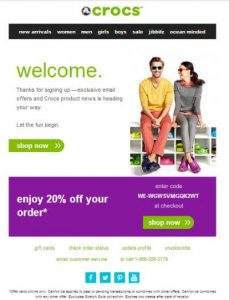 Welcome emails are not sent just to create a positive first impression. Since it has one of the highest engagement rates among other email types, these emails offer the perfect chance for brands to convince new subscribers to take action.
To know more about welcome emails, leave us a message and we will get back to you.