January 06, 2017
Digital Transformation Of Insurance Industry In India
Opportunities and threats are often two sides of the same coin and it is especially true in the current digital scenario. Customers are increasingly demanding in all aspects of business- be it product, delivery or maintenance. The only way to move forward is to continually enhance the customer experience.
Insurance as a sector has been slow to take on the digital world with the main emphasis still remaining on-ground. However, with customers demanding faster and error-free processes, digital disruption in the sector is inevitable. It is for insurers to decide whether they will lead the disruption or become one of its casualties.
Digital insurance is a firm way for insurers to differentiate themselves in a highly competitive market thus making for loyal customers.
Digital Transformation through re-inventing the purchase cycle:
Customers are no longer buying insurance through a liner path. If acquiring a customer is the first step for insurers, then retaining them is equally important because of a dynamic and multi-directional purchase journey. Insurers need to invent a new model surrounding the customer that's more relevant to them.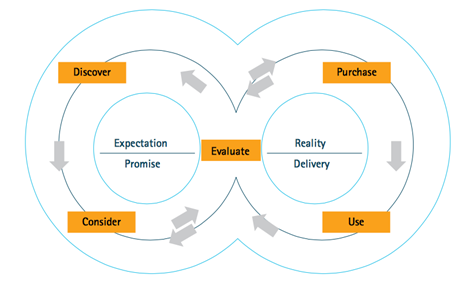 Digital Innovation in Distribution:
Insurers are expected to immensely gain through the digital transformation of their distribution process. It offers opportunities to seriously reduce operational costs and improve efficiency by creating a holistic system with information and support across all channels. As of now, digitalization can make way for companies by determining which customer segment to effectively target and in customers' post-purchase experience.
While most Indians may still be using digital platforms only for access to information and buying through traditional agents, this process is bound to see a change. With more trust and credibility attached to digital institutions, Indians may well start buying their insurance online as well.
Digital Channel for Sales:
Digital insurance can significantly improve ROI by activating new channels for sales. This can be done by creating a new digital brand or extending an existing brand, generating online sales and achieving higher traditional sales. This is where real-time data and analytics comes in useful to optimize the online sales funnel.
Innovations in Products/ Service:
Customers are increasingly demanding and expect personalized interactions with insurers via any device at any hour. Rich customer data can help in modelling a behavior-based pricing system that could further lead to more efficient products.
The ever-evolving behavior of customers is also leading to a change in marketing- from traditional to personalized mobile and online channels. A big trend in insurance today is self-service in the case of claims settling through the use of automated channels.
Insurers around the world are harnessing the power of digital to re-think their business and build highly efficient models around the customer. Taking a customer eccentric view of the organisation, using creative strategies to connect and engage, and innovating products, processes and experiences to enhance revenue is all part of digital transformation.
India is yet to see a fully digital insurer take over the market but that day is not far away. Digital insurance has the ability to lead to better efficiency, lower costs and higher profitability. It can also help create unique customer experiences through real-time data analysis.
Source Credit: McKinsey, Accenture