February 23, 2018
Facebook's Algorithm Update & What To Do To Make Organic Reach Better
The New Year definitely began with a surprise for marketers when Mark Zuckerberg announced that Facebook would be making some changes to its news feed algorithm to 'prioritize interactions between friends and family over company-generated posts.'
He said,
"
The first changes you'll see will be in News Feed, where you can expect to see more from your friends, family and groups.
As we roll this out, you'll see less public content like posts from businesses, brands, and media. And the public content you see more will be held to the same standard -- it should encourage meaningful interactions between people."
The new update has no doubt affected every brand's organic reach on Facebook. However, contrary to belief, the update has been a while in the making and was not entirely unexpected. Facebook has been decreasing organic reach of brands for a while now - from 50% to 20%, then 10%, 5% and at present to 2.5% on an average.
With 250 million monthly active users, Facebook is without doubt the most popular and widely used social media channel in the country. It is where the audience is, and it is where brands should be. However, with changes taking place rapidly, it is very important for brands and marketing agencies to strategize wisely to make the most of the situation.
While it is too early to decipher how Facebook's algorithm update will exactly impact business, there are methods marketers can adapt to make organic reach better -
1. Quality, engaging content is really the king
"We're making a major change to how we build Facebook. I'm changing the goal I give our product teams from focusing on helping you find relevant content to helping you have more meaningful social interactions." - Mark Zuckerberg.
By meaningful social interactions, what Zuckerberg essentially means is interaction through comments. So, businesses should focus all the more on creating rich and quality content that will encourage conversation among the audience.
How do we do that? By including questions in the posts and talking about timely or relevant events that the audience will have an opinion about. Posts that people don't react to or comment on will see a 'decrease in distribution', as per the algorithm update. That means, if you want your page to work well, ensure that your posts have engaging and quality content.
[caption id="attachment_7831" align="aligncenter" width="421"]
Source: reshiftmedia.com[/caption]
2. But, don't go overboard
Sure, you want to increase engagement on your page, but make sure that you don't go overboard to the point that the audience finds your page to be spammy. 'Like this post if you love your mom' or 'Comment on the post if you are a true Scorpio' will cease to work anymore. Moreover, Facebook lists this as an 'engagement bait' tactic and such posts will now be shown less on news feed as they fail to hold 'meaningful interactions'.
"Teams at Facebook have reviewed and categorized hundreds of thousands of posts to inform a machine learning model that can detect different types of engagement bait. Posts that use this tactic will be shown less in News Feed." - Facebook Team
[caption id="attachment_7832" align="aligncenter" width="388"]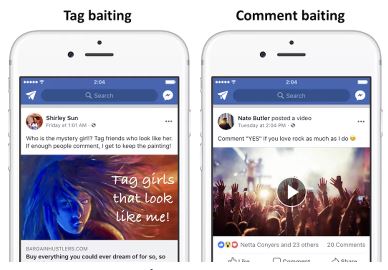 Source: The Verge[/caption]
3. Encourage the audience to choose 'See First'
The 'See First' option in the 'Following' drop down menu remains unchanged after the update. So don't be embarrassed to ask your followers click on the 'See First' option in order to see your posts at the top of their news feed. Just make sure you do it in an honest way.
[caption id="attachment_7828" align="aligncenter" width="437"]
Source: Boundless Creative[/caption]
4. Embrace FB Live Videos
As per the new update, pre-recorded videos are most likely to appear less in the news feed, but live videos will be given more importance as it generates more interaction.
"Live videos often lead to discussion among viewers on Facebook—in fact, live videos on average get six times as many interactions as regular videos." - Mark Zuckerberg.
Statistics say that only 28% of marketers use Facebook Live for their business, an indication that live videos are an underused marketing opportunity. A lot more can be explored with this feature. Moreover, whenever you go live, all your followers will be notified personally about the same, thus increasing reach. (This feature remains unchanged as of now.)
[caption id="attachment_7830" align="aligncenter" width="579"]
Source: Lightcast.com[/caption]
5. Give importance to Facebook groups
"You can expect to see more from your friends, family and groups."
Zuckerberg as well as Adam Mosseri, VP, Facebook have laid emphasis on the importance of Facebook groups, stating that it is indeed a good opportunity for person-to-person interaction.
Groups create a platform for the audience to come together in smaller numbers and help build a closer relationship between a brand and its customers. Recently, FB also introduced Groups for Pages, where businesses can connect directly with customers and get proper feedback about their products and services.
The content on Facebook Groups will receive similar news feed distribution as posts from friends/family. Hence, this marketing tactic is likely to work to your advantage to make organic reach of the page better.
[caption id="attachment_7829" align="aligncenter" width="629"]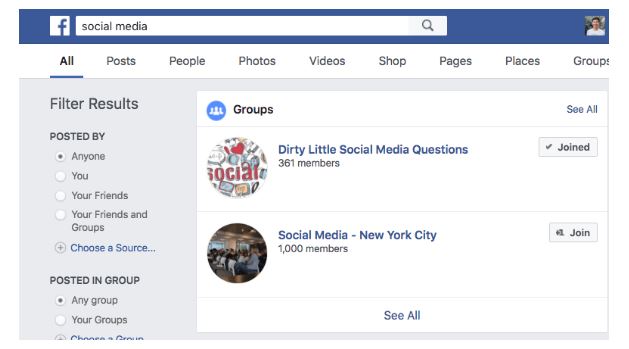 Source: Buffer Blog[/caption]
While Facebook says that this change was brought about to increase 'happiness and well-being of people', many speculate that this step was taken to end the privilege that brands had of reaching their audience 'for free' since Facebook's inception.
What do you think about this update? Tell us in the comments section below.