February 11, 2020
Four Keys To Amazon's Marketing Success
"The most important single thing is to focus obsessively on the customer. Our goal is to be Earth's most customer-centric company." - Jeff Bezos, CEO, Amazon.
With more than 50% share in the e-commerce industry,
Amazon has been riding the wave of success for a long time. Emphasis on efficiency and a customer-centric worldview have been the two major reasons for Amazon's immense popularity. For the brand, the idea has always been to make everything seamless, gratifying and as easy as possible. Amazon's marketing tactics are also based on this idea that has revolutionised the brand's success.
Here are 4 keys to Amazon's marketing success -   
Email is arguably the most important channel for marketing on Amazon. For most businesses where email marketing has been mostly about promotional messaging, newsletters and coupons, Amazon has a completely different and refined email strategy. They can be considered to be the pioneers of introducing highly personalized and product recommendation emails.
Amazon has 9 email templates that can be further personalized based on behaviour, purchase history, order value history, age, gender location, etc. The longer a customer is associated with Amazon, the more data can be stored and used for email strategies. The templates are Welcome, Receipt, Shipping, Upsell, Invite, Thank You, Black Friday Sale, Review and Browsing.
Source: Dribble
Amazon emails are very direct and specific, with a single call to action for customers to know what exactly needs to be done. Keeping the content and template consistent with the website creates a holistic experience for customers, leading to familiarity and trust. Apart from that, setting up a series of emails is also a good strategy for maximum success. By sending out a second email to a customer for cart abandonment campaigns, conversion can be increased by 20%.
2. Ratings & Review
86% of customers are known to read online reviews and more than 90% trust reviews in the same way as personal recommendations.
Even though ratings and reviews are a common feature of almost every e-commerce platform, Amazon was one of the first sites to incorporate a review system, since 1995. An important feature of their review tactics is customers are sent out emails for individual product reviews, even if they have purchased multiple items together. Moreover, the subject lines of the emails are also very specific to capture the customer's attention.  For example, customers are more likely to open an email with a product name in the subject line and review it than just a generic subject line. If they really liked or disliked a product, it is more likely for them to leave a review.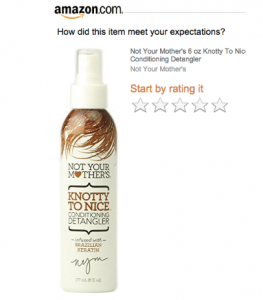 Source:
annexcloud
.com
Known for their innovative strategies, Amazon has gone a step ahead by incorporating another idea to their review system by asking a pertinent question - "Was this review helpful?" This subtle but clever strategy makes it easier to find both positive and negative reviews on the platform.
3. Customer Loyalty Program
Loyalty programs should be such that it delivers exceptional value, and Amazon Prime can be considered to be one of the best examples of a customer loyalty program. For a customer who shops frequently on Amazon, it makes a lot of sense to have Prime, not to be just motivated to shop more but to make the most out of the investment.
Reports have revealed that Amazon loyalty program members "spend 5 to 20% more than non-members, and the purchase frequency also tend to rise by 5 to 20%."
Source: amazon
Prime is an uncommon marketing strategy in several ways. This is because customers actually have to pay extra to get the membership. However, from a psychological point of view, it may create a sense of prestige. Regardless, for Prime members, it's worth the extra pay in return for fast and free shipping, cloud storage, free streaming shows, music and movies among other perks. 
An important aspect of these perks is continuity. Instead of giving a one-time reward, Amazon encourages looping in their loyal customers in a complete ecosystem with special benefits that last for a year, and even more in case of renewal. The incentives provided are also tangible and immediate, and all features can be used simultaneously. By creating such a
seamless customer experience
through its loyalty program, Amazon has witnessed a 5-10% increase in revenue. 
4. Advertising Campaigns
According to Hubspot, Amazon's advertising revenue is known to have been skyrocketed by 250%.
Amazon advertising was launched in 2018 to help sellers improve their brand and product visibility and get prime placements in the top of the search result pages. Similar to Google and Facebook Ads, sellers have to pay only when customers click on the ad. However, while Facebook and Google can only deduce buying intention, Amazon can use their first-hand customer purchasing data to improve ad targets across the whole purchasing funnel.
Amazon uses a sophisticated algorithm to gather customer information about the product types that would be most appealing for them. It also offers a report that provides insight regarding the search terms and keywords that work best, thereby allowing marketers to refine and optimize their product ads accordingly.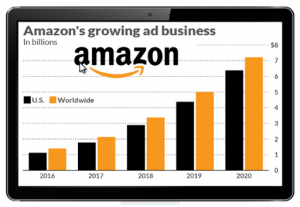 Source: eMarketer
With the introduction of
brand stores
, Amazon's marketing has taken a further step to reach greater heights and rule the e-commerce industry.
Amazon does not do marketing just for the sake of doing it, instead, they thoughtfully choose strategies in alignment with their business goals. This is the primary reason for their unprecedented success.