August 03, 2021
Ecommerce Marketing & Advertising: Strategies & Recommendations for 2021
E-Commerce refers to any business that sells its services or products online. This includes examples such as Amazon, Myntra, even Zomato! With the pandemic, it has become more and more clear that e-commerce is the way to go for any business. Thus it is important to have an efficient strategy for ecommerce advertising. If you are just starting out, here are some e-commerce marketing strategies for beginners. 
1. Shopping Cart
: First and foremost, your shopping website needs to be up to the mark. You want to give your customers the best shopping experience. Remember that it is your 24/7 sales person. Customers can shop on your website at any time of the day, and your website will always be running to provide any needed information. Some ecommerce marketing tips to keep in mind are: 
Make the website look good visually 

Invest in an automated chat bot to help answer queries 

A smooth payment process with all available payment methods. Read more on this

here

.

Your product title should be simple so that people can easily find what they are searching for. For example, if your target market is parents looking for school shoes, name your products as school shoes, and not just shoes.

Add a comprehensive description of your product. Remember that your customer can't feel your product with their hands before buying it, and thus will need all the information for them to actually buy the product. 

High quality photos are a MUST! If you can go the extra mile and add videos, it will only help more.
2. Offer free shipping
: This may seem like a small thing, however one of the biggest factors of not placing the order is because of paid shipping. All the established ecommerce platforms offer free shipping, and if you sell a similar product, there are high chances of abandonment if you charge extra fees for shipping.
3. Customer Support
: Since everything happens online, you need to add a personal touch to the customer journey. Have good customer support that people can easily contact. A telephone support is the way to go, however even email support with quick responses is a good start. 
4. Mobile friendly website
: Almost half of online shoppers buy their products from their mobile devices. This makes it increasingly important for your website to be just as functional on the phone. What helps further is having a mobile application for your customers to download. 
5. Social Media presence
: This becomes important for brand awareness. Engaging and posting content helps your customers establish a sense of trust. Hosting competitions, giveaways, or even engagement posts like crosswords gives your customers a chance to be heard and interact with the brand. This can be quite time consuming, thus hiring a social media company to help with your ecommerce is a good idea.
6. Facebook and Instagram Shop
: With recent advancements, you can tag the products in social media posts, such that the consumer can be directed to the shopping link, instead of searching for the product separately on a different search engine. This makes the buying process even smoother and quicker for your customer.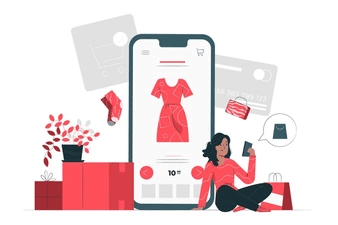 7. Reviews
: If you ask a shopkeeper about the product, he will obviously tell you all the pros and leave out the cons. However, if you hear good reviews from a third, unbiased person, you are more likely to trust that review. Thus product reviews are another very important element of your ecommerce marketing strategy. Reviews for the specific product, testimonials for the company on the whole are some written formats. Other than this, video reviews are a great way for your customers to see how the product looks from all angles. User Generated Content is always good and free content that helps push your brand. 
8. Automated email marketing
: Most ecommerce marketing strategies focus on getting new customers, however, your existing customers are just as important. Since they have already purchased from you, they are more likely to purchase again. You can set up an automated email campaign for such customers, with coupon codes, festival wishes and gifting ideas, and even ask them for reviews. This way, you are on the top of their mind. E-commerce marketing services can help you set this up with it as it is a bit technical. 
9. Customer Care Packages
: A beautifully packed product along with a note goes a long way, especially if you are a new brand. Your product will stay in your customer's mind, and he would be willing to make another purchase just because of this small gesture. 
10. Use a CRM
: This last point is more focused on organising your business. A CRM tool can help you keep track of your customers, all the data in one place. You can record your customer's birthdays and have the CRM send automated messages for the same. CRMs also offer analytics for you to see your growth and other metrics such as which product of yours is doing best in terms of sales. This way, you can budget your advertising expenditures to the products that are actually driving revenue for you. 
There are
numerous
things you can do, but the key rule is to put yourself into the shoes of your customer. Another tip is to outsource the work to domain experts. It is an additional expense, but think of it as an investment. It is smarter to hire an ecommerce marketing company as they know what to do and how to do it, and they will definitely do it better because of their experience and knowledge.
Read More on:
1-Tips To Increase E-commerce Sales
2-E-Commerce Content Marketing: 9 Ways To Get Started ASAP