June 30, 2021
Google Page Experience Update: Everything You Need to Know
SEO is the organic ranking of your website on search engines such as google, yahoo, bing and even amazon! There are many metrics that search engines use to decide which page ranks higher, because at the end of the day, they want to give it's users the best search results according to the query.
Google is one of the most used search engines today, anything you need, you just Google it! In 2020,
Google's SEO algorithm update 2021
was announced, which was all about page experience. 
Google's page experience update
Page experience is about the overall experience of a user on your page. Google added this as a factor affecting page ranking in order to reward those websites who give the best user experience. The following are the metrics defined by Google:
Core Web Vitals Update
• Largest Contentful Paint (LCP)
: This measures how long it takes for the largest element above the fold to load. By above the fold, we mean all the elements a user first sees, without scrolling down. LCP should occur within 2.5 seconds of when the page first starts loading.
• First Input Delay (FID)
: This measures the response time to any input from the user, such as clicking a button. To provide a good user experience, pages should have a FID of less than 100 milliseconds.
• Cumulative Layout Shift (CLS)
: This measures how much of your page keeps shifting. For example, your website prompts the user to click a button and just before clicking, the screen shifts a bit, resulting in clicking of the wrong button. This means the page is not visually stable. To provide a good user experience, pages should maintain a CLS of less than 0.1.

You can find the scores of your webpage on the
Google Search Console,
a tool that
helps developers, SEO experts and website owners measure their site's Search traffic and performance, fix issues, and ultimately improve the page ranking. 
Other Updates:
• Mobile Friendliness
: The desktop and mobile orientations of a website are bound to be different because the screens are of different sizes. Since more and more people use their phones for quick searches and more, Google has made mobile friendliness a ranking factor. When opened on a smaller screen, does all the information fit in, or is the text too small? Does the user have to scroll too much? These are some questions you need to consider answering. Google has also provided a tool to check if your website is mobile friendly, simply enter your website URL in this
link
.
• HTTPS
: It is important to have a secure connection where third party attackers cannot steal information. This is especially important if your website collects personal information or payment information from the user, but whether any data is required or not, google ranks you higher if you have the HTTPS. To check a site's security, you need to check the security status to the left of the web address, as shown in the image.

• Safe browsing
: Safe browsing is different from a secure connection in the sense that your webpage should not have any malwares that can harm a user's device or even content that can trick a user to reveal confidential information. It also includes hacked content, i.e., content placed
on your site without your permission because of security vulnerabilities in your site. You can find out about the safety of your website through Google's search console. 
• No intrusive interstitials
: Have you ever been on a webpage and in the middle of reading some content, a pop-up ad suddenly appears and covers most of the screen? This is an intrusive interstitial. These hamper a user's experience and hence have been added in Google's ranking.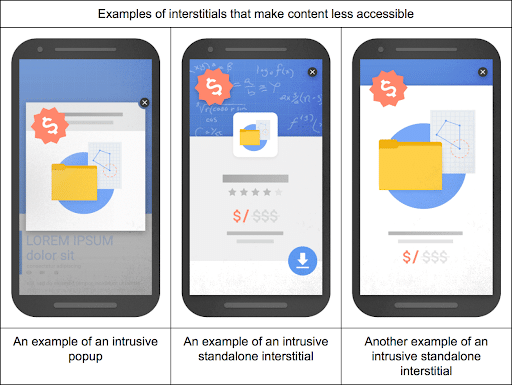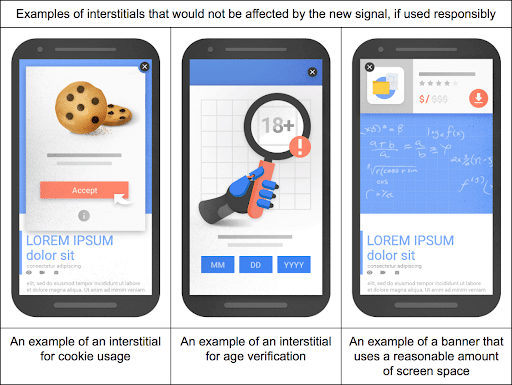 This update is slowly being rolled out by Google and although one might not see a very sudden impact of this update, it is very important for you to make sure you are doing well in each one of these factors. The article has already mentioned some of the ways you can find out your scores in each of the metrics, and now it is your turn to optimize accordingly!