November 06, 2017
Hotel Web Design: Top Tips & Examples
Web design plays a very important role in almost every consumer driven business but more so in businesses whose sales are impacted by visual representations. For hotels and guesthouses, a good web design is crucial. Today, 80% travellers prefer making their bookings over the Internet and well in advance. A well-designed website can attract customers and increase brand recall so that even if they do not book a room the minute they land on the website, your brand is at least part of their consideration basket. It is therefore important that you build a website that accurately portrays your strengths through catchy text, attractive imagery and some great web-only offers (optional).
Here are some basic points you should keep in mind while creating your hotel's website:
1. Focus on your Selling Point:
The main USP of the hotel should be clear as soon as a visitor lands on the website. Whether that's an infinity pool, cheap rooms, excellent service or private access to a beach- the USP needs to be highlighted.
2. Prominent & Well Placed CTAs:
Well thought out and prominently placed CTA buttons guide users through the website giving them a short preview of the experience they are bound to receive at the hotel. CTA buttons also help you capture important behavioural data. A booking phone number or email ID should be consistently displayed throughout the website.
3. Persuasive Content
Use content as a psychological motivator to attract customers and induce the 'fear of missing out'. Use content to highlight festive offers, off-season discounts etc. Include reviews and ratings from old customers to persuade and build trust with new customers.
4. Invest in Professional Photography
For a business that depends on visuals, invest in getting professional photographs of your property. Great imagery goes a long way in attracting your target audience and reassuring them that they have taken the right decision.
5. Device Responsiveness
Make sure that your website is mobile, desktop and tablet responsive. The booking of a hotel is usually a collective effort involving a lot of back and forth on decision making. Assume that customers will share your website with others and offer a seamless experience across devices.
Below are a few examples of well designed hotel websites across the globe. Take a look to get inspired:
1. Downtown Grand Las Vegas
Downtown Grand Las Vegas uses its homepage to bring to life its USP- a sprawling golf course with packages to beat. Prominent CTA buttons with a booking call-out right at the top makes checking availability and booking a piece of cake for visitors.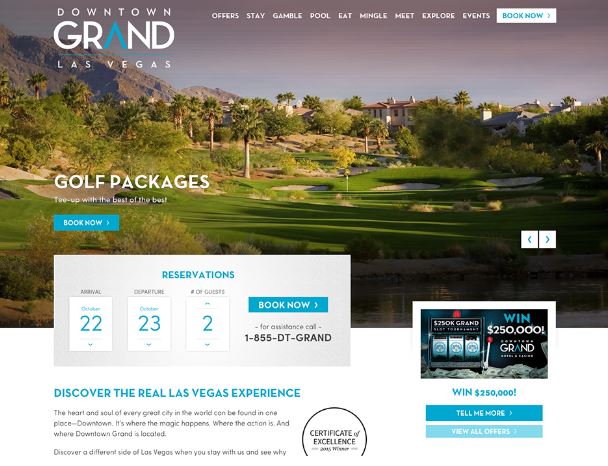 2. Grand Hotel Tremezzo
Situated in Lake Como, this hotel has a variety of exciting offers that they bring to life through their website. Special offers for a romantic escape, a spa retreat etc. Their most interesting feature however, is the section called 'Through the Instagram Lens'. This section allows visitors to scroll through pictures of other visitors at the hotel. It acts like a visual and very personal recommendation.

3. Babington House
In Somerset, UK, Babington House is a country house turned into a hotel. The photos on their website are serene, beautifully shot and capture the true essence of a country home in England. Scroll through and you'll find simply displayed offers and a wide variety of services.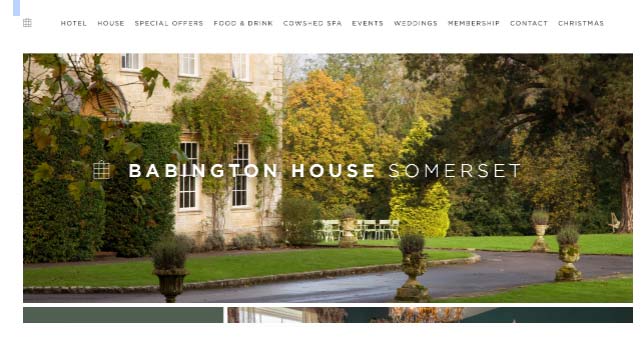 4. Aria Hotel
An interesting feature of this website, is their main banner featuring hotel photographs. Instead of an automated carousel like most other websites, this website lets you feel each photo at your pace before you move onto the next one. The website gives a lot of control to the visitor with minimal handholding. Offers are displayed neatly and a quick button at the top lets you check local weather.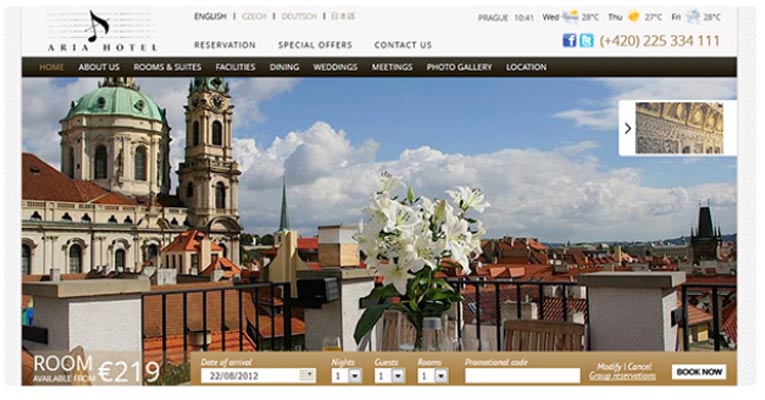 5. The Taj
One of
India's oldest and most famous hotel chains, The Taj stands for ultimate luxury, comfort and hospitality. This is displayed proudly throughout their website through their imagery, content and tone of communication. A minimal approach focusing on heritage and culture, this website is a must visit.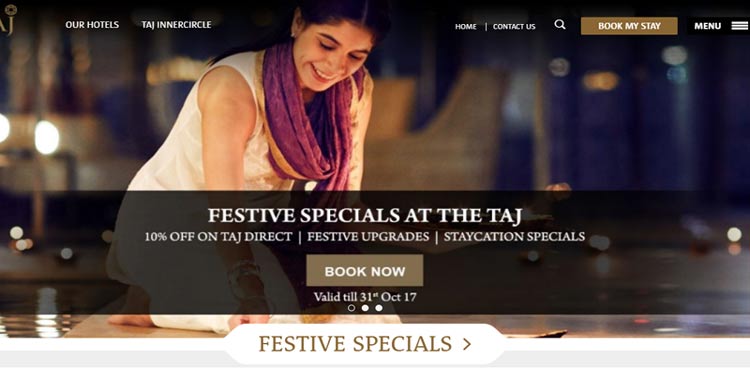 For web design that speaks a thousand words, captures the attention of your target audience and skyrockets your online bookings talk to us! Drop us a message and we'll call you back.