December 27, 2019
5 Brand Campaigns that Made Christmas Merrier
"Christmas is doing a little something extra for someone."
It's Christmas season, and while candles, cakes and carols are a part of this holiday season, brands do their part with messages of joy, happiness, family bonding and solidarity. 
Take a look at 5 Christmas campaigns that made
social media
a happy and merry place -
1. Apple - Holiday - The Surprise
Bringing in the festive season with warmth, togetherness and family bonding, Apple released a 3-minute film centring around two granddaughters visiting their grandfather with their parents after the demise of their grandmother. The children are handed an iPad to keep themselves busy while the parents help the grandfather. 
On Christmas morning, it is revealed that the children had used the iPad to create a multimedia album, telling the story of their grandpa and his late wife to show that she'll always be there with them. With the message of Make Someone's Holiday, the film is a reminder that the true essence of Christmas lies in family togetherness.
The
video
was a great success and received 24M views on YouTube. The brand hopes that this ad will encourage users to understand that technology is not merely for meaningless consumption, it can also be used for expressing creativity and love.
Source: Daily Express
2. Mercedes Benz - Picture of Santa
Mercedes has always been famous for creating
campaigns
that evoke the right sentiments, captivate the audience and encourage sharing. This Christmas, there was a touch of humour in their ad that shows a Santa secretly placing gifts while a child catches him and clicks a picture. Finding out that he has been caught, Santa tries to bribe the boy with gifts so that his secret remains a secret. The child, however, sees that Santa has a Mercedes car. Even after a lot of negotiation, the kid only settles for the car as a 'bribe'.
Source: YouTube
Sending out the message "for those who never compromise", Mercedes also highlights the brand message that owning the car is like an ultimate desire in life. Till now, the video has received 5.7K views on YouTube. On Facebook, the campaign witnessed 101K views, 7.7K reactions, 470+ comments and 1.6K shares.
Watch the video here -
https://www.youtube.com/watch?v=wiu4gK7SHNQ
3. Microsoft - Holiday Magic: Lucy and the Reindeer
Bringing in the holiday season while also promoting voice language translation technology, Microsoft's Christmas campaign tells the amusing story of Lucy. The little girl sees her 
mother attending a business conference call using the cloud-based Microsoft Translator with Japanese colleagues. She then takes the tablet and goes out to meet a couple of reindeer and talk to them. As she sees that their snort could be translated into English, she fires off with a number of curious questions like how do reindeers fly, what does Santa Claus do in summer, if Mrs Claus is a good cook, and so on.
Source: YouTube
The ad ends with the line - " Happy Holidays in 60+ languages. Reindeer is not one of them. Yet." It witnessed 148K views on YouTube. Facebook garnered 4K views till now, with 90+ reactions.
Watch the video at
https://www.youtube.com/watch?v=nnmy7IPE08I
4. SBI Life Insurance - Real Life Real Stories
SBI's "Real Life Real Stories" campaigns bring out the selfless acts of real unsung heroes in the country who have bought a positive change in society. This Christmas, they released an inspiring video of an auto driver and social activist Murugan Theruvorum who became a real-life Santa for the homeless, orphaned and the elderly. For 20 years, he has rescued more than 10,000 homeless people and provided them with basic amenities.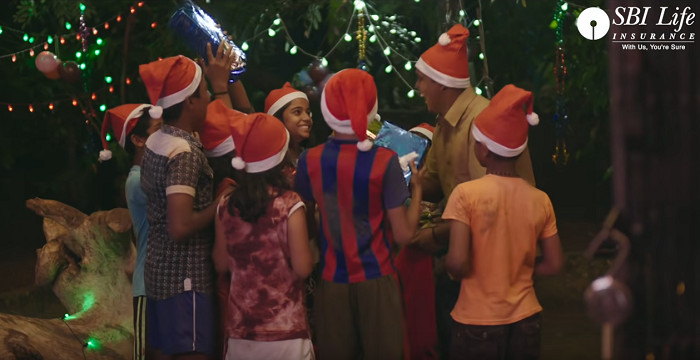 Source: Adgully.com
The video has already gained 2M views on YouTube. On Facebook, it witnessed 1.4M views with 4.6K reactions and 670+ comments.
Watch the video here:
https://www.youtube.com/watch?v=tBx0hCY-D1U&t=22s
5. Uber - Santa & his Elves are coming to Town
Uber came up with a short and sweet Christmas video to bring in the season of joy. The video shows a little boy dressed as an elf taking a ride with his mother for a fancy dress competition. He gets Santa Claus as his co-passenger and is overjoyed to see him. The child also gets candy from Santa, which thrills him all the more. The video is described as Santa and his elves are coming to town, with Uber bringing them home.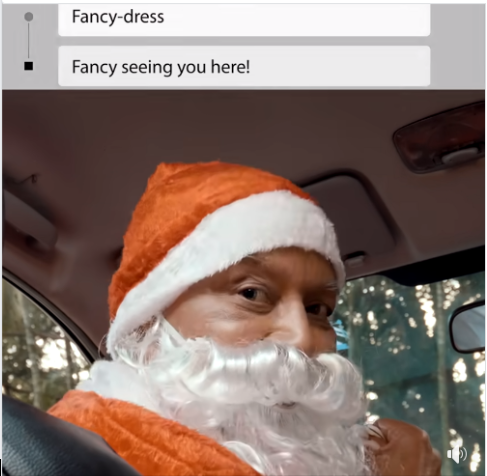 Source: Facebook
The video gathered 1.4M views on Facebook, 3.8K reactions, 70+ comments and 120+ shares. It has also received 1.6M views on Instagram. 
Watch the video here:
https://www.facebook.com/uber.IND/videos/2503697176510168/
Which was your favourite Christmas campaign this year? Tell us in the comment section below.