January 10, 2020
Top 7 Social Media Marketing Tips for Brands
Facebook has 2.2 billion monthly active users, worldwide. 150 million people use Pinterest every month and Instagram is the second-largest social media network in the world. These statistics show that social media marketing can be a dynamic powerhouse that helps reinforce branding, create quality leads and drive sales. However, marketers trying to achieve success with
social media marketing
must overcome some common challenges. Time management, high-performing content and correct calculation of the resulting metrics are some of them, which, if conducted incorrectly, can completely fail, spoil the outcome and incur a huge financial loss. In social media marketing, strategies and techniques vary from brand to brand. Getting started with social media marketing is easy but knowing how to launch, run and optimize campaigns, in the long run, is a major task. The key to success is to know how to strategically create, carry out, track and measure the overall plan.
Follow these simple
social media marketing tips
to improve
social media for brands
:
Define your Goals & Objectives
Studies say that a marketing plan is 30% more likely to be effective if the brand goals and objectives are identified and followed properly. These goals should align with the brand's comprehensive marketing efforts. Using the
"SMART"
goal-setting strategy can help build the foundation for successful social media marketing in the long run.
SMART
stands for:
Specific: Vague goals do not help organisations attain their objective. Goals should be specific based on what is expected out of the marketing campaign.
Measurable: Set goals that can be tracked and measured for future improvement.
Attainable: Unachievable goals can be demoralizing and frustrating. Hence, set goals that are productive and easily attainable.
Relevant: A social media marketing goal should align with the overall marketing objective - be it for building an audience, increasing website traffic, strengthening branding, etc.
Timely: Fixing a deadline before starting with a campaign keeps accountability in check.
Research and Identify your Audience
A message won't be effective unless it is particularly curated for a specific target audience. Therefore brands should be able to identify the needs, wants and desires of its target group. If the meaning of the message is not communicated properly and does not reach the correct audience, brands will lose its loyal followers and the engagement rate may also decrease. All of these may also negatively affect sales.
Some tips to understand your target group:
Conduct a survey to know your audience's pain points.
Study the audience's demographics and goal.
Take part in conversations on forums that include your target audience.
Respond to comments on blogs and comment on 3rd party blogs.
Send replies to all comments or questions on social media channels.
Always collect feedback from your audience.
Run Contests or Host Giveaways
Hosting social media contests or giveaways can amplify a brand's social media strategy. It can help increase online visibility, engagement and the follower base. Brands may offer free gift hampers, movie tickets, shopping vouchers etc.
Tips to run a successful social media contest:
Set your goals (boost engagement, increase page likes, increase follower base, etc.)
Work on the contest ideas
To enter the contest, ask the audience to "like the page"; "share the post", etc. This will help with higher engagement.
Decide which social media platform to host the contest on.
Set a time and date for when the contest will end and the winners be declared Promote it on social media
Deliver Consistently with Curated Content
A major aspect of successful social media strategy is using appropriate and relevant content. A good content aims at attracting and converting visitors into customers and existing customers into repeat buyers. The content that is created should be unique, engaging and insightful as a majority of visitors prefer to learn about brands through blogs, videos, articles, etc. Therefore brands should always focus on creating curated content that interests the target group and timely distribute them through correct channels for maximum engagement.
Here are some tips on creating engaging content:
Use the correct copywriting techniques
Address the audience directly
Use snappy, witty, creative or intriguing content to capture and hold the interest of the audience
Link it with different content types like blog posts, videos, etc
Always write a description on every post along with the headline.
Grow your Audience
Brands have to perpetually work on increasing their follower count across all social media channels. Here are some aspects that may help increase the follower base of a brand:
Creating strong social media profiles and pages
Sharing quality and engaging content
Cross-promoting social media accounts
Using hashtags
Following other profiles
Participating in different groups with a similar target audience
Replying to comments & engaging with the audience
Product updates, new content and business data also help in audience growth. Therefore brands ought to create them and make it easily accessible to its customers. This would possibly even prompt them to make an acquisition for a second time. Some brands also choose
social media advertising
to increase their follower count. Ads are a great way to reach potential buyers who would otherwise be difficult to contact.
Connect and Engage with your Audience
To expand reach, connecting with the audience genuinely is important. Healthy and authentic conversations will help brands have knowledge about their pain points, queries etc. Addressing these problems will help to gain the audience's trust and credibility which may in turn build loyalty in them.
Some ways to connect with the audience:
Converse through Twitter Chats or retweet on Twitter
Respond personally to new followers, answer queries and address issues promptly
Reply to comments and messages on social media
Engage in Facebook groups with a similar target audience
Like and reply to comments on your Facebook business page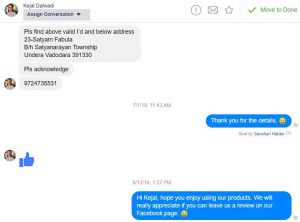 Track and Measure Results
The results for
social media strategies of a brand
should be compared with the set goals to understand if the specific strategies are working and producing results. Some of the metrics are
-
Followers: Calculate the total number of new followers on each social media platform and compare it with the previous number to check if the follower count has increased or decreased.
Likes/shares/comments: Measure the total engagement the audience has with the posts. Receiving retweets, shares, comments and likes is a positive sign. Note which type of content gets the highest engagement.
Clicks: These metrics show whether social media efforts were successful or not and if it helped increase sales. The success of social media marketing depends on the ability to draw more visitors into the sales funnel. Check the number of website clicks and blog post clicks.
Leads: Successful social media marketing increases the number of qualified leads for a brand. These metrics tell a brand the most about their efforts. It takes time to convert visitors into leads, even with great content and consistent posting.
Downloads: If a brand's audience responded to its posts by visiting landing pages and downloading high-value content like eBooks, etc, then it is a success.
Successful social media marketing consists of a variety of challenges for brands which is why it's easy to take a wrong turn and end up with unsatisfactory results. It's also common to begin with enthusiasm and lose interest and commitment in the process. It is therefore important to remain focused and follow the above tips to create a winning strategy! To know more, leave us a comment and we will get back to you!