January 17, 2020
5 Facebook Advertising Tips for Better ROI & Conversion
A report by Buffer states that "94% of businesses, both big and small, have chosen to invest in Facebook ads."
Facebook Advertising is one of the most targeted forms of advertising
that can help your ads reach the exact audience. Moreover, it drives immediate results, where you can reach thousands of people on the same day you start running your ad. 
It comes with numerous other benefits, making it the most preferred
social media marketing
platform for brands to grow their business.
Facebook has gained immense popularity over the years, and with almost every brand investing in this platform - targeted ads are the only way to rise above the competition with a better ROI and conversion rate. However, it is important to have an effective strategy in place to make the ad campaign profitable over time.
Here are 5 Facebook Advertising tips to help you achieve the most out of your investment -
1. Target the Right Audience
A common mistake that many new marketers make while advertising on Facebook is reaching out to as many people as they can through ads. This strategy may not be completely wrong but doing this may not bring any noticeable leads for the business.
Every
Facebook ad strategy
has a purpose, aligned with the requirements of the target audience. The main purpose of the ad gets defeated if it reaches out to each and every one
.
Therefore, the focus should be on the right audience if you're looking for a positive ROI.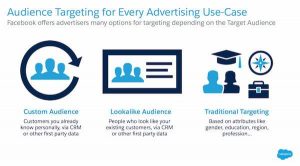 Source:
Salesforce
For the right
Facebook ad targeting
, understanding the audience and their choices are imperative
.
Know the tone and language they prefer, the kind of content that appeals to and engages them, general likes and dislikes, etc. Facebook's Audience Insights can help achieve a better understanding of the audience you're targeting and whether you're doing it right.
2. Have a proper landing page in place
Once a person clicks on an ad, what they see next has to be equally relevant. For this reason, a proper landing page is important to convert visitors into leads or customers.
Facebook Ad
clicks can get expensive if there is no consistent conversion. Moreover, a proper landing page increases the chances of a better ROI.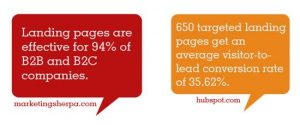 Source: neilpatel
Here are 3 main aspects for an effective landing page -
Align copy with the objective: The length and content of the landing page will depend on the objective you wish to meet through the ad. If the purpose is to generate leads or get only the contact details of a customer, keep the copy short and crisp. However, if the purpose is to sell a product/service or build trust, longer copies with convincing details as proof can be more effective. Ensure to make the copy interesting & engaging so that people actually spend time reading it.
Focus on the visuals: The human brain is known to process visuals quicker, so it's wise to use this aspect to your advantage. Visual elements make content easy to read and understand while adding to the overall flow of the landing page. This will lead to better conversion rates and lower bounce rates. Moreover, visuals also have the power to strike emotions in the audience. Simple things like the colour of the CTA button can also affect the conversion rate.
Keep away distractions: The fewer the distractions, the better the results from your landing page. Avoid cluttering the page with unnecessary content, links or social icons that may drive people away from the main objective. Add elements that will build credibility and will help the page visitors to take the desired action.
Source: Hubspot
3. Choose the right image
For a Facebook ad, the image is as important as the copy to capture the attention of your target audience. All the testing and tweaking done to the copy will be futile if the ad fails to perform due to the image used.
The following ways can help the image make a difference to the ad -
Creative use of text: Facebook prefers ad images containing little or no text. So, if you have to use text, ensure you place it creatively. Test a few versions of text placement to understand what works and what doesn't.
Avoid random stock images: There is no harm in using stock images if done wisely. The image you choose needs to be highly relevant to your brand and geography. For example, using a foreigner image for a domestic brand will not help in building a connection with the audience. Also, do a background check that the image you chose has not been used by any other brand to avoid duplicity. However, the better option is to always use your own images.
Maintain consistency: The chosen image for the ad must be consistent with the copy as well as the landing page to establish familiarity. It should also align with the message you wish to convey and create an emotional connection. This is possible only when you maintain consistency.
4. Make use of video ads
"Facebook video engagement rate is 6.3% compared to YouTube (3.2%) and Instagram (0.2%)."
When it comes to Facebook, video ads are budget-friendly, have better organic reach and a higher engagement rate. The platform itself encourages advertisers to use
video ads
for a favourable ROI. Previous records have seen videos getting 135% more organic reach on Facebook compared to photos - thus proving to be a good medium to reach maximum people.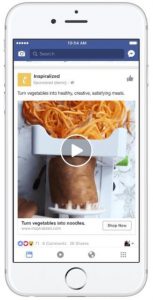 Source:
andrewhubbard.co
Here are a few ways to ensure your Facebook video ad campaign goes right -
The first 3-4 seconds should be interesting enough to compel the viewer to watch the whole video instead of moving on.
Create videos that can impress without sound. Most viewers watch videos in silent mode and tend to increase the volume if they find it interesting.
Test variations to understand which will work best with the audience. Accordingly, you can tweak or refine it for better results.
5. Create a Facebook Sales Funnel
Achieving a better ROI and conversion by selling on Facebook is easier with a sales funnel in place. This funnel is designed for capturing the interest of an audience and then nurturing it till he/she is ready to make a purchase.
The stages of the Facebook Sales Funnel are:
● Discovery and awareness of a brand and its product/service ● Increased interest of the user who may consider making a purchase ● Final purchase made by the user ● Nurturing customer relationship to build loyalty and convert one-time customers to repeat buyers Facebook Sales Funnel help in filling the gap and educate users to take action, by showing them their pain points and how your product/service can provide a solution. The two main steps to create a sales funnel include -
a
. Creating awareness through organic posting, referral contests and referral ads. This is helpful to get the user inside your sales funnel.
b
. Once awareness is built, the user will consider making a purchase. Tell them why they need to invest in your brand and address their issues. Replying to comments in the ads is one of the best ways to do so in this regard.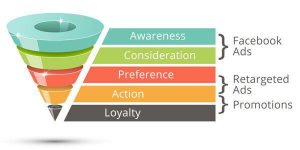 Source:
lyfemarketing.com
Facebook can add a lot of value to your business, and enhance business growth if done in the right way. A calculated and careful approach is important, along with an effective strategy in order to get the best results. To know more about how to use Facebook ads for better ROI and conversions, leave us a message and we'll get in touch with you shortly.