January 22, 2020
5 Tips To Create a Successful LinkedIn Marketing Strategy
According to LinkedIn, " 3M+ companies have LinkedIn Company Pages. Furthermore, 87% of users trust LinkedIn as a source of information that affects decision-making."
LinkedIn, at present, is not just a platform for connecting job seekers with employers. It has transformed into a tool for
digital marketers
to build a brand, generate high-quality leads and establish long-term professional relationships.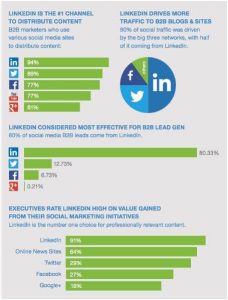 Source:
shanebarker.com
LinkedIn's biggest advantage is that it is visited by top-level executives, decision-makers and thought leaders - making it the best platform for B2B marketers. However, promoting your business on LinkedIn requires clearly defined goals and tactics and a deep understanding of your audience. Therefore, a robust marketing strategy is a must-have in order to be successful while marketing on this platform.
Let us go through some of the amazing tips for creating a successful
LinkedIn marketing strategy
–
1. Have a complete company profile
"Company pages that have complete profiles get 2X more visitors compared to those with an incomplete profile."
Having a complete profile on LinkedIn is a sign of legitimacy and professionalism. Both are equally important for brand recognition, and also makes it easier for interested visitors to connect with you. The company page is probably the first interaction that the target audience will have with your brand, so it should be detailed enough to help them know everything they want to about the business. Ensure that these 7 brackets are always filled correctly and clearly -
logo, company description, website URL, company size, industry, company type and location.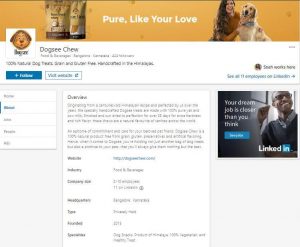 Source: LinkedIn
2. Follow a posting schedule
Do you know that businesses that post on LinkedIn at least once per month have gained followers 6X faster?
Regular postings help to keep the audience updated and build a loyal follower base. Consistency is very important in
social media marketing
for retaining your audience and keeping them hooked to your page. Hence, keep a posting schedule to achieve higher levels of engagement and better reach of your content.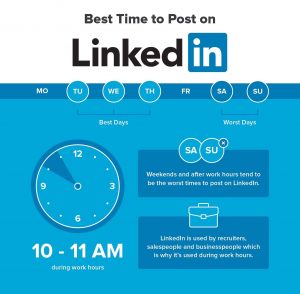 Source: oberlo.com As LinkedIn is a professional site, the best time to post it is usually on the weekdays, in the earlier part of the day for maximum traction.
For a successful
Linkedin marketing strategy
, daily postings are recommended to retain your connection with the audience.
The 'Updates' section in the Company Page Analytics can help you know the click-through rates of your posts, to help you understand the right kind of posts and publishing time suitable for your business.
3. Focus on images and videos
A crucial part of your
LinkedIn marketing strategy
is maximum audience engagement, and one of the best ways to do it is by including images and videos in your posts.
"Images are known to lead to 2X higher comment rate whereas videos are 5x more likely to start a conversation."
In the case of videos, LinkedIn native videos are 5 times more likely to be effective. Therefore, it is recommended to upload videos directly on the platform instead of sharing YouTube or Facebook links. According to LinkedIn, 1-2 minute videos with subtitles that are authentic and reflect the company vision are recommended for best results.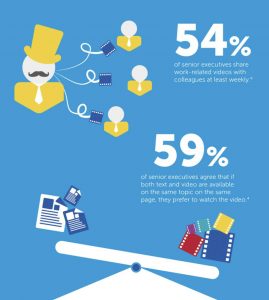 Source:
kinsta.com
4. Reshare top content
Research has revealed that
"sharing the same post multiple times can drive 192% more click-throughs."
Resharing posts is an effective way to ensure your followers see your content, who may have missed it the first time. Social media algorithms are always changing, due to which only a small percentage of your followers (2% to 6%) get to see your LinkedIn posts. Hence, sharing the same content again opens doors for more opportunities to reach the right people. However, it is important to ensure that you don't become a spammer by resharing the same post multiple times without adequate intervals.
5. Always measure your performance
A very important aspect to look into, for a successful
LinkedIn marketing strategy
is the daily evaluation of your progress.
It helps in making informed decisions that will eventually lead to better results.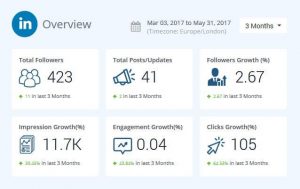 Source: hubspot
The five most important metrics to track on LinkedIn are:
Impressions - It measures the reach of the marketing campaign. Additional insights can help determine the best time to post, which posts to sponsor and long-term trends.
CTR - It indicates the effectiveness of the imagery and copy. Monitoring CTR can figure out if your content is underperforming and help make changes accordingly.
Engagement Rate - This determines the quality and relevancy of your content. The higher the engagement rate, the more popular the content is.
Demographics - This metric helps you understand if your content is reaching the right audience. You can analyze if your audience is from startups or large organizations, their job role and location, etc.
Followers - It helps understand your total number of page followers and the trend in gaining them. A high follower count indicates strong brand credibility, which is important for your business.
LinkedIn is indeed a great platform to connect with senior-level influencers and decision-makers. 
Therefore, crafting a powerful
LinkedIn marketing strategy
is imperative to build brand awareness, build credibility in the business world, keep your partners/clients informed, grow your business and also for the success of an overall
social media marketing
strategy.
To know more about the best strategies for LinkedIn marketing, just leave us a message, and we'll get back to you!