December 19, 2019
5 Reasons you need a Social Media Hashtag Strategy
66.6% of Instagram posts contain atleast one hashtag.
Hashtags have now become a social media phenomenon and a powerful part for
online marketing
strategies. They can be easily created and are searchable, thus becoming an indispensable tool for brands, organisations, celebrities and even common individuals. If used correctly, hashtags can contribute to large conversations and help the audience to dig deeper into a topic. Audiences can also follow and engage with particular or specific hashtags to stay updated on a current topic or trend. They can also create their own hashtags to promote any product or service. The key to a successful hashtag strategy is understanding the target audience and which hashtags they follow.
Here are some reasons to justify the utilisation of hashtags:
1. Increase the organic reach of the post
Hashtags are essential on sites like Instagram, Facebook and Twitter since they help gain visibility on social media networks. Hashtags help reach more audience organically and can also keep a track of the reach and engagement numbers. It also makes a social media post attractive and influences people to like the brand or page for more updates.
2. Branding and Visibility
Leveraging hashtags to elevate branding is a great idea. If a brand is new, then hashtags can be utilized to expand the audience reach and increase brand awareness. When users search for a brand, they'll see the relevant hashtags that the brand is using; or when they search for specific hashtags, they'll see the brand's posts in the results. This usually results in the brand gaining new followers and potential customers. Be it new or established, a brand can create its own hashtag for a product, service or an event promotion. Brands can encourage followers to use their hashtags when they purchase or use a product, or when they're at an event hosted by the brand. Creating a unique hashtag gives the brand a chance to dominate that hashtag. Continuously including that hashtag in posts not only helps increase visibility but also helps users to associate with the brand, thus encouraging brand loyalty.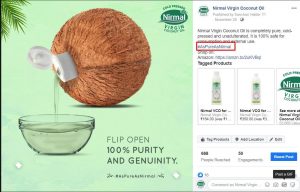 3. Promotion
A primary reason why hashtags have become so important on social media is because of the advantages it brings for targeted campaigns. A social media version of the "word-of-mouth" method, it helps create visibility by encouraging followers to use the campaign hashtag, which is further used by their followers and the cycle continues. Moreover, if one is aware of the hashtags that the target audience is already following, creating campaign hashtags along the same lines can further increase visibility. Promoting an event, contest or giveaway with hashtags helps connect a brand with its followers and also their followers with each other. The traction a hashtag can promote before, during and after an event is indeed substantial.
4. Improve click-through rates
According to research, tweets or posts with hashtags receive more engagement than those without hashtags. Therefore brands can increase their customer engagement and click-through rates by just adding hashtags to their posts. But too many hashtags should be avoided in a single post as it may seem like spamming and thereby dilute the original message.
5. Effective and easy communication
Brands use hashtags to make their marketing campaign memorable, unique and relevant to their audience. Systematic and effective use of relevant and distinctive hashtags makes a brand memorable. Brands can integrate hashtags with an easy call to action to help them communicate efficiently and reach a larger audience. With its quintessential ability to gain visibility and reach millions of users around the world, hashtags are a crucial part of any successful marketing campaign. Whether it's a new business looking to increase brand awareness, a well-known brand launching a new product or a brand looking to give back with a charitable campaign, hashtags are a certain way for businesses to get their voice heard on social media.