"There is a 1.07x increase in watching content on Facebook during Diwali."
Brands have always made the best use of the festive season to bring out innovative campaigns to press their message and aim for strong brand recall. While hitting the emotional chord by weaving stories around family, friends, food and laughter has been popular among most brands, a few of them chose to break the clutter and instead focus on meaningful and thought-provoking concepts.
Here are 5 best unconventional Diwali campaigns that managed to break the clutter in the sea of sameness –
1. Samsonite – #DiwaliKaSafar
For a majority of people, Diwali is the season of homecoming. And there are many who give up visiting their own home so that they can take others home. Samsonite's campaign focuses on these people who choose work commitment over family and encourages everyone to show gratitude to them.
The video features a bus driver, an app cab driver, an air hostess and a train ticket collector who work during the festive season, with smiles on their faces, even though they are longing to be with their loved ones. The ad urges viewers to thank these selfless people who help them complete their #DiwaliKaSafar.
The campaign went viral on social media with 2.6M views on YouTube. Facebook witnessed 7.2M views, 116K reactions, 2.8K comments and 21K shares. Author and actor Twinkle Khanna also applauded the campaign and shared it on her Instagram page.
Watch the heart warming video here – https://www.youtube.com/watch?v=6vtx8V5BGA4
2. Vodafone – #YourWordsNotForwards
A brand that has always laid emphasis on genuine conversations, Vodafone's Diwali campaign urges people to go against the trend of sending forwarded messages by sending personalized greetings.
The digital film plays a story of how a grandson sends a forwarded message to his grandmother on Diwali, while grandma puts in a lot of effort in sending a personalized wish to him. The campaign highlights the fact that personalized messages carry more warmth and help people bring closer.
The video witnessed 7.9M views on Facebook, with 120K reactions, 1.8K comments and 8.8K shares and 32M views on YouTube.
Watch the video here – https://www.youtube.com/watch?v=BSy3DAXCjKg
3. Tanishq – Riwaazon Wali Diwali
Enveloping culture and tradition in the festive season, Tanishq launched their 'Virasat' collection and conceptualized a social media campaign to promote it. The brand has always been a trendsetter in creating unique campaigns and Riwaazon Wali Diwali was no different.
Along with age-old traditions like wearing new clothes, decorating the house with lights and buying sweets, Tanishq focuses on the culture of gifting jewellery – an integral part of the festive season.
The product-oriented campaign has been further promoted with the brand's ambassador, Deepika Padukone.
The ad campaign witnessed 1M views on YouTube. Apart from that, the brand also added stickers with customized surnames on GIPHY for people to search and share.
Watch the video here – https://www.youtube.com/watch?v=AzfK6meJTxM
4. One Plus x Snapchat – Taking Diwali To The World
With the belief that technology plays a great role in forming deep connections globally, One Plus and Snpachat collaborated for a special Diwali campaign by creating Lenses. These Lenses used Snapchat's Landmarker technology for enabling AR experiences by displaying lights and firecracker explosions.
The feature was effective in popular destinations across the world like Tower Bridge, Eiffel Tower, Gateway of India, among others.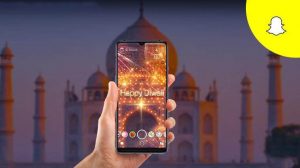 The video gathered 2.2M views on YouTube, 6.6M views on Facebook with 59K reactions, 600+ comments and 2.2K shares.
Watch the video here – https://www.youtube.com/watch?v=mE-cMp4NmV0
5. Bajaj Allianz – Diwali Unboxing With Chintu
The Diwali Unboxing with Chintu campaign gives out a hard-hitting message of how thousands of children sacrifice their childhood to make crackers for lighting up other's Diwali. It starts with a young boy Chintu who proudly shows off the crackers he has made, along with the risks he had to take.
The video ends with the message that every child should have the opportunity to live a normal childhood and urges people to stop unboxing crackers.
The video has been shot the way modern YouTube videos are shot, thus managing to create intrigue among the viewers. It gathered 630K views on Facebook, with 17K reactions, 280+ comments and 1.2K shares.
Watch the video here – https://www.youtube.com/watch?v=9h05PK0tqcg
Diwali has always been that time of the year when brands put their best foot forward to connect with customers at a personal level. Can you think of any other ad campaign that has managed to touch your heart?
Tell us in the comments below.