November 04, 2019
How to Scale your Startup for More Revenue
Do you know "70% of startups struggle with scalability"?
Growing a startup into a profitable business requires a clear vision and a lot of hard work. To grow from a startup to an industry leader, priorities may have to be changed, strategies need to be modified and new plans need to be made. The ability to effectively scale a startup can make or break the business. Planning to scale too fast can create organizational issues that may get hard to manage. On the other hand, scaling at a very slow pace can lead to missing out on good opportunities bought by greater resources. While planning for the development and scalability of your startup, take a look at these five important points that will help generate more revenue -
1. Be unique instead of being just better
In order to scale your startup to an established business, competitive positioning is not the best way to attain industry dominance. Businesses mainly focus on being better than their competitors, but often this attribute may not matter to the customer or you may not be able to prove it. What will set you apart is if you can diagnose the pain points of your customers and be the only solution provider for the same. Instead of communicating that you do it better than your competitors, communicate that you are the only one who can do it. [caption id="attachment_12907" align="aligncenter" width="500"]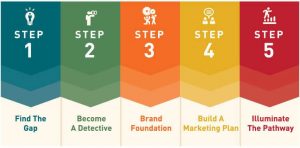 Source: Evolve Brand Design[/caption]
2. Ensure your product has a market pull
A satisfactory annual revenue is an indication that the product/service you sell has found a good market fit. Your potential customers are most likely to buy what you have to offer, and there will be your annual sales report to prove the same. However, if you want your startup to upscale, there are other things that need to be taken care of. If you notice that your business is struggling with every sale and it is taking a lot of effort to acquire new customers, then it may be because you have a market fit but not enough market pull. Market pull is the need for a product coming from the marketplace. It is important that your product/service should not be 'good-to-have', but be a 'must-have' necessity. Find the pull and your business is sure to upscale and flourish. [caption id="attachment_12908" align="alignnone" width="400"]

Source: ResearchGate[/caption]
3. Boost your marketing
The more people that know about your business, the more are the chances of successful scalability and revenue generation. Focus on marketing strategies and scalability will automatically follow. With
digital marketing
, startups can easily predict and determine the ROI of different marketing campaigns. Accordingly, the budget can also be determined for optimizing conversion rates and increasing sales. [caption id="attachment_12909" align="aligncenter" width="500"]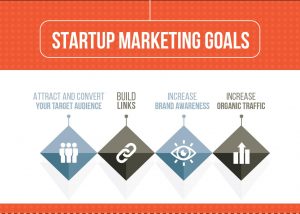 Source: MyCafeBlog[/caption] Depending on your business and audience, one of the best marketing strategies is content marketing. Make sure to create as well as share valuable and high-quality content to keep the audience interested. According to Hubspot, "Cost-per-lead drops by as much as 80% within just five months of switching to content marketing, and it generates 4x more leads per $1000 spent within three years."
4. Use technology to the fullest
"Smart work is the new hard work."
With the advancement in technology, there are numerous growth tools available to execute your strategies at each stage of the growth hacking funnel. Find all such relevant tools and services that will help in the growth and generate revenue. A good example of making optimum use of technology is using conversion rate optimization and A/B testing for everything that is being done. Be it landing pages, content, or email marketing, these tools can help improve the current situation and fix the issues that are currently not working. [caption id="attachment_12910" align="aligncenter" width="500"]
Source: Conversio[/caption] In terms of
SEO
, using long-tailed keywords that may have a lower volume but a higher conversion rate is better than using higher volume ones - the reason being low volume keywords are easier to target and reveals the intent of the searcher better.
5. Check these 3 important aspects
During the time you're scaling your startup for more revenue, it is important to keep a check on the following 3 areas-
Hiring - Hiring too many employees, especially those who act as middle managers during the process of scaling can affect the proficiency of your company. With the right people on board, your business can scale faster than what you probably thought.
Expense - A lot of startups have the tendency to spend more unnecessarily once they have raised enough revenue in the fundraising period. This can later prove to be detrimental to the business. All expenses must be focused on business growth.
Building - Keep your focus on building one product/service better than the competitors before diverging into new things. Even if the existing product/service has found the market pull and is doing well in terms of revenue, it is better not to rush into launching additional features or producing a new category.
With the right system, process, planning and people, scalability of a startup for higher revenues is not an impossible task. There may be obstacles on the way, but keeping these above-mentioned points in mind before scaling can make the whole journey much easier. You can also consult a
startup growth partner
to help your brand in the way forward.