January 04, 2019
6 Brands that made Christmas magic!
The world just celebrated Christmas with great pomp and grandeur. While the streets and dessert plates were full, social media was not far behind with brands coming up with the most unique ways to celebrate Christmas and making it memorable for us too.
Christmas campaigns are getting more popular with each passing year, with brands investing their time and money in
social media marketing
to not only boost sales but also build an emotional connect and brand recall. Take a look at some of the innovative Christmas campaigns by top brands -
1. Swiggy - #RealLifeSantas
One of the largest food delivery platforms of the country, Swiggy chose to celebrate their women delivery partners this Christmas. Titled 'What does Santa really look like?', the digital film draws a parallel between the legendary Santa Claus and a woman delivery partner who balances both her personal and professional life - leaving a gift for her sleeping son and then embarking on the day's journey to deliver food and happiness to others.
Be it Santa Claus or food delivery partners - both characters have always been associated with men. With this campaign, the brand tries to break the stereotype and highlight the fact that it's wonderful when people have equal opportunities, irrespective of gender.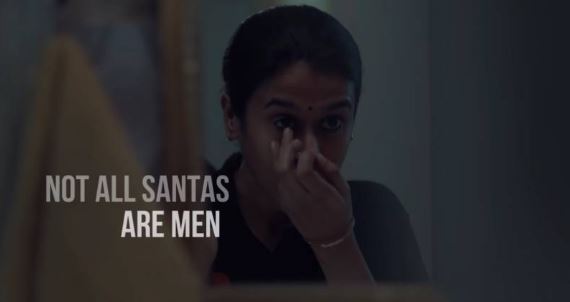 The video garnered 1.1M views on Facebook, with 35K reactions, 2K+ shares and 350+ comments. Watch the video here -
https://www.youtube.com/watch?v=lEQAANwS07A
2. Faasos - #WhatIfWishes
Faasos, also an online food ordering and delivery app ran a contest where they asked people to share their childhood wishes to Santa through social media. People from 20+ cities sent out their wishes. Jotting down those wishes, the Faasos team fulfilled the childhood Christmas wishes of 700+ participants. Moreover, they rebranded Santa to a 'Purple Santa', synchronizing with their brand colours.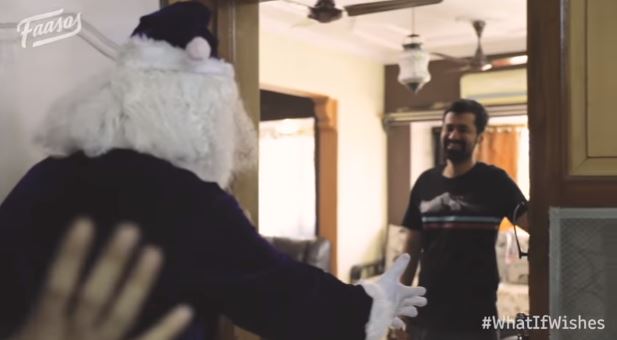 The campaign published 5 videos on YouTube that collectively gathered 183K + views. Watch the video here -
https://www.youtube.com/watch?v=haN3zkXqpv4
3. Dogsee Chew - #ThankYourSanta
The premier pet food brand Dogsee Chew celebrated Christmas in an unconventional way by encouraging people to thank their 'furry Santa'. Their digital film highlights the fact that Santa does not always come in a red suit, but may also come with four legs and a wagging tail. With this campaign, Dogsee celebrates the fact that dogs, as Santa, shower us with unconditional love throughout the year and so Christmas is the perfect time to thank them for always being there.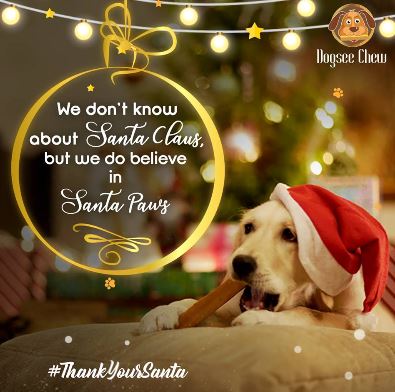 Dogsee's Christmas video gathered 41K views on Facebook, with 1.1K reactions and 250+ shares. There were 48K views on YouTube and 13K views on Instagram.
Watch the video here -
https://www.youtube.com/watch?v=GLcW9tBsuPc
4. SBI Life Insurance - #MainSeHum
Continuing the #MainSeHum series, SBI Life Insurance celebrated the #RealLifeRealStories campaign with the Robin Hood Army from New Delhi who celebrated Christmas by feeding 200+ homeless people and underprivileged children. Keeping in mind the spirit of joy, the team collected excess food from restaurants, banquets, individuals as well as any other sources to feed the hungry. Fun events were also organized for the children and blankets were distributed.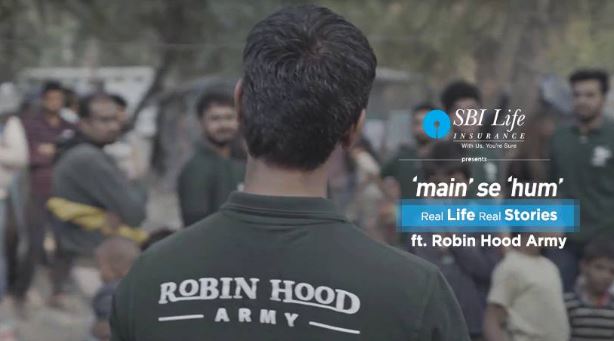 The video gathered 1.1M views, 6.8K reactions, 670+ shares, 80+ comments on Facebook. On YouTube, it witnessed 688K views and 73.6K views on Twitter.
Watch the video at
https://www.youtube.com/watch?v=JM9YZslxu0c
5. Dabur Chyawanprash
A great example of blending product functionality with an emotional angle, Dabur Chyawanprash's Christmas film showcases a young boy giving up his own sweater to an orphan kid in a snow-capped location. The child's parents are shown to support his decision without worrying about their son's health as the chyawanprash helps boost immunity in kids during winter months.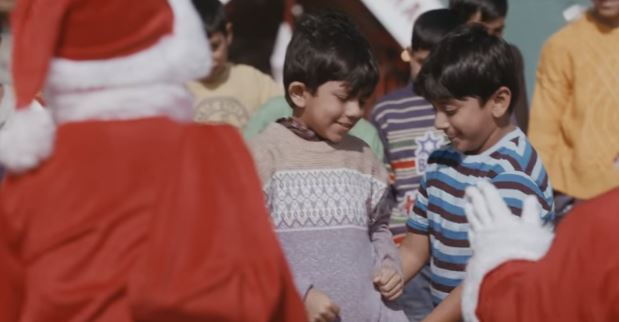 The video performed very well on YouTube with 3.2M views. On Facebook, it gathered 2.6K views and 60+ shares.
You can watch the video here -
https://www.youtube.com/watch?v=CfwhmHjngDQ&t=11s
6. Spar India - #SeasonOfJoy #GiftAWish
After a successful #SeasonOfJoy campaign last year, Spar India once again renewed their Christmas campaign of supporting underprivileged children to make their Christmas a memorable one. The campaign was spread across all channels - print, social and
digital.
The campaign urged Spar customers to gift something cherishable to a less fortunate child during Christmas. This year, the brand along with its customers gifted 7200 children at the SOS Children's Village - a local NGO.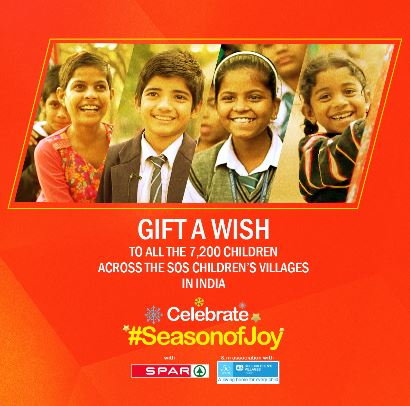 The video gathered 1.1M views on Facebook, 7.5K reactions and 340+ shares. YouTube collectively garnered 86K views.
Watch one of the videos here -
https://www.youtube.com/watch?v=2z5rvlasqF0
Do you know any other brand that made Christmas magic this year? Tell us in the comments section below.