April 25, 2018
Amazing Facebook Features You Need to Know
"93% marketers
use Facebook advertising regularly, which translates to about 3 million businesses that use Facebook to market their business."
Be it a local business or a multinational company, almost every brand seems to have a Facebook presence nowadays. The reason is that the social networking site has become the go-to platform for communication between businesses and customers.
While most of us know the regular features used to share updates and post routines, there are chances that you may overlook some lesser known features that Facebook has to offer. Some of these unknown features can have a positive impact on your business, attract leads, help you get feedback from your loyal customers and secure your page online.
Here's a list of amazing Facebook features you need to know that will help you and your brand on your
social media marketing
journey -
1. See if anyone's snooping in your account
You can check if someone else has logged in to your account without your permission. You only have to go to the Settings page and click on the link 'Where You're Logged In' under the Security folder.  All active Facebook logins from both desktop and mobile will be listed in this section.
Usually, Facebook also provides data on the browser, location and device used. You can 'end activity' from a single or all devices if you notice something fishy. This information also comes handy if you had logged in from a public system or a friend's computer and forgot to log out of it.
[caption id="attachment_8488" align="aligncenter" width="552"]
Source: wikiHow[/caption]
2. Save relevant links
Facebook's Save feature allows you to save the link of articles, ads, photos, videos, music and other posts. It is actually a good way to curate good and relevant
content
for later use. It will be beneficial both for your personal use and also for your business.
Click on the right hand corner of the post that you want to save, and select Save Link.
3. Download your complete Facebook history
Facebook allows you to download your entire history so that you can review all the photos, videos and posts that you have shared since the time you created a page. It also shows you all chat conversations and messages, historical data like all IP addresses, the ads you have clicked on and others. You can model your present campaigns based on this past information.
To get your Facebook history data, click on Settings and then on Download a Copy.
[caption id="attachment_8483" align="aligncenter" width="576"]
Source: The Windows Club[/caption]
4. Split Testing
Split testing allows different versions of ads to be tested to understand what will work better in future campaigns. For instance, the same ad can be tested with different audiences to see where it performed better or to test two or more delivery optimizations to see which of them yielded better results. Split testing is not based on cookies, it's based on people and can gather results across multiple devices.
You will find the option of split testing in 'Ads Manager'.
[caption id="attachment_8486" align="aligncenter" width="666"]
Source: ZenDesk[/caption]
5. Customizing the Thank You screen in Lead Ads
Previously, the thank you screen in Lead Ads could not be customized or edited. However, now there is an option of customizing the headline and description of the thank you screen. So you can place a catchy headline that will attract attention of your leads.
You can also customize the button type and the button text. The thank you screen update will help people know what exactly they should do after they have completed the registration process - whether to check their email, download a PDF file or watch a video.
6. Poll Creation
The well designed and extremely easy to use poll feature on Facebook can help you connect with followers and receive feedback. While this feature was previously available, the interface was different for everyone. The new poll creation feature enables pages to publish 2 or more  options for a poll. You can also add a photo or a GIF with each option.
Go to the status update part of your page and choose 'Create a Poll'. Enter the question, the options, image/GIF and the timeframe  - and you're ready to go!
[caption id="attachment_8484" align="aligncenter" width="569"]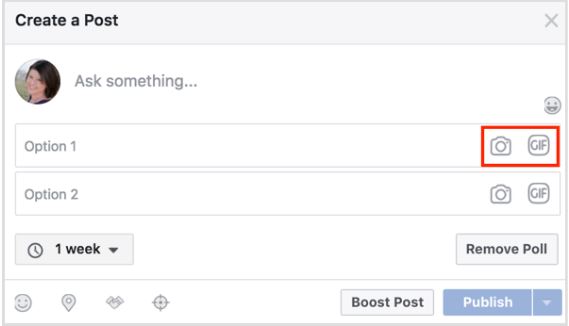 Source: Social Media Examiner[/caption]
Facebook is constantly evolving and it is important to keep yourself updated to make the most of this
social media channel
for your business. To know more about such amazing Facebook features and how it can help your business, leave us a message here and we'll get back to you!