April 18, 2018
E-Commerce Content Marketing: 9 Ways to Get Started ASAP
"Content is King"- Bill gates Content helps a brand connect with its customers and provides a nice personal touch. Good content also helps to increase engagement and brand loyalty, boost conversions and thereby sales. Content marketing can increase the conversion rate of visitors into leads by almost 6 times. "The average conversion rate with content marketing is 2.9%, compared to only 0.5% for sites not using it." Following are 15 ways to get started with content marketing for your e-commerce website:
1. Choose one form of content:
It is difficult to tackle all forms of content across all platforms. So, choose a particular form of content and a single platform to begin with. The best form and platform depends on your customer type, niche market, product and service. If you have some amount of customer data, a good place to start is email content. 74% successful B2C marketers distribute their content through
email marketing
. Automated emails like welcome emails, promotion emails and abandoned cart emails provide the highest return on investment.
[caption id="attachment_8437" align="aligncenter" width="319"]
http://4.bp.blogspot.com/[/caption]
2. Create product and service guidelines:
Since customers give up tactile information while shopping online, providing detailed information about products and services is very important. Create customer guides (like size charts) that inform the customer and answer questions rather than sell the product. This helps to build trust and retain customers. Customers should understand that you are trying to help them in their decision making process. Make use of infographics since customers like to visualize how things work and what they look like.
[caption id="attachment_8436" align="aligncenter" width="604"]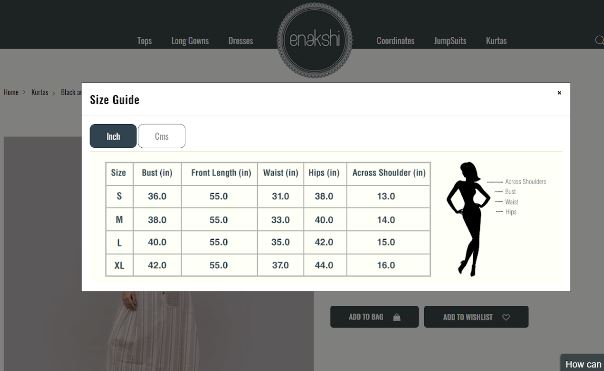 https://enakshi.com/[/caption]
3. Upload videos:
People are usually more visually oriented than anything else. In order to
make videos
appealing to your customers, spend some time in deciphering the video length that works for them. Most people watch a video for 45 seconds to a minute. So invest in creating snappy videos (tutorials, product demos, tips and tricks) that will help keep customers engaged and thereby boost sales.
4. Promote customer stories:
Your customers are your best salesmen. Speak to repeat customers and hear their stories about why they like your product/ service and what makes them keep coming back. Request their permission to share their stories in either text or video format. Encourage customers to share reviews and feedback on your product/ service. Use positive reviews to attract more customers and deal with negative ones promptly to build trust and credibility.
[caption id="attachment_8438" align="aligncenter" width="700"]

https://dogseechew.com/testimonials/[/caption]
5. Provide information:
Offering detailed size charts are helpful for products like furniture, tools, equipments and of course clothes and shoes. Research the most probable questions your customers may ask and address all of them in a dedicated FAQ page on your website. Answer as many as possible to reduce bounce rates and customer queries.
[caption id="attachment_8439" align="aligncenter" width="664"]
https://www.flipkart.com/helpcentre?catalog=55c9c8e2b0000023002c1702&view=CATALOG[/caption]
6. Highlight case studies:
Publish case studies to showcase how your service or product has helped customers. These case studies are great to target similar customers because they can read the case study and immediately visualise how it will help them. In B2B products and services, case studies are often what help to seal the deal.
7. Share user manual, product hacks and tricks:
Customers are always interested in using a single product multiple ways. If this is true for your product, lay it out for all to see. Share manuals, product hacks and insider tricks. Also invite long-term customers to share their personal ideas of using the product in more ways than one. You can even run a contest asking customers to share the most inventive ways of using the product along with pictures and videos. This will increase the customer engagement and people might even buy your product based on the hype that has been created.
[caption id="attachment_8435" align="alignnone" width="665"]
http://d.wattpad.com/story_parts/84342955/images/13aac0deddbc3bd6.jpg[/caption]
8. Help people make use of your product:
Prepare checklists based on customer activity and include the different products you are selling. Checklists like what to pack for a backpacking trip can include products like backpacks, water bottles, apparel etc. Create innovative checklists based on your business to help customers make easy decisions.
9. Add a personal story:
Personal branding has a great impact on sales. Sharing your personal story on the website not only adds a personal touch but also builds trust and credibility and showcases transparency.
Lastly, as important it is to create exciting content, it is equally important to promote that content. Google adwords,
social media ads
etc are simple, inexpensive and effective ways to promote content. With the right
advertising strategy
, you can also improve visibility on search engines which will lead to more organic traffic.
While traffic is important, conversions are even more crucial to
ecommerce
success. Use a combination of the above mentioned steps to curate a content strategy that works for your brand and its customers. In conclusion, content marketing costs almost 60% less than other forms of marketing but generates almost 3 times more leads. It is the best way to drive customers to your e-commerce store.