May 13, 2019
How Apollo Hospitals, Bangalore used superior UI/UX to Generate Leads
Apollo Hospitals is one of India's leading healthcare chains known for pioneering the private healthcare revolution in the country. In Bangalore, the company has 3 successful hospitals along with a multitude of clinics, pharmacies and smaller establishments. Apollo Hospitals as a company, is not one to shy away from innovation- a fact that is evident from its acceptance and wide use of Ask Apollo - an online consultation portal.
The Scenario :
With cancer gaining ground in India and Bangalore being named as the capital of breast cancer - Apollo wanted to shift its focus on oncology services and establish their Bannerghatta Road branch as a preferred centre of care & treatment.
w
The Aim :
Apollo Hospitals, Bangalore saw many walk-in patients and referrals. However, they were losing out on a coveted market - that of the educated, Google savvy customer who was researching online and going to the competition for treatment. Our aim was to bring home these patients and family members.

The Challenge : Using a decade old website - with little or no relevant information, minimal experience-related elements and a penchant to follow the same old formula - asking visitors to fill in a lengthy form with personal details. Our challenge lay not only in re-strategising, re-designing and re-shaping the marketing, but also in getting the Apollo team on-board with our ideas. A major challenge while the campaign was running was a change in Google's algorithm which was skewed towards affecting the healthcare industry.
The Approach :
1.User friendly UI :
Oncology was a small part of the hospital website with basic information and no segregation. We decided to develop individual landing pages for each type of cancer and concentrate fully on the experience. The result was a soothing yet professional looking web page where visitors felt safe to browse and enter their private information.
2.Relevant information :
A lot of care was taken to research and write current and relevant information. We didn't want to overwhelm visitors with information, yet wanted to give them a comprehensive idea about the disease they were researching. A middle ground was reached where topical information was touched upon and visitors could request more information immediately.
3.Showcase credibility and build case for expertise :
Oncology, being a highly trained field requires doctors and staff of a certain clinical expertise to build confidence in a patient. We tried to showcase this on a digital platform by displaying surgical facts & figures prominently and showcasing individual biographies of the doctors in the department. Adding a photograph went a long way in establishing credibility and trust.
4.Lead through empathy :
Often, patients are the best people to convince other patients that cancer is conquerable. We were convinced that a patient's story of struggle and ultimate victory would encourage and help other patients too. And to that effect we released a video on the page.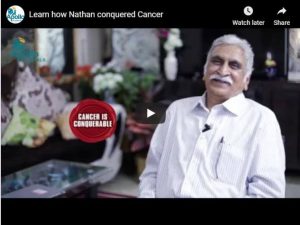 5.Minimise personal information :
Sharing personal information especially one about a patient, is always hard. Yet the contact form on the Apollo website was long, convoluted and asked the patient to almost self-diagnose. The result was serious drop-offs. We decided to keep the contact form short - only asking for a name and a contact number. This did increase the post-lead generation work load, but also got us greater number of conversions.
6.Robust search ads campaign :
All of the above steps would have been useless had it not been for an aggressive search ads campaign on Google. We strategize to keep our ads extremely targeted - geographically only to Bangalore and interest based only to those who were actively researching specific types of cancer. This was done to keep the lead pool small, yet of high quality with maximum potential to convert. Cost per lead was higher but this was set off by a higher conversion rate.
The Impact :
Apollo Hospitals, Bangalore was not only successful in generating quality leads (108 in under 2 months), but in also making a name for itself as a premier Oncology treatment destination in Bangalore. Greater awareness measured through increased clicks on specific pages, larger no.of queries submitted, increase in no.of phone calls were only some of the successful metrics measured. A consistent rise in the CTR and subsequent fall in the price per lead were indicators that visitors were finding our pages useful and relevant. This campaign also had an impact on the number of walk-ins. All in all, as a campaign to test waters in Bangalore, the strategy performed well and can be replicated to other departments as well.