May 15, 2019
5 Brand Campaigns on Mother's Day That Made the Right Impact
"A mother is always the beginning. She is how things begin."
The second Sunday of May has always been special, as that is the day we celebrate the lifeline of every home - mothers. And in order to utilize this important day to drive customer engagement, brands put out some of their best campaigns during this time. Closer to Mother's Day,
social media
was a frenzied space to be in with brands putting up different campaigns in the form of photo submissions, contests and digital videos. Among the many, a few notable campaigns managed to touch the right chord.
Take a look at the top social media campaigns on Mother's Day by top brands -
1. Lotus Herbals Baby - #NoRightWayToMotherhood
Living up to the true essence of the spirit of motherhood, Lotus Herbals Baby conceptualized a powerful campaign based on adoption. The concept of adoption is still looked down upon by many in the society, even though everyone is aware of the fact that all children deserve the pure and unconditional love of a mother. The
#NoRightWayToMotherhood
campaign highlights this sensitive topic by showcasing a couple getting ready for adoption, while other family members urge them to rethink their decision. When the wife says that there's no one right way to become a mother, the family supports their decision to go ahead with the noble cause.
By throwing light on this sensitive topic, the brand has managed to make a significant impact on social media and gather a lot of positive response. The video received 503K views on YouTube, 680K views on Facebook with 6.3K reactions, 100+ comments and 1K+ shares.
Watch the video -
https://www.youtube.com/watch?v=HbYr-y18drQ
2. Reliance Smart - #MaaSeSeekhaHai
The heart winning
#MaaSeSeekhaHai
campaign by Reliance Smart highlights the many things that children learn from their mothers that often work as a guiding light in their lives. Set in a classroom where students have to say what their mothers have taught them, the digital video shows a child constantly supporting and encouraging his classmates - be it while they are reciting a poem or breaking a brick with hand. On being asked what his mother has taught him, he says - to have confidence in others, to have faith when someone loses confidence in oneself - which ultimately becomes a lesson of a lifetime.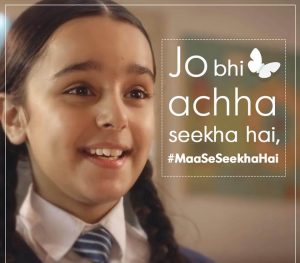 The video went viral on social media with 1.8M views on Facebook, 35K reactions, 700+ comments and 8.7K+ shares. YouTube witnessed 3.1M views. Take a look at the video here -
https://www.youtube.com/watch?v=VrbWSepUFPk
3. Dogsee Chew - #AFurryThankYou
The international pet food brand, Dogsee Chew came up with the
#AFurryThankYou
campaign where dogs thanked their human moms for loving them unconditionally and taking care of them like their own child. The brand encouraged its followers to share their dog - mom stories along with their photographs and the entries were published across their social media pages. The campaign received a lot of positive response, getting 3.2K+ likes on Instagram.
4. Prega News - #GoodNewsIsGenderFree
Gender inequality is still a prevalent issue in our country and Prega News addressed the same in their Mother's Day campaign. It targets the regressive mindset of some people who always prefer a boy over a girl and believes that it's good news only when a boy is born.
The video shows how a group of transgenders come to bless a pregnant woman by saying she will have a boy, and they would come back to bless him when he is born. The mother-in-law asks them if wouldn't they come to bless the baby if it were a girl. She says that the right blessing should be that both the mother and the child is healthy - be it a boy or a girl. The video ends with the transgender group returning after the baby girl is born and blessing her. The campaign hit 7.6M views on YouTube within a week. Facebook witnessed 5.4M views, 158K reactions, 3.4K comments and 47K+ shares. Watch the video here -
https://www.youtube.com/watch?v=k0qVpWIw54w
5. BIBA - I Am a Mom Too
Adding a touch of uniqueness to their Mother's Day campaign, the leading apparel brand BIBA explores motherhood outside the mother-child relationship. In a conversational tone, the video starts with asking women, aged 10-35 years of what motherhood means to them. It is further revealed that every one of them in the video is a mother - of a pet cat, of a company, a science project, a flower and of a child. The idea behind this campaign is to bring out the fact that everyone is a mother, in one way or the other. 'I am a Mom Too' campaign had 243K views on Facebook. The campaign gathered 1.3M views on Facebook, 17K reactions, 400+ comments and 2.8K+ shares. The brand also ran a small
contest on social media
, urging people to share how they are a mother and win gift vouchers.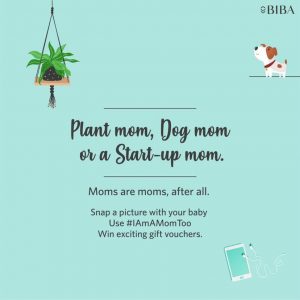 Brands have indeed left no stone unturned to leverage the power of social media marketing to share their story this Mother's Day. Can you think of any other campaign that touched your heart? Tell us in the comments below.