May 23, 2019
Top 5 B2B Digital Marketing Trends In 2019
There are many new digital marketing trends that are emerging in the current high-tech and internet connected era and businesses are using them to succeed in their B2B efforts. As businesses produce more content, the competition on social media platforms especially Linkedin and Facebook increases. Marketers begin focusing on drawing in potential customers rather than outwardly pushing their products or services. According to research, the majority of B2B purchase decisions are made online. These decisions are usually made even before engaging with the client's company or their sales representatives. 68% B2B buyers research online through media articles, blog posts, case studies or analyst reports. In B2B marketing,
digital advertising
is a proven way to increase sales. According to research, by 2020, the digital ad expenses are expected to be 50% of total advertising.
Below are some of the digital marketing trends that B2B marketers should follow:
Influencer Marketing
B2B businesses choose influencers as a source of reliable, research-backed and authoritative information for their customers. Content created and shared by influencers provides 11x higher ROI than average display ads. 95% of customers are more likely to be loyal to a company that they trust and so B2B buyers choose to purchase from vendors whom they trust. Customer testimonials, case studies and referrals may help bridge the trust gap to some extent.
Augmented Reality and Virtual Reality in B2B
The AR and VR experience can assist decision makers in avoiding any sort of misgivings or hesitation and become more open to understanding products and how they can solve particular problems in real-world scenarios. In 2016, 67% of businesses considered adopting AR technology. By 2023, AR and VR are expected to rise to a valuation of $95 billion.
Lead Generation through Content Marketing
For any business that wants to keep up with competition, lead generation is not optional, but a critical part of their business. Businesses that want to differentiate from competitors in the present scenario, should incorporate more video content in their current
digital marketing strategy
. 45% of marketers planned to include Youtube videos and 41% of marketers included Facebook videos in their marketing strategies. And, for written digital content, the strategy is to create in-depth and long-form content with 1000 words or more that audiences can dig into. [caption id="attachment_11741" align="alignnone" width="500"]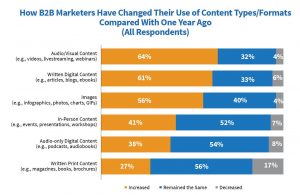 Source: https://contentmarketinginstitute.com[/caption]
Programmatic Marketing
With the rapid growth of data-driven targeting strategies deployed by marketers, the demand for programmatic marketing is high. According to research, with companies like Google targeting 60% of all digital advertising budgets, programmatic marketing will account for most digital advertising in future years. Bidding of ads is automated by analyzing the data and not by traditional methods that require quotations, proposals and negotiations before spending on advertising. B2B marketers opt for this technique because it is more systematic and streamlined and less prone to errors which overall reduces the net cost of advertising.
Paid Social Media Promotions
In 2018, the average CPC on Facebook increased 92% year on year. But still paid promotions on social media keeps growing in 2019. Consumers of social media demand long-form, high-quality content instead of short blog posts. Therefore B2B marketers receive more interaction from such content for their ad spend. Paid promotions on Google Adwords or Facebook ads, can be used to drive traffic to webinars which are used as lead magnets, embedded on website landing pages. [caption id="attachment_11742" align="alignnone" width="500"]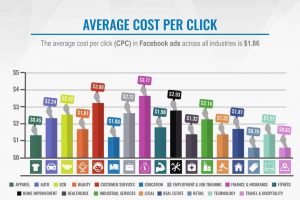 Source: https://dannyveiga.com[/caption]
LinkedIn
LinkedIn is a powerful source for targeting B2B marketers. 80% of B2B leads come from LinkedIn. 61 million LinkedIn users are senior level influencers and another 40 million are purchase decision makers within their company. According to a report, 46% of social traffic to corporate websites comes through this platform. Therefore, more people visit websites after reading posts or blogs on LinkedIn. In B2B marketing, decision-makers constantly need to know where they stand and where they are headed. Trends change constantly, but it is important to stay on top of these trends in order to keep ahead of the competition. To know more about B2B digital trends of 2019, leave us a message in the comment section and we will get back to you.