April 07, 2020
Best On-Page SEO Strategies for 2020
On-page SEO is one of the many techniques used in search engine optimization to help the search bots understand a website better. To achieve a higher rank in search engine results, vital features like the meta title, meta description, heading tags and internal links should be optimized with slight changes.
The primary goal of on-page SEO is to optimize an article, blog or any content not only in a genuine and natural way but also smartly so that it is easier for search engines to pick out the targeted keyword and bring the target audience to the website.
Below are some of the most popular strategies used by SEO experts for on-page optimisation:
1. Meta Title
Meta titles are one of the most important factors in on-page SEO. If the title is relevant, attractive and correctly optimized, there will be an increase in the number of website clicks and the position on SERP will also be higher.
Brands should practice using targeted keywords at the beginning of the title or the H1 tag, or integrate them in the title. On the title tag, the same keyword should not be repeated more than once. 65 characters is the maximum character limit for a title.

2. Heading Tags
Heading tags should be properly utilized by brands to highlight different headings, sub-headings and important points. Tags also give the content clarity which makes it easily readable and understandable by viewers.
An important point to be kept in mind is that Google's algorithm is not very keen on using too many H2 or H3 tags, so it's better to not overdo it.
3. Table of Content
Brands sometimes have to post content in long-formats like blogs and articles where the word count may exceed 5000 words.
With a table of content, readers are able to navigate such blogs and articles in a much easier way and it also helps earn jump links in Google search.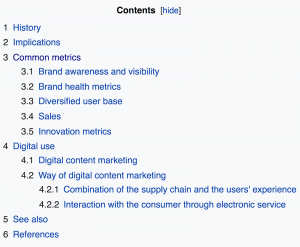 4. Keyword Density
Brands should limit the usage of keywords in the content to around 1.5% with a mix of LSI (latent semantic indexing) keywords. To help search engines have a better understanding of content, it is advisable to use semantically related words.
The primary keyword should be used once in the first paragraph and once in the last paragraph or wherever it is relevant in the content.
5. Meta Description
A relevant and unique meta description is required for each blog post so that the interested audiences are compelled to click on it.
Brands need to work on user-friendly meta descriptions related to the post. It is wise and helpful to use targeted keywords in the meta description for the search engines to easily pick up on them.
6. Internal Linking
Interlinking of blog posts helps readers spend more time on a brand's website or blog which in turn can also help pass page rank to other pages of that brand's website.
Internal links, relevant to the original blog post allow search engines to know that the brand is providing more information within the blog beyond the current content that is being displayed.
7. External Linking
Apart from linking one blog to another blog within the same website, it is also a wise idea to link blogs to external websites but only if it is relevant.
The external links provided by brands should be of trusted websites only
.
In case of any doubts regarding the authority or popularity of the link of an external website, brands can use no-follow tags to avoid passing their link juice to potentially bad websites.
Do-follow links should only be used if the websites are trustworthy and no-follow links are for those that are less trustworthy. In the long run, this helps increase the credibility of the brand. 
8. Engaging Content
It is important for brands to learn how to engage their audience through content in a manner that appeals to them. One interesting way to make blog content engaging is to ask a question first to increase the curiosity of the reader and then provide the answer.
If the content published by brands is not building interest among the audience, there are high chances that the bounce rates will increase and the rankings will plunge.
9. Schema
This is a technique which is under-utilised by SEO experts and brands. Addition of schema or structured data may help search engines better understand a brand's content. 
For instance, adding a phone number and an email address in the footer is significant for visitors but not for the search engine. By the utilization of schema, a brand can provide context to its relevance.
Relevant schema can be used for blogs, articles and on a business website. The most recent type of schema is the FAQ schema which can help a brand improve its content ranking to a great extent.

To be successful in organic searches as a brand requires constant optimization for a combination of several factors that search engines consider to be important like technical, on-page and off-page factors. Since the search landscape is ever-evolving, it's important for brands to make sure that their on-page SEO knowledge is up to date. To know more about on-page SEO techniques, leave us a comment and we will get back to you!