November 22, 2019
Don't Miss These Popular Social Media Video Marketing Tips
"Online video is the Swiss army knife of internet marketing. It really can be used all over the customer lifecycle, whether its customer service, marketing or recruitment."-
Mark Robertson
Videos are considered to have the unique ability to combine elements of various other types of content like text, images and sound into a single, easily digestible and understandable format. Today, without any doubt, social media videos are an important part of any successful, long-term content marketing strategy. Video content is primarily in demand on social media because of its ability to connect to Generation Y and Millennials between 18 – 33 years. From a brand's point of view,
social media
video content helps to connect with the young and growing audience on an emotional level. This helps build a genuine relationship with the audience which, in turn, can help convert more potential users into buyers. According to research, 72% of people prefer video over text when learning about a product or service. Therefore, 87% of marketing professionals use video as their preferred marketing tool. It is estimated that by the end of 2019, video marketing will account for around 78% of world mobile data traffic.
The numbers below depict the fast growth of social media video usage:
93% of videos on Twitter are accessed on the go, from mobile devices.
Views for branded video content on YouTube have almost doubled in the last 3 years.
When compared to a photo tweet, a video tweet has 6x higher chance of getting retweeted.
Facebook Live videos receive 10x more comments than a regular video.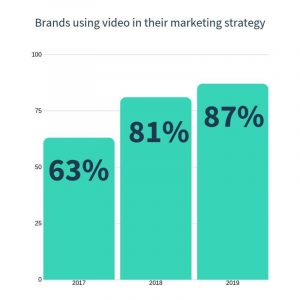 Source: https://blog.viralstat.com
Here are some popular and successful video marketing tips:
Upload native video content
Brands should upload and share native videos directly on social channels rather than posting Youtube channel links as it has been found out that native videos perform 10x better on Facebook than compared to links. This clearly means that Facebook is prioritizing videos uploaded on its platform over external video links.
The two possible reasons for native videos to perform better could be:
Native videos begin to play automatically as a viewer scrolls down their feed, while YouTube videos need to be manually played.
Native videos play inside Facebook's environment, while YouTube videos play on an external page causing users to leave the Facebook platform in order to watch the video.
Focus on story-telling
Storytelling has turned into a new and powerful sales pitch for driving positive results. For successful social media video marketing, brands need to produce videos that evoke emotions and provoke viewers to take action. It helps a brand deliver a clear message that the audience can understand and relate to. It also brings out the brand's personality in a positive light.
Some steps to implement storytelling using videos for social media video marketing are:
Introduce the right kind of characters to create a bond or a connection with the target audience.
Add an emotional angle that helps grab and retain the attention of viewers.
Have the resolution to help viewers understand what you want to convey through the story.
Use a CTA button
To get good ROI from
social media
video marketing
, brands need to have a strong and clear call-to-action embedded in it.
 To create an effective call-to-action, brands should first identify their objective or goal. For instance, if a brand wants to gather leads and initiate conversion, then they should focus on creating video content that encourages the audience to share their contact information. Facebook provides brands with the option of adding a CTA button like "
Shop Now
", "
Learn More
", "
Book Now
" in videos once the video is added on the platform.
Share short, relevant videos
80% of social media content is being consumed via mobile devices. Short format videos do not consume much time and deliver their claims right away. Successful content on social media revolves around instant gratification because people now want to consume content without wasting time. One of the most effective ways to leverage the power of short social media video content is to focus on creating instructional or how-to videos that shed light on a product or help consumers understand the solution to their problem. If done right, these videos attract the right attention, spread awareness and improve the organic reach for a brand. The main concern for brands should be how to leverage this medium in a strategic way. Video can help increase organic traffic and conversions, it helps in brand recall and increases the revenue of a brand. However, converting a video into an actionable and ROI driving force, requires strategic thinking. To know more about video marketing, leave us a message and we will get back to you!