November 26, 2019
5 Best Practices for Instagram Story Ads
According to research, over 500 million people actively use Instagram stories on a daily basis worldwide. Further reports have proved that 1 in 5 Instagram Stories shared by a brand receives a direct reply, giving brands a direct way to connect with their audience and learn more about them. Stories can drive tons of engagement for a brand or any personal profile. Moreover, engaging features such as the "Questions Sticker" and creative touches like "Music" make Stories an exciting attribute of Instagram.
What are Instagram Stories Ads?
Instagram story ads are an alternative to newsfeed ads. They allow you to insert a short advertisement between users' stories. The ads fit the story format, keeping the user experience consistent and the flow uninterrupted. These ads can be composed of either single photos or a video up to 15 seconds long and can be used to achieve various business objectives starting from brand awareness to sales.
Some of the most important objectives of using Instagram story ads are:
Brand Awareness: To increase awareness of a brand by finding people who are likely to be interested in the brand's products/service.
Reach: To display the ad to a maximum number of people.
Video views: Get more people to view the video content.
Conversions: Drive valuable actions on the app or website.
App installs: Get more people to install the app.
Lead Generation: Drive sales leads to gather information like email addresses and phone numbers. Traffic: Send more people to visit the website.
Sizes and Specifications for Instagram Stories Ads
There are three sizing formats to choose from while creating Insta story ads: Square- 1:1; Landscape- 1.91:1 and Vertical- 4:5. The recommended resolution is 1080x1920 pixels and the lowest is 600x1067 pixels.
Image Creative
File type: .jpg or .png
File size: 30MB max
Length: Images show for 5 seconds by default
Video Creative
File type: .mp4 or .mov
File size: 4GB max
Length: Up to 15 seconds
Supported codecs: H.264, VP8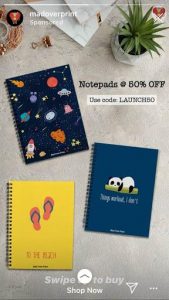 Here are some interesting tips to create Instagram story ads that can engage customers to click on your ad:
Design native ad creatives
Insta Story Ads should match the look of organic stories that users get to see every day. Using the same Facebook ad for Instagram would be a bad idea, as Insta story ads should be vertical, short and crisp. The caption should be within 190 characters, because if it exceeds the limit, the caption gets shortened with a 'read more' option, and may discourage people to swipe up. Therefore it is important to design native ad creatives, particularly for this platform.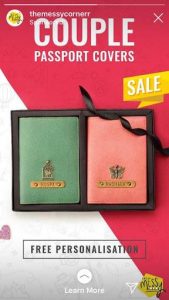 Create the fear of missing out
People desire or enjoy things that have limited supply, high demand and created for a few. This rule of exclusivity should be exploited in ads. Brands should try to develop a unique sense of missing out in ad content. This will build a sense of urgency in the audience and increase the number of clicks, views, reach etc.
Grab attention instantly
Successful advertisers grab the attention of their users in the first few seconds. This is the reason why brands need to ensure that their ad design is unique and visually appealing. Photo ads show for 5 seconds and videos ads for 15 seconds. For a video, brands do not need to use any supporting sales copy or titles. Videos need to be completely self-explanatory. It is important for brands to aptly communicate their message within this timeframe as users won't be able to return to the ads later. So the first few seconds of the ad will determine whether the audience will take action or not.
Think outside the box, be unique
Create ads that are completely unique, quirky and distinctive from others. For example, an ad resembling a chat between a customer and a brand explaining what needs to be done for signing up is an interesting way to inform people about the process as well as keep them engaged. Making it look like a personal conversation lends authenticity to the ad and viewers are therefore more likely to take action on it.
Source: https://www.singlegrain.com
Use influencer marketing
The conversion rate for a story ad is much higher when a product is recommended by an influencer. 94% of advertisers who have invested in this strategy find it very effective in meeting the objectives or goals of the brand. Influencer marketing can help a brand not only increase awareness but also directly impact sales. What is most important in this case is to choose the right influencer for your brand.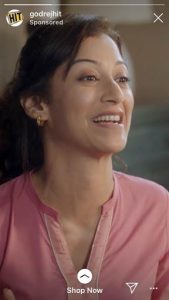 People are interacting more and more meaningfully with brands on their mobile devices. They want content that is easy, convenient and engrossing. Vertical, full-screen Instagram story ads are ideal for that type of content consumption. It is a great way to connect with potential customers. Additionally, it is also one of the few formats that helps brands get complete attention and comes fully equipped with demographic data. To know more about Instagram Story Ads, leave us a comment and we will get back to you!