June 08, 2020
Video Marketing: A Brand Manager's Handbook
"81% marketers are known to use video for their marketing."
Video is an engaging and versatile content format that is easy to consume as well as share across different social media platforms. The audience prefers it because it's entertaining and interesting, whereas marketers believe it has a high ROI. 
[caption id="attachment_14300" align="alignnone" width="500"]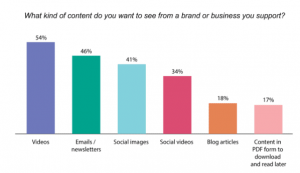 Source: Hubspot[/caption] From being a single marketing tactic, video marketing has now transformed into a holistic business strategy which is also shaping the future of sales and customer services.
Benefits of Video Marketing:
Here are the top 5 reasons why
brands need video marketing
- 
1. Social media users love videos
Research says that 48% of social media users are likely to share video content over any other form of content with their friends if they like it. Therefore, if the aim is to increase visibility and shareability, videos should be an integral part of your strategy.
Opportunities in videos are on a constant rise on social media platforms like Facebook, Instagram, Twitter, LinkedIn, etc from GIFs, short-format videos to stories, live videos, and even virtual reality. These flexible options allow marketers to decide on the best distribution method to reach their target audience. 
Live videos on Facebook, for example, get 6 times more engagement and interactions compared to regular videos, the reason why prompt discussions or celebrity tie-ups mostly happen through live videos. Twitter and Instagram videos play automatically in the newsfeed, making such posts more eye-catching and engaging.
2. Mobile and videos make the perfect combination
"65% of video content is consumed on mobile networks in India."
With more and more people accessing video content on mobile, as a digital marketing service provider, you have to lay emphasis on video marketing in order to reach your audience. On-demand service platforms like Facebook Watch, YouTube and Netflix are also encouraging viewers to use their platforms more frequently while on-the-go through smartphones and tablets. 
The demand for readily available and fast video content is on the rise, and social platforms keep adapting to meet consumer demands. As a marketer too, you have to adapt videos in your strategy to engage and entertain your audience.
3. Videos get more attention
"Statistics say that
"a mobile video viewer is 1.4X likely to watch an ad on devices but 1.4X more likely
to pay attention
to branded content or ads on YouTube."
Video ads have always been more powerful in capturing attention compared to static advertisements. It can be an innovative way to raise awareness, generate leads as well as improve ROI. Even in the case of websites, 88% of viewers will spend their time on a website with videos. Hence, if you have to make a long-lasting impression through your website, the inclusion of videos is a must.
[caption id="attachment_14302" align="alignnone" width="550"]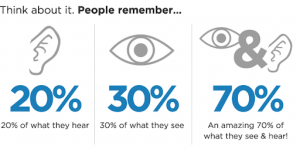 Source:
Vidian Media
[/caption]
 4. Videos get you more organic traffic
It has been estimated that 82% of consumer Internet traffic will come from videos by 2021.  
Research says that "brands that have a video embedded on their website are
53 times more likely
to show up first on Google search results." And it is well known that almost 75% of viewers do not go beyond the first page of search results on Google. This emphasizes the importance of videos for organic traffic. 
Getting your video to rank on the search engine results page first involves adding relevant keywords in the title, video description as well as in the video (ex: narration at the start). The voice recognition software of Google picks up words in the video and determines the ranking based on keywords. Apart from that, sharing your video on all social media platforms and embedding it on all relevant places can help drive organic traffic.
5. Videos build a strong emotional connection
Building an emotional connection with your audience is what sets you apart from your competitors and helps create brand loyalty. Moreover, it is also the foundation for high audience engagement and greater ROI. Videos are one of the most effective ways to create emotional bonding while delivering your message, as audiences are more likely to recall a video they could connect with, even if it was viewed months or years ago.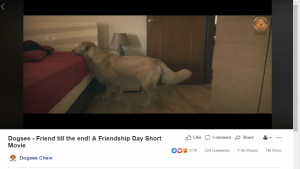 A survey revealed that 94% of the audience are more likely to recommend a brand that they have an emotional connection with, which makes videos an integral part of your marketing strategy.
Types of Video Creation by Brands
According to Hubspot, there are 12 types of marketing videos that brands can create as a part of their marketing strategy - 
1. Demo Videos
- To show how a product/service works.
2. Brand Videos
- To show the mission/vision of a brand, build awareness and attract the audience.
3. Event Videos
- A highlight of presentations or interviews from a conference, fundraiser, product launch or any other type of event.
4. Expert Interviews
- Interviews and discussions with industry experts for building trust, credibility and authority among the target audience. Roping in influencers for the same through videos is also helpful in this regard.
5. How-To Videos
- Can be used to teach something to the audience, whether usage of a new product or to have a better understanding of your services. Teams that work directly with customers like the service and sales departments can make optimum use of these types of videos.
6. Explainer Videos
- Explainer videos help the audience understand how your product can provide a solution to their problem. It often includes a fictional journey of a customer with a certain problem and how the product/service of the business comes across as a solution to the problem.
[caption id="attachment_14304" align="alignnone" width="500"]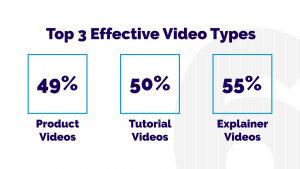 Source:
Yans Media
[/caption]
7. Animated Videos
- The most preferred format to explain an abstract service or to simplify difficult concepts for easy comprehension.
8. Case Study / Customer Testimonial Videos
- Featuring your loyal customers is one of the best ways to build brand credibility. When real customers turn advocates for a product/service, the brand is more likely to get trustworthy among the target audience.
9. Live Videos
- Viewers are likely to spend 8.1x longer time on a live video compared to other formats. Be it behind-the-scenes, interviews or events, live videos are a good way to get longer watch time and high engagement rates. 
10. 360° & Virtual Reality Videos
- 360° videos have a spherical style to enable viewers to experience content from all angles, like a particular event or location. In Virtual Reality videos, viewers have the option of navigating and controlling what they experience.
11. Augmented Reality Videos
- AR videos add a digital layer to the current scene that is being recorded by the audience. Example, IKEA provides a feature where a customer can record a space at their home, and with AR, they can see if the selected furniture will suit that space.
12. Personalized Message Videos
- Responding to customers or continuing a conversation with a personalized video message instead of an email or a text can also be a unique way to keep the audience interested and help them in the purchase process.
The Best Practices for Video on Each Social Platform
Creating high-quality video content is one part of the job, but you have to make sure that it fits in each social media platform to get the best results. Here are the
best video marketing tips
that you can follow while posting videos on social channels - 
1. Facebook & Instagram
Facebook and Instagram are the two most used platforms, that mobile users especially tend to scroll in any time of the day. The silent, autoplay format works very well among mobile users. Hence, videos published on these platforms should be able to convey the meaning even without having the audio on. For example, recipes, how-to videos, easy hack videos work well on Facebook and Instagram, with or without sound.
Uploading videos directly on Facebook gives them more prominence than sharing the link from another platform. The reason being - direct upload would mean reaching out to more people.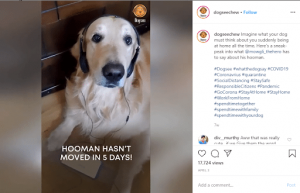 Brand awareness videos work best on both these platforms, as the algorithm reads the past video-related history of the user to determine what to show them next. Therefore, videos have to be extremely relevant to your target audience to shoot up the engagement. 
A few more tips to keep in mind are - 
The first few seconds of the video should be intriguing enough to capture the attention of the audience while scrolling.

Visually appealing videos perform better on Facebook and Instagram compared to ones where people are talking.

Including subtitles is a good idea so that the audience gets the complete message even without the audio.
2. Twitter
"Tweets with videos are more likely to get 6x more engagement than the ones without videos."
Whether it's to keep the audience engaged, promote a product or to drive traffic to a landing page, twitter videos are a great way to add a human touch to your brand and build connections. Brevity is the most important aspect of this social media platform, hence videos also need to be short and crisp, while delivering the message.
[caption id="attachment_14306" align="alignnone" width="500"]
Source:
Social Media Today
[/caption]
Short videos perform the best on Twitter. Additionally, pinning video tweets on top of the profile page can also help achieve more exposure.  According to Twitter, brands should focus on creating videos - 
Explaining the best use case of their products and services

The benefit of the products/services to the customers

The social and environmental impact of the brand

Associations with the product or the brand
3. YouTube
YouTube has more than a billion unique users per month, which makes it a highly potential platform for video marketing. However, you should always have a proper strategy in order to be successful. The questions that you should always ask yourself before posting a video are - 
Is your content specific to what your audience is looking for?

Do you want the viewers who watch the video to land on your website?

Is extensive brand awareness is what you're looking for?
With Google owning YouTube, your brand videos can also show up on the first page of the search engine results. There are 3 things you need to keep in mind in order to rank well - keep the YouTube channel and the domain name similar, embed the shared video on your website and keep your descriptions keyword-rich.
4. LinkedIn
Initially, LinkedIn was less video friendly compared to other platforms, but brands can now upload videos and get creative here. There are 4 different themes that LinkedIn provides for video marketing on the channel - 
Showcasing tutorials of a new product or new technologies 

Industry conference or events to create the right buzz

Teaching something new or sharing time-saving hacks

Opinion videos on industry updates or news
Metrics for Analysing Results
Once the video has been published, knowing how it has performed is important to decide on your next course of action. Analysing the metrics helps not only in measuring the success but also in setting future goals.  Here are the
key metrics to be considered for video
- 
1. View Count
View count refers to the number of times your published video has been viewed by the audience - in other words, the video reach. If brand awareness is your goal, this metric is really important to  track to see how many people have seen the content.
2. Play Rate
Play rate is calculated by dividing the total number of people who played the video with the total impressions. This metric can help determine the relevance and appeal of your videos. If you see that a lot of people have seen the video, but only a few have actually played it, that's a sign that your content has to change.
3. Social Sharing & Comments
Social shares and comments received help determine the relevancy and popularity of the video content. If you see the audience sharing your brand video among peers, it means that the content was successful in making a positive impact. Moreover, social shares also mean more visibility and hence is an important metric to track if you want the
video to go viral.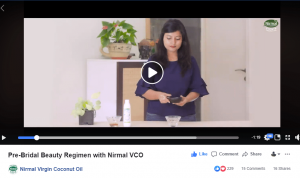 4. Video Completion
This metric measures the number of times a video is played completely and is among the most reliable ones to measure the success of your video.
5. Completion Rate
Completion rate is calculated by the number of people who watched the video completely divided by the number of people who played the video. This metric helps you understand the audience's reaction to the video. If you observe that the completion rate is dropping after a certain time, you probably have to shorten the video length or change the content accordingly so that it resonates with the target audience.
6. Click Through Rate (CTR)
CTR calculates the total number of times your Call To Action (CTA) was clicked divided by the total number of views. With the CTR metric, you can analyse if your video was successful in encouraging the audience to take the desired action. 
7. Conversion Rate
Conversion rate measures the number of times the audience has completed the action divided by the total CTA clicks. This is an important metric to measure if you have a video on a landing page where the goal is to lead the audience in completing an action.
Video is now an important part of almost every social media platform and an integral part of every
digital marketer's
social strategy and campaigns. It adds a certain personality and connection to the brand - things that the audience truly wants. A well conceptualised
video marketing strategy
can take a brand to new heights. To know more about how video can add value to your business, leave us a message and we'll get back to you.