August 24, 2016
Facebook Canvas Ads: The Next Big Thing In Online Advertising?
Facebook is looking to shake the entire online advertising space once again with their new Canvas ad format and if you haven't heard of it? Be prepared to be amazed. This groundbreaking new ad format allows users to experience, watch and buy products all within the Facebook app.
So what exactly is the facebook Canvas Ads?
According to Facebook, the facebook canvas ads are the immersive and expressive experience on the site for businesses to tell their stories and showcase their products.
In simple terms, Facebook now allows you to create a customized, miniature, mobile version of your website that allows you to incorporate video, imagery, and other content of your choice that users can interact with.
The novel and the exciting format is an interactive full- screen experience that enables advertisers to show off their best angles and commands the user's attention without much effort. This leads to increased opportunities for better engagement, recall and a bigger Canvas overall for your brand to tell its story.
The Canvas ad stands out from any other ad unit available on Facebook as it allows an extensive media catalog to conveniently fit into on landing page without having to leave Facebook. Advertisers can utilize Facebook ad creatives which have never been this dynamic and customizable.
Why facebook canvas ads on Mobile?
Since the most of the users who access Facebook now do so via mobile with the total number of mobile-only Facebook users jumping to 832 million as of January 2016. Hence, the social network is hard at work to create a better mobile ad experience for both its users and its advertisers.
Since mobile ads account to 80% of the total ad revenue in April 2016, Facebook looks to alleviate the often strenuous experience of browsing the web via mobile.
Therefore, the facebook Canvas ads format is their latest attempt to provide growing number of mobile users an unforgettable experience with a richer format to market through.
Why Facebook canvas ads in India?
So why should brands adopt the facebook Canvas ads format when it comes to advertising their product? With the total number of mobile users expected to rise to 730.7 million in 2017 and a forecasted mobile phone internet user penetration in India for 2018 to be 44.1%.
India becomes a solid playfield to test the newly introduced Canvas ads. It is common knowledge, India faces a continued problem with connectivity along with many other network issues where it doesn't load more than half of the mobile sites.
Hence, this "microsite-like experience" allows people to click, scroll, swipe, and tap to engage with brands right on the Facebook platform.
Dogsee Chew Case study w.r.t. facebook Canvas ads
Being one of the only agencies in India to adopt the use of a Canvas ad for dog food product brand 'Dogsee Chew', we decided to test the Facebook Canvas ad format for ourselves. And assess Facebook's claim that 53% of users who open a Canvas ad view at least half of it, and the average view time per ad is 31 seconds.
The Objective:
Dogsee Chew wanted to "Show, not tell" their users the wonderful creativity and thought process that go behind every single post for their brand. The primary goal was to get users to click, to view and interact with the Canvas, and additionally to click through the company's main website.
The Approach:
The Canvas Ad format was used because the statistics showed that 55% of fans on the Dogsee Bites page are mobile users. Hence, we worked to create the Canvas within Facebook's Canvas editor platform. 
Here, various layers and components featuring call-to-action buttons, carousels, graphics, text blocks and videos were created for a multi-dimensional, immersive experience. The Canvas was then published and followed by Facebook promotions.
The Facebook Canvas Ads Units promoted targeted Dogsee Chew's key demographics on mobile devices, as we layered them against men and women aged 20 – 50 who live in India.
This customized Canvas Ad unit itself sported an enticing image with a call-to-action "Explore More", which seamlessly integrated the contents of the Canvas itself for a unified and intuitive user experience.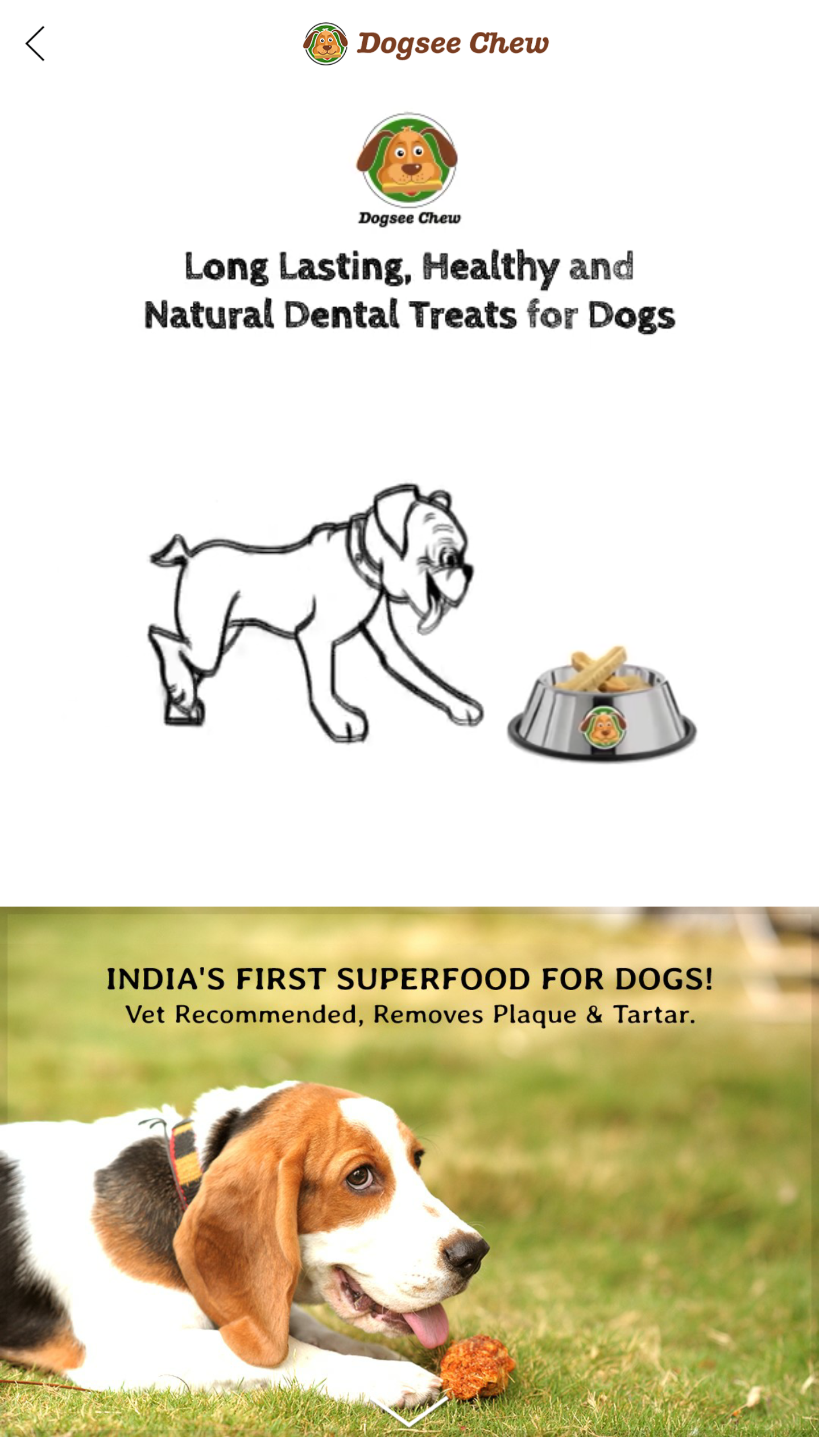 The Results:
When compared to a video carousel campaign and the Diwali video campaign carried out by Dogsee Chew, the Canvas ad format's initial results have been remarkable. It helped Dogsee Chew's Facebook fans by giving them a brand new, multi-media experience and led to significant engagements on the Canvas as well as other online platforms.
The team saw some amazing results, with an estimated 380 increase in ad recall lift and a reduced costing of 0.2$ per ad recall lift, it's easy to say the Dogsee Chew Canvas ad was a success. In comparison to video carousal ad that saw a CTR of 0.98%, the Canvas ad witnessed the highest CTR of 6.79%.
So what did we learn from this test drive? 
Along with increased engagement, the rise of website clicks when compared to other campaigns, the Canvas ad proved to be a win, win overall. Either way, you look at it, the Canvas is a power packed punch that is bound to take over the already crowded marketing landscape despite having a relatively easy setup.
This is due to its huge customizability and a media-centric nature. It certainly is the next big thing on Facebook – until the next one comes along, of course.