September 21, 2016
Impact of Social Media on Travel Industry
Social Media is changing the course of several industries, thanks to its amazing reach and interaction; the Travel Industry though is a different story. Social Media revolutionized the Travel Industry by giving the perfect 'in-person' experience with the selfies, check ins, status updates and much more.
Social Networking sites help consumers to research tips, make decisions about their travel and share their experiences of a particular place, hotel, restaurant or airline. Companies like TripAdvisor, MakeMyTrip, Cox & Kings, Thomas Cook etc have a wide-reaching effect on the industry.
They have massive unique monthly visitors who are actively seeking out travel information and advice from sources such as TripAdvisor, MakeMyTrip, thrillophilia and the likes. Apart from the biggies, there are lot many travel based companies and startups using Social Media to gain traffic and business.
Impact of Facebook on Travel Industry:
Facebook having around 52 million daily users from India alone is definitely the most sought after social media platform to market your business. With the travel industry, Facebook is used for consumer research and consumer feedback.
Consumers don't need stay on line for hours while their call gets transferred a million times to lodge a complaint. More consumers are resorting to Social Media, laying out their problems, complaints and issues with the Travel Agency in the public.
From various surveys conducted, it is known that most of the consumers book their travel tickets through social media platforms such as Facebook, Instagram and Twitter etc. The companies have begun giving out special Travel deals when booked through Social Media. Ittisa's social media services has helped Explore Life Traveling build a strong presence on Facebook by initiating interactive and engaging content on their Facebook page.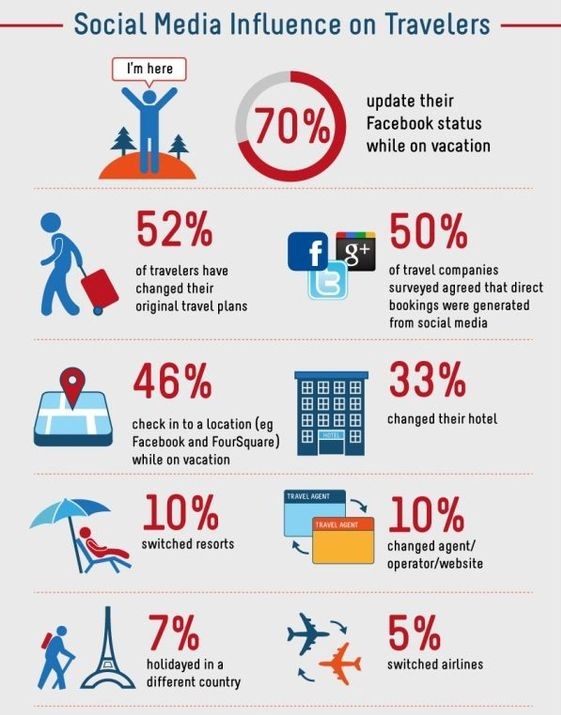 Impact of Instagram on Travel Industry:
What's the first thing people do when they arrive at their vacation destination or trekking to the peak? For many, posting about it on Instagram is second only to putting on sunscreen and ordering a drink. While many of your peers in other industries struggle to come up with content ideas or encourage user-generated content, there are over 58 million instances of the hashtag #travel on Instagram and counting.
Not just travel but the variants of the travel are also upcoming on different social media platforms like adventure travel, hiking, trekking, weekend gateways, vacation etc.
Using travel related hashtags such as #vacation #travelgram #weekendgetaways etc help in gaining more views and likes. Also, adding the location helps in bringing many of the exquisite travel locations into limelight. The infographic below shows that Instagram is now one of the top 5 Travel- Marketing channels.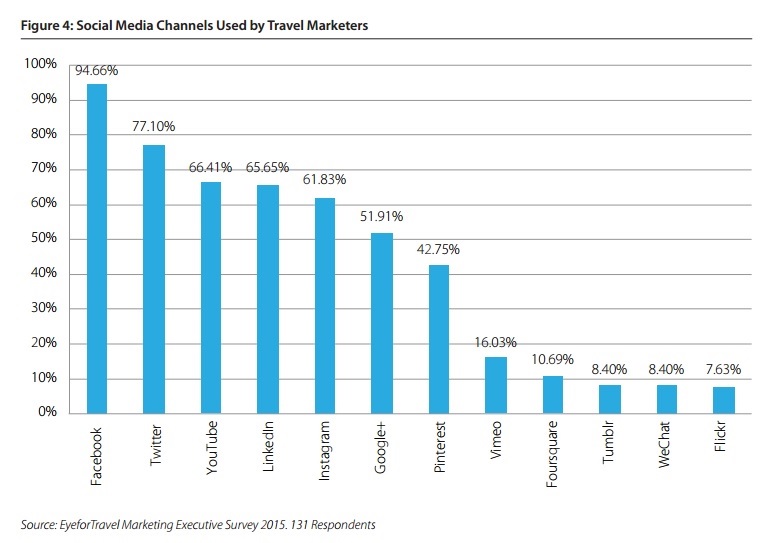 Travel Tweets:
For travel agents, especially home based travel agents, Twitter has proven to be an excellent way to communicate with trade partners with whom they don't have frequent contact. Travel suppliers are looking to build solid customer relationships hoping it will in turn generate more business.
The 140 characters of Twitter serves as a lifeline to many Travel Agents tweeting to market themselves. Resorts, hotels and airlines all benefit from these 140 characters posted by customers on Twitter. Here are 5 quick tips for travel agents on Twitter.
This style of user-generated content is seen by the online community as more credible and authentic and for many hotels, restaurants and visitor attractions, if they are not listed in the top five spots, they are losing out majorly to their competitors. With more than 800 million active users on Facebook posting updates and sharing images, social media is dominating the industry.
The competition is high since we hardly find any Travel Agency with no social media presence. Every Travel Supplier is turning to social media for marketing and increase their bookings and build an online reputation among the public.
Ittisa has worked with several Travel related ventures such as Hyatt Place Hampi, HoteloGix, Explore Life Traveling to build customer relationship and also helped develop content which is interactive and engaging at the same time. This helps keep constant interaction with the existing fans and also develop new ones.
Ittisa has delivered promising results and a noticeable increase in web traffic and bookings for Hyatt Place Hampi. Explore Life Traveling is another travel website that encourages local home stay while in the city. Ittisa has taken over Explore's Facebook pages and has already hiked up the likes, comments and sign ups for the website.
Also Read: How to Track Your Social Media Analytics: A Definitive Guide