August 16, 2019
How does content marketing affect your online sales?
"Traditional marketing talks at people, content marketing talks with them."
Be it any business, the basic marketing strategy is to have a profile in the market, create awareness, build trust among the audience and generate sales. When it comes to online businesses, content marketing can be very valuable in meeting all of the mentioned targets. Moreover, with the right
digital marketing strategies
, your content can have the widest reach and bring the greatest success. However, many brands overlook the connection between content marketing and online sales while planning their strategy. This disparity can cause your business to lose out on leveraging one of the most effective tools for boosting your sales. [caption id="attachment_12198" align="aligncenter" width="500"]

Source: ironpaper.com[/caption] Before a potential lead takes the final buying decision, it is likely that he/she has engaged with some form of content that you have put up. Referring to the marketing funnel is the best way to understand how content affects your sales and the type of content that works in each stage. Take a look at how to connect
content marketing
with your sales at each phase -
Phase 1: Build interest & awareness
Also known as the 'discovery' phase, this is the stage where the audience is first introduced to your business and there is a probability of them being interested in what you have to offer. Prospective users can reach your business through
social media
, website or a simple Google search. People may also discover your business through referrals, event marketing or television and print ads. Whatever be the platform where people see your content, it should be able to explain your business clearly and take them to the next step of the conversion funnel. In the initial stage, informative content works best to build trust and credibility in the mind of the people. Moreover, it can also help you come across as a leader in your respective industry, having a thorough knowledge of what you're talking about. Long-form content works best in this case. Infact,
"long-term content generates almost 9 times more leads compared to short-form posts."
[caption id="attachment_12199" align="aligncenter" width="500"]

Source: singlegrain.com[/caption] Blogs help grab attention but also ensure to gain confidence and increase visibility. Putting up quality blogs and guest blogs will make sure that the target audience is well acquainted with what you're selling, eliminating the need for 'sales messages' that are often considered disturbing.
Phase 2: Encourage Consideration
Once the interested audience is aware of your business, they would next want to know how it can solve a problem and the reason why they should choose your brand over your competitors. Content marketing can help add maximum value in this phase. Moving away from blogs, other forms of content like case studies, whitepapers and testimonials are suitable to show value. One of the best ways to gain the trust of your potential audience is through case studies, with 76% of B2B marketers implementing this strategy. Moreover, the more 'before and after' comparing statistics you use in your case studies, the better will be the results.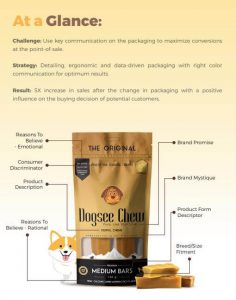 Take the example of this snippet from a case study we had done for one of our clients, Dogsee Chew. Clear depiction of the challenge, as well as the results, has highlighted how we provided a chance to the brand's potential customers to consider the brand when they think of organic pet treats. Testimonials, on the other hand, are not just customer feedback or reviews, but they also act as social proof. According to Nielsen,
"92% will trust a recommendation from a peer and 70% will trust a recommendation from someone they don't know before making a purchase."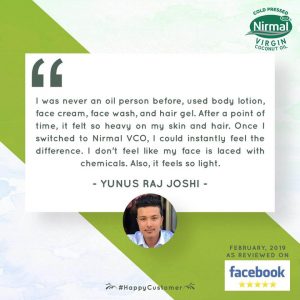 Phase 3: Making a purchase
Even after the target audience has been guided to the purchasing funnel, the right content marketing strategies can help them jump the last hurdle and become buyers. Your content in this phase needs to be subtle to not only convince people to make a purchase, but also to make the buying process as simple as possible. A well-designed and easy to comprehend
landing page
can be the right form of content marketing in this phase. Different types of content like videos that explain the working of a product, how-to articles that feature the usage instructions or a FAQ page that answers common queries are highly beneficial at this point. [caption id="attachment_12203" align="aligncenter" width="500"]
Source: hubspot.com[/caption]
"4X people prefer watching a product video than reading about it."
Apart from being engaging, it is also easy to share video content across all social media platforms and can help meet your targets.
Phase 4: Repeat business and build loyalty
Successful brands are those who can retain their existing customers in the long run as just a 5% increase in retention can lead to a 25% increase in profit. Building long-term relationships with customers by keeping in touch after the point of sale is imperative, and content marketing can prove to be an effective tool in this regard.
Email marketing
is one of the best forms of content marketing to retain customers.
"73% of millennials prefer communications from businesses to come from emails."
You can customize emails based on the audience and their preference, and decide on the frequency you wish to send them out. This will lead to loyalty and advocacy, and your existing customers can re-purchase as well as help bring new leads to your business. [caption id="attachment_12204" align="aligncenter" width="500"]
Source: Pinterest[/caption]
Tip: Using emojis in the subject line of your email leads to a higher open rate.
Content marketing can actually help convert simple
website
visitors into repeat users if strategized well. The relation between content marketing and sales is very important to achieve your business goals. When the interested audience receives the right content at the right time, their journey through the sales funnel is much faster and smoother, eventually leading to higher chances of conversion. To know more about the best content marketing tactics to boost online sales, leave us a message and we'll get back to you.