May 06, 2020
How Social Media Ads Can Benefit Your Business During COVID-19
Apart from bringing the world to a standstill, COVID 19 has made times quite alarming for most marketers. The uncertainty of this pandemic has made a direct impact on the lives of people and it has become a little bit difficult for businesses around the world to decide on the best
marketing strategy
at par with the situation.
Though many businesses have paused all their marketing activities owing to the crisis, the importance of running social media ads during this time cannot be overlooked. The
results
may not be the same as they generally would, but there can be other benefits in the long run.
[caption id="attachment_14261" align="alignnone" width="438"]
Source:
Business2Community
[/caption]
Here are some top reasons why social media ads are still relevant for your business in the times of Covid 19 -
1. Upsurging social media usage
With so many businesses closed and people spending all their time at home, digital attention has increased exponentially.  Due to the ban on outdoor activities, social media platforms like Facebook and Instagram are witnessing a higher usage than normal.
According to Facebook,
"their total usage has increased during the pandemic, with message volume up more than 50% over the last month in countries hit hardest by the virus."
This means that there is a better chance of getting more impressions for ads that are running now, and also a higher probability to reach your target audience.
[caption id="attachment_14262" align="alignnone" width="444"]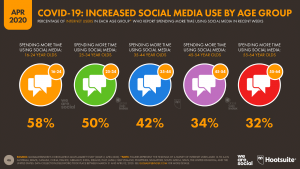 Source:
We Are Social
[/caption]
It is better not to test or invest in any new campaigns or initiatives that may seem to be irrelevant in these times. However, the present campaigns that are running are likely to have agreeable market attention.
2. Low operating costs
The COVID 19 pandemic has brought a disruption in usual business, due to which a lot of marketers have paused or discontinued all their social media ad campaigns. With your competitors pausing their activities, there is a chance to capture the attention of the shared target audience and attract new customers for your brand.
[caption id="attachment_14263" align="alignnone" width="220"]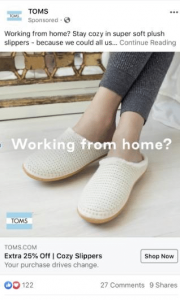 Source:
WordStream
[/caption]
The most important factor in this regard will be that the competition for targeting the same audience will be comparatively much lower, ensuring your operating costs like CPC, CPMs are less. In other words, lower spending and higher impact on your business.
3. Shift objective to brand awareness
Conversions may not be the right objective to achieve from social media ads at present as people are uncertain and more concerned about what is to come. However, this is a good chance to shift the objective to brand awareness.
In times of crisis, remaining connected and maintaining awareness is very important for brands to thrive, meet customer expectations and ensure long-term profitability. Brand awareness ad campaigns aim to generate maximum impressions among the target audience for higher brand recall.
[caption id="attachment_14264" align="alignnone" width="220"]
Source:
WordStream
[/caption]
Brand awareness ad campaigns bring great results with a little spending, so this might be the right time when you have a tight budget and also realize the importance of awareness over conversion in these times.
4. Serve now, win later
A little change in your approach now can make you admirable and trustworthy in the eyes of the target audience in the long term. Be it discounts, freebies or access to premium content, providing encouragement instead of hard-selling in these times will definitely make a positive impact for your brand, not just now but for days to come.
This time of uncertainty is challenging for everyone. Maintaining the right balance between your business need and tactful communication is crucial to make it through the crisis. To know more about running ads during the COVID 19 pandemic, leave us a message and we'll get back to you.