August 16, 2014
Meet the SHEROES - Sneh Sharma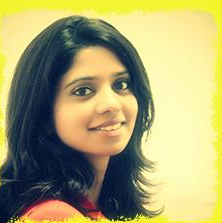 An entrepreneur, a go-getter- At the age of 26, Sneh Sharma is the quintessential powerhouse. Compassion and warmth along with leadership harmoniously entwined makes her a breeze to work with. Sneh started working at the mere age of 19 and has never looked back. Her zeal for being on top in the industry motivated her to co-found Webenza, a digital agency, which makes her probably one of the youngest entrepreneurs you know! Her nature being the perfect blend of creativity and objectivity, along with her relentless pursuit for perfection makes her a visionary when it comes to the implementation of successful campaigns. Sneh has been the youngest winner of the "10 Powerful Ladies in Indian Digital Media Industry" award in 2013 and also bagged the "Top 50 Digital Marketers in Asia" award in the same year. She has also worked with prominent clients like Mara Group, Tuborg, ICICI, Manipal Education, B.Pac and Schneider Electric Bajaj etc. Her meticulous personality keeps her on her feet when it comes to her hobbies as well! You bet she can't beat you in Badminton, Table Tennis or Cross Country? Well she can and she will! People don't generally mess with this pretty little thing- her gold medal in Taekwondo acts as her protective shield. She believes that you have to be good to see good. It is safe to say that Sneh is the kindest dare devil that you will come across!
Why an all women organization? How does it make a difference?
In a world where impacting women are on the rise, it's very disheartening to see and hear so many instances where our capabilities are doubted. So many companies are gender biased, our employment opportunities are nowhere close to be equal. When Sneh, came up with the idea of an all girls agency, she was doubted..."it won't work", "don't do it" is what she kept hearing. When you challenge Sneh, consider it a completed task! She made up her mind to create an organization where women would always be on top. Being an independent woman, she also finds that the perks of being one can prove to be quite a boon. No one gets women more than women and well, we know what the men want too!
Ittisa in 5 years from now
Taking away from the mainstream ideologies of brand development, she wants to focus on branding with a cause. She wishes to revolutionize the world of communications and through that send across messages that will make the world a happier place. Needless to say, she wants to take Ittisa to the next level. "We will be the benchmark for brand development", says Sneh with a confident smile on her face.
An advice for all SHEROES out there
"The world is your playground. Be proud of what and who you are!"
Thanks Sheroes for the coverage. We really appreciate the well written article.