January 29, 2018
5 Things You Must Do Before Jumping Into Paid Online Ads
"Nothing except the mint can make money without advertising."
Advertising has always been an integral part of marketing and online paid advertising has become unavoidable these days. It can drive enormous traffic to a website, generate leads, help reach out to relevant target audiences and increase brand awareness. However, if you are just venturing into the world of paid online ads, not having an idea of how it works can prove to be a disadvantage.
Investing a major part of the budget into something that you don't understand clearly will not provide the expected traffic and leads, instead it can get very expensive without any effective results.
Before jumping head first into paid online advertising, it is important to know these 5 things that will actually help in the process -
1. Understand the concept of keywords
Before starting anything, a fair idea of how it all works is necessary to know. In case of online advertising, search advertising or the use of keywords is very important. When the right keywords are infused in all website content, tags, description, links and other places, it makes it easier for Google to determine that the webpage is the most relevant answer to a user's search queries.
Google Keyword Planner can be of great help in this regard, providing the right keywords in accordance to the type of industry. However, remember to make the correct choice. The aim should not be keywords that attract the maximum traffic, but the ones that your audience uses when they search online.
Long tail keywords are more effective when compared to head keywords. For example, Asian cuisine restaurant in Bangalore (long tail keyword) is much more effective than Asian cuisine restaurant (head keyword) for a restaurant owner in Bangalore.
[caption id="attachment_7311" align="aligncenter" width="540"]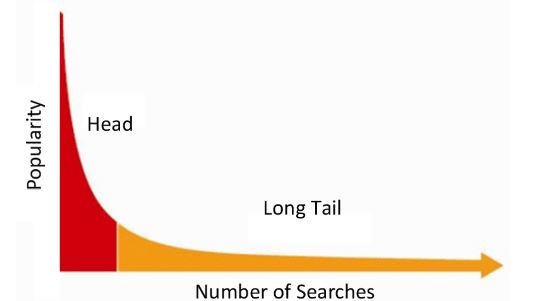 Source: Press Up[/caption]
2. Know the medium
There are innumerable places online to buy ad spaces, each having its own advantages and disadvantages. First be familiar with all types of online ads before deciding on the placement.
Display/banner ads are most commonly found on websites, either on the top or in the sidebar. They are generally attractive with creative graphic representations and are used to target new customers in the initial phase of marketing. Text ads, on the other hand, have a lower visual appeal and appear on the top of the search engine results page. The advantage of text ads is that specific keywords can be targeted and they are also cost-effective.
Paid ads can also be purchased on social media platforms like Facebook, Instagram, Twitter and LinkedIn. You can also run ads on blogs/websites that are related to your products/services.
[caption id="attachment_7313" align="aligncenter" width="638"]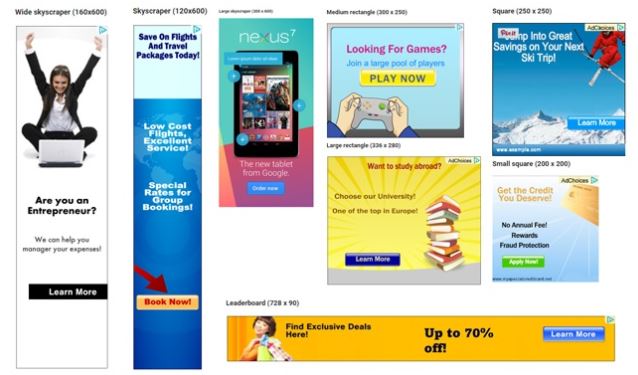 Source: TechWyse[/caption]
3. Have your tracking ready
There are two things to remember when it comes to online advertising, almost everything can be tracked and secondly, buying paid online ads is futile if the performance is not analysed.
Google Analytics is one of the best ways to track ads performance. It shows the number of clicks the ad received, the number of people who visited the website, how long they stayed there and the number of converted leads among other things, all in a single dashboard. So, before getting into online ads, ensure that the tracking tool is ready.
[caption id="attachment_7314" align="aligncenter" width="625"]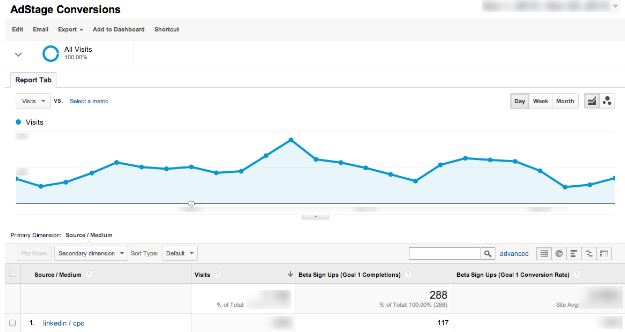 Source: The AdStage Blog[/caption]
4. Have a landing page and call-to-action button
When an user clicks on an ad, he/she is redirected to a landing page. The homepage of a  website is good to introduce the audience to your business, but not as a landing page. Not only does a landing page make tracking visits easier, it pushes visitors to become potential buyers.
A clear CTA button should be present on the landing page - be it in the form of making a call, filling a form, downloading a free ebook/brochure or directly purchasing a product.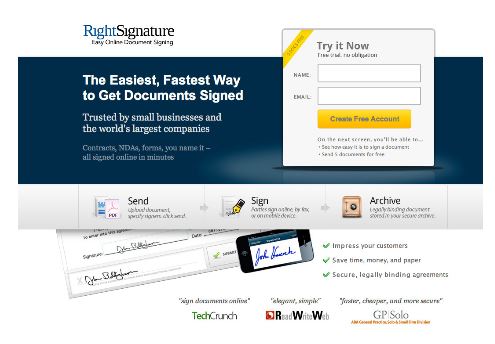 5. Realising that advertising is not an overnight process
Paid advertising is not something where results can be achieved in a day, it requires monitoring, maintenance, testing and tweaking of the ads so that they perform better. Have a report scheduled every 15 days or 30 days to analyse the performance. Make sure that there is enough budget to support the ad campaign, even if it is a long-term one.
With proper knowledge and the right strategy, paid online ads can actually bring a lot of traffic to your site and even help convert them into leads. To know more about online ads and how it can help you in your business, leave us a message and we will get back to you!