February 06, 2018
Phases Of Brand Launch On Social Media
Research shows that 82% consumers trust a company more if they are involved with social media.
As most people are aware, social media is no longer simply a medium to meet new people and stay connected. With around 2,061 million Facebook users, 1,500 million YouTube users, 700 million Instagram users and 328 million Twitter users worldwide, the power of brands to connect with social media is indeed great. It helps in developing a personal bond with existing customers, generating new leads and also in increasing a brand's visibility. Brands that haven't invested in social media marketing yet, this is the right time to do so.  
Below are a few steps you should follow to launch a brand on social media :  
1. Have a goal and well-planned strategy:    
"As an entrepreneur, one of the biggest challenges you will face will be building your brand. The ultimate goal is to set your company and your brand apart from the crowd. If you form a strategy without doing the research, your brand will barely float-and at the speed industries move at today, brands sink fast." - Ryan Holmes.        
Before you launch your brand on different social media platforms, it is important to figure out why you want to do so and what is the end result that you desire. The plan needs to be researched, designed and strategized accordingly. Your plan of action should mainly focus on the brand's sales goals, prospect goals, product awareness goals and customer experience goals. For example, if your brand is new, target social media platforms primarily with the aim of increasing product sales and product awareness. However, If your brand is already a well-established name but is going digital for the first time, then your social media strategy should focus more on customer engagement.
[caption id="attachment_7375" align="aligncenter" width="462"]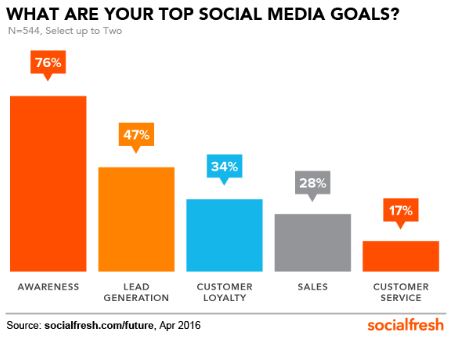 Source: Social Fresh[/caption]
2. Target the right audience:   
"Understand why you are different and how you help, recognise your target market, and give them something they might not even realise they are missing."-Chris Murray.    
Your target audience decides whether your brand will survive in the market or not.
It is important to understand the need your brand fulfils and use the correct social media channels to attract the right audience. Conduct surveys and interviews  to understand consumers and their needs. After identifying them, use the right kind of platform to influence them.
3. Choosing the correct platform :     
Once you have planned your strategy and defined the target audience, the next step is to optimize social media profiles on the correct platforms. Selecting the right social media platform is very important as the right platform will fetch maximum reach. For example, if your brand is targeted towards millennials, then platforms like Instagram and Snapchat will work wonders. On the other hand, if you are into selling B2B products/ services, then you should stick to channels like LinkedIn as it will get you the right kind of views.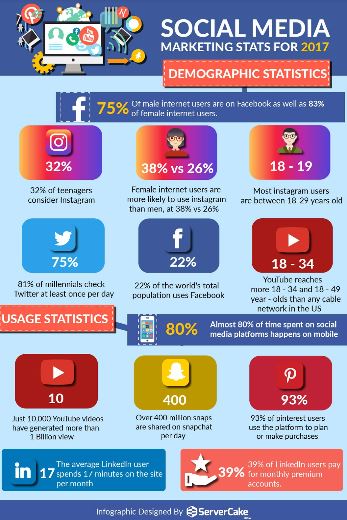 4. Set + Implement Your Strategy:      
"Strategy without tactics is the slowest route to victory. Tactics without strategy is the noise before defeat."-SueTzu.
Once the platform has been chosen, you should focus on how to implement your strategy. Get your content in place and develop a schedule accordingly. Create posts, contests and campaigns that enlighten and engage users at the same time. There are two important ways of reaching out to the audience, i.e, paid and organic. While organic strategies should mainly focus on spreading awareness and be more informative, paid strategies, like social media commercials should directly advertise the brand.
5. Measure and Optimize:  
Measuring the performance of different strategies at regular intervals will help analyze what worked and what didn't. On the basis of the results, you can determine the kinds of posts that work well and the most suitable time or day to publish your posts. For example, a motivational post might work better on a Monday compared to other days whereas an engagement post might work better on other days. There are various social media measuring tools and services that can help you keep track of how your strategy is faring.
[caption id="attachment_7377" align="aligncenter" width="617"]
Source: Buffer Blog[/caption]
Launching your brand on social media increases website traffic, creates a strong base of loyal customers, helps in brand promotion at a global level and helps in faster and more efficient communication. But, the most important thing is to do it right.
To know more the best way to launch your brand on social media, leave us a message and we will get back to you.