June 06, 2019
Psychology of Online Purchasing
"Research states that 56% of Generation X and 67% millennials prefer online shopping."
The immense popularity of virtual stores has resulted in
more and more customers
turning to the Internet for making their purchases. As an online seller, if you want to be the best and stay ahead of competition, it is important to get into the mind of your customers. By understanding the psychology behind online sales and purchasing and how it affects the choice of consumers, you can strategize to boost your sales - even if you are a startup.
Take a look at the top 5 psychological aspects that may influence online purchasing -
1. Impulsive buying
Social media makes people impulsive buyers. "47% millennials spend up to 4 hours a day scrolling, and that leads to 38% scrollers purchasing something after seeing it on social media." However, impulsive purchases can also be driven by sales and promotions. For example, when the total amount in the cart increases, with the option of add ons, an online shopper is most likely to add that product on impulse to the cart. [caption id="attachment_11863" align="alignnone" width="500"]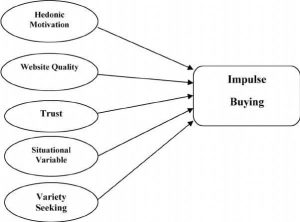 Source: Research Gate[/caption] Aesthetic website design also encourages impulsive purchase behaviour. A website with good UI/UX, minimum load time and customizations that enhance customer service is more likely to increase the likelihood of purchase.
2. The influence of colour
Colour has the ability to attract specific shoppers as well as change shopping behaviours among many. For example, blue shades have a tendency to increase flow experience - where customers enjoy as well as can concentrate on the website. According to research, customer patronage can see an increase in websites with blue hues, irrespective of the price. Blue also denotes high quality. On the other hand, red shades can make customers sensitive regarding price, as the colour is mostly associated with sales or special discounts. [caption id="attachment_11864" align="alignnone" width="500"]
Source: Oberlo[/caption]
3. Interactive website
One drawback of an online store is that customers cannot touch and feel the products they wish to purchase, unlike in a physical store. Studies have revealed that in such cases, sites that allow interaction with products with 360-degree views, detailed zoom in options, or the choice of switching easily between colours, patterns or prints have a more positive reaction. Product categorization is also an important aspect that affects the psychology of online customers. Segmented subcategories give customers the idea that there are more variety of products available, and also makes browsing and locating products easier. This means that customers leave with a positive impression of your online store and are most likely to come back.
4. Waiting time
Waiting time is an important perspective of online shopping that needs to be looked into. A research revealed that "an average person perceives the load time of a webpage to be 15% slower than it actually is, and will recall the experience later to be 35% slower than the actual speed." Taking care of this psychological perception is important, else sales can be affected. Make sure that your pages have a minimum loading time, and in order to make your customers feel that it's faster, integrate progress bars and spinners to keep people engaged. However, remember that sometimes progress bars are associated with wait time and can make the page seem slower, so avoid it if you have less than 5 seconds of loading time. [caption id="attachment_11866" align="alignnone" width="500"]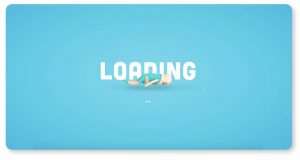 Source: Muzli - Design Inspiration[/caption] It's not just the time taken for page loading that is important, but also the one taken from viewing to purchasing a product. A study by Visa revealed that "49% of shoppers find setting up an account with each site they visit to complete a purchase the most annoying part of online purchasing." This is why having the option of guest checkout on your site is very important.
5. Social proof
Social proof is another crucial psychological factor that plays on every customer's mind before making an online purchase. Be it reviews, testimonials, social media mentions or blog posts - shoppers feel comfortable when they know that others have had a pleasant experience when shopping from the same website. 84% of people trust social reviews as much as their friends', which highlights the power it has on the online shopper's purchasing behaviour. Always share testimonials on your e-commerce store and link all your social media platforms to instil trust in your customers. [caption id="attachment_11867" align="alignnone" width="500"]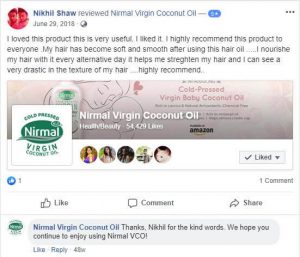 Source: Facebook[/caption] In the last few years, online purchasing has become the most preferred way of shopping, with over 60% of millennials going this route. Having a clear understanding of how online customers browse or shop and what it takes to prevent them from cart abandonment can help you tailor your approach in the right way. To know more about how the mind of an online customer works, leave us a message and we will get back to you!