June 18, 2019
5 Best Social Media Campaigns Celebrating Fatherhood
June 16 was not just another Sunday, but a day when dads were celebrated for their unconditional love and constant support worldwide. Just like
motherhood
, fatherhood is also a popular emotion celebrated by brands worldwide. The love of a father comes in many layers, which provides the perfect opportunity for brands to showcase their creative side and bring out the best stories.
Here are 5 social media campaigns that celebrated fatherhood in their own unique way -
1. Amazon India - Let's #DeliverTheLove
The involvement of a father in the life of his child forms the crux of Amazon's Father's Day campaign. By depicting moments from real life, the video captures the multiple roles that a father dons, all to bring a smile to his child's face. Whether it's with his child, giving a shoulder ride, putting his little one to sleep or fixing a bicycle, dads do it all and Amazon urged its viewers to celebrate this unconditional love. With the underlying message of
"chutkiyon mein nahi bani yeh kahani"
- Amazon managed to trigger the right emotions to create a buzz on social media. The video gathered 10M views on YouTube, 30K likes on Facebook with 240+ reactions. Apart from that, the brand also encouraged followers to share their most memorable moments with their fathers. Watch the heartwarming video here -
https://www.youtube.com/watch?v=nFi6SluOp0Q
2. SBI Life Insurance - #PapaHainNa
Every father is there to support his child, but the way of doing it may be different. This is what SBI celebrates in the
#PapaHainNa
campaign. The video features playback singer Shaan talking about how fathers have different traits - some may be tough on their children while some go easy, some are sporty while others always have your back. The campaign further urges fathers to find out their unique
"Papa Formula"
by selecting their personality traits as a dad. Based on the choices, a personalized formula could be created and downloaded in a musical format that can be shared with friends and family or on social media. [caption id="attachment_11969" align="alignnone" width="500"]
Source: Facebook[/caption] The campaign witnessed 6.4M views on YouTube and 5.7M views on Facebook, with 28K reactions, 490+ comments and 2K+ shares. Celebrities like actor Kunal Khemu, cricketer Harbhajan Singh, music composer Salim Merchant and others also participated in the campaign on Facebook. Watch the video here -
https://www.youtube.com/watch?v=SQisImP6P7Q
3. Star Sports - India v/s Pakistan
The coincidence of the most awaited clash of India versus Pakistan in the ongoing World Cup on Father's Day gave birth to the Father's Day campaign by Star Sports. The video showcases a Pakistani fan telling a Bangladeshi fan that his father taught him to never stop trying as people who try never actually lose and are bound to be successful someday. It then shows an Indian fan asking them to recall when he said such a thing. The underlying pun of the video points that the Indian team is like a father figure and superior to the Pakistani team in the game of cricket. The cheekiness displayed in the ad was to add some more excitement to one of the most awaited matches in the World Cup. [caption id="attachment_11970" align="alignnone" width="500"]
Source: Social Samosa[/caption] The video gathered 4.1M views on YouTube, 473K views on Facebook with 18K reactions, 3.2K comments and 6.9K+ shares. Watch the video here -
https://www.youtube.com/watch?v=ks4f_lRpSag
4. Bajaj Allianz Life - #TheUnmissableMeeting
In times when people spend maximum time thinking about work and meeting deadlines,
#TheUnmissableMeeting
campaign tries to rekindle the father-child bond that maybe getting lost in the pursuit of a successful life. The video shows 3 hardworking millennials getting a surprise visit from their fathers, with the help of their bosses. The campaign urges the working generation to spend more quality time with their loved ones and cherish childhood memories. [caption id="attachment_11971" align="alignnone" width="500"]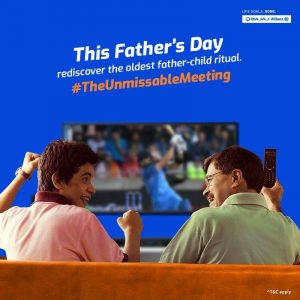 Source: Facebook[/caption] The video gathered 266K views on YouTube, 3.2M views on Facebook with 17K reactions and 400+ shares. Take a look at the video here -
https://www.youtube.com/watch?v=S5ViUfACxJ8&t=4s
5. Usha - #FollowYourHeart
Usha's tribute to Father's Day was in the form of a compelling and emotional digital film, highlighting the various lessons a father teaches his child, which later shapes the child's future. The film explores the journey of a father and child and how it evolves over time - at one time fathers encouraged their children to follow their heart and years later, it becomes a role reversal where children encourage their dads to follow their heart. [caption id="attachment_11972" align="alignnone" width="500"]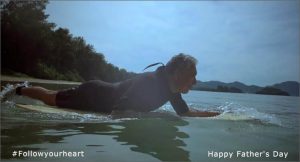 Source: Exchange4Media[/caption] The digital film received 1.2M views on YouTube, 5.3M views on Facebook with 47K reactions and 5K+ shares. Watch the video here -
https://www.youtube.com/watch?v=lucblDh2Fj8
Apart from digital campaigns, take a look at some of the top creatives by brands celebrating Father's Day -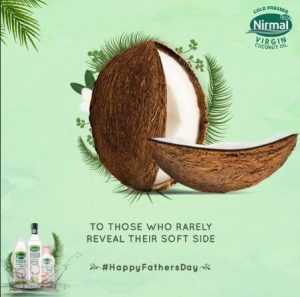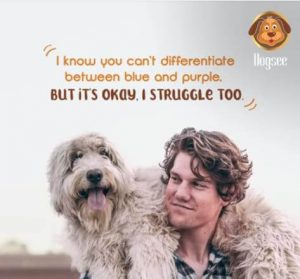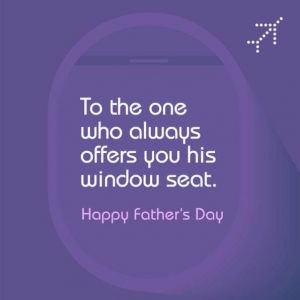 Which was the best Father's Day campaign in your opinion? Leave your answers in the comments below.