May 31, 2016
How To Use Snapchat For Business?
Snapchat for business is the new trend in the Digital marketing which is moving at a frightening speed. There is no denying that the world is rapidly shifting from analog to digital. The only way to keep up with this speed is by keeping oneself updated and reading more about what is happening in the digital world.
It is important not only due to its rapid growth but, also because it is set to be the future of marketing. While older generation people will undoubtedly be inclined towards paper-based newspapers, books, communication methods and traditional TV and radio broadcasts, but the millennial or as we can rightly say the young generation have grown up with the internet and the mobile phones embracing the convenience of this brave new world of digital consumption.
Digital marketing is a huge umbrella under which fall a number of activities. One such key activity is social media engagement.
No matter what you sell, to whom you sell your product to, a well-designed social media strategy can help you grow your brand leaps and bounds. Social media sites like Facebook, Instagram, Twitter, Snapchat etc have changed the way brands interact with people.
It has been noticed that 84% of B2B marketers use social media in some or the other form and thus it has changed the whole marketing landscape. The business world has got a new and powerful tool at their fingertips that can share a piece of content all over the world in seconds.
We all know about how Facebook, Twitter, Instagram are fantastic social media assets but little do we know about one such emerging asset called Snapchat.
Snapchat is one of the fastest growing social networks with CEO Evan Spiegel from California. It is still a relatively small, 'niche' social network compared to Facebook and Twitter, but it's more than 100 million seemingly addicted users who spend an average of 25-30 minutes on the app each day represent piles of potential customers.
71% of snapchat users fall under the age of 25 years which is a potential group to influence.  Snapchat features nearly 8 billion videos per day which have increased fivefold from a year ago. Snapchat positions itself as a more secure and private social media space than other social media platforms.
The receiver can see the snap only once and if he desires he can replay it once which will be notified to the sender. As an additional security measure, if a user takes a screenshot of the snap, the sender would get the notification. Thus we can see that
Thus we can see that Snapchat has done a great job in making a distinguished mark in the social media world. Brands see an engagement rate of more than 80% on Snapchat, proving it to be a useful tool. They can take advantage of the special feature of Snapstories which Snapchat provides.
Brands can put stories on Snapchat which can be 360 seconds long and lasts for 24 hours, it gets more viewership and the greatest benefit is one can keep adding to the story and can take advantage of the 24-hour limit. Snapchat's real-time nature is compelling for marketers.
Snapchat for business might differ from other platforms because it lets the brands be more genuine without having to build digital identities for users. Snapchat's real-time nature is compelling for marketers. It differs from other platforms because it lets the brands be more genuine without having to build digital identities for users.
We already see that many brands like Dove, Michael Kors, GrubHub, are using snapchat for business to engage the audience with their brand.
How to use Snapchat for Business?
Provide access to live events
To use snapchat for business, give audience direct access to live events like trade shows, launch event, or one-of-a-kind events like the 1000th customer in our store helps to create inquisitiveness among the audience and increase the viewership. It provides a different, more authentic view of what's going on in the company.
National basketball association had very well executed this idea by creating excitement about their upcoming event where Kevin Durant was awarded the Most Valuable Player. So in a three photo story, the NBA created a story to encourage fans to tune in on real time on NBATV.com and NBA.com as Kevin accepted the award.
Deliver private content
One can also use Snapchat for business to provide special content to your audience that they might not receive on other digital platforms. Fashion brands like Rebecca Minkoff and Michael Kors have used Snapchat to debut their collections to followers before they hit the runway.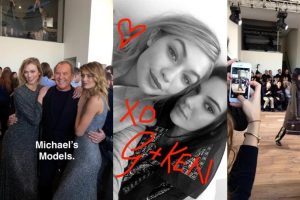 Offer contests, perks, and discounts
People love social media giveaways and promotions, so one can always. Brands can offer promo codes or discounts to the fans who watch your entire Snapstory. Send a snap saying that you're about to give out an exclusive discount code and then reveal the code.
Do measure how many people opened, watched and took the screenshot of the snap. Brands can also start an exciting story in the snap and tell the viewers it is continued on the website and increase your website engagement.
Track these activities by creating a special page with a URL you give out only on Snapchat and then track it with google analytics. GrubHub used a series of images showing a pizza being eaten slice by slice to create suspense before revealing a discount code in the last image.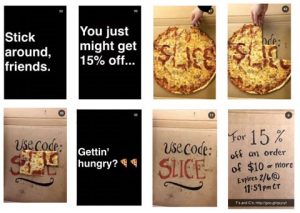 Be creative in using snapchat for business
After deciding the content you want to develop, think about how you can present it in a creative way. Draw or write on pictures to add humor or emphasis. Creativity attracts viewers and thus more beneficial it is to your brand.
If you have an idea in your head, make sure it is conveyed in the most creative and exciting way in order to attract more engagement. Dove executed this idea phenomenally. Its mission was to help this generation of young women develop a positive relationship with the way they look and help them raise their self-esteem and realize their full potential through their 'self-esteem weekend'.
People were encouraged to ask their personal insecurities which was answered by Dove's self-esteem ambassadors. The mission behind this was to connect with participants on a one-on-one basis.
Take people behind the curtain
Provide behind-the-scenes content to your community, which helps create and engage a strong following. You can showcase your company culture by giving them a glimpse of some everyday events like a birthday celebration, or a Friday afternoon or a company outing.
Fashion brand and start-up Everlane excels at this, pulling back the curtain to educate customers while producing enticing content. They use Snapchat stories to highlight tours of offices, happy hours and manufacturing warehouses.
Using SnapChat for business?
Is Snapchat capable enough to drive customers to your business or to your website? The answer is absolutely "yes."
This is because Snapchat is a very different in comparison to Facebook, Twitter, and Instagram that's what makes it unique. As such, it offers businesses unique ways to connect with their audiences. If you haven't adopted Snapchat as a part of your marketing strategy, you might be missing out on the first mover advantage with the 'NEXT BIG THING'.
Snapchat provides you with an opportunity to connect with relevant members of your target audience; So get snappin'!