December 05, 2017
Ways To Earn Money Through A Website
When sites like Facebook, Twitter and Pinterest were mere start-ups, they did not have a concrete monetization plan. Their only focus was to create something that would garner a lot of attention and traffic.
Why?
Once these two things are in place, ways to make money out of websites evolve automatically.
For many people, earning money from a website still seems to be a myth. Of course, this is not something that happens overnight – it requires a considerable amount of hard work. However, with the right techniques and commitment, you can generate consistent revenue from a website.
Here are some ways to earn money from a website -
1. Affiliate Marketing
Clearly one of the easiest and most popular ways of making money through a website would be by
affiliate marketing
. All you need to do is find a product that you want to recommend to your audience and endorse/promote it to your website audience and email subscribers. Of course, this is applicable to only those websites that already have a considerable audience.
If any of your visitors clicks on the particular product link and makes a purchase, you get a part of that sale price. The commission can be anything from a 30% to a whopping 70%.
[caption id="attachment_6653" align="aligncenter" width="633"]

Source: Charles Ngo[/caption]
2. Google AdSense (Pay Per Click)
AdSense allows publishers like bloggers and website owners to enter the immense ad network of Google and enable other advertisers to run ads on your website.
Once you have signed up on Google, a code will be placed on your website. This code identifies the content on your website and then displays ads that are relevant to your audience. For example, if you have a travel blog or website, Google AdSense will show your visitors ads for booking tickets, hotel accommodations, etc. The best part is, you get paid each time someone clicks on that ad. And if your site has enough traffic, be assured that you will earn quite a handsome amount every month.
[caption id="attachment_6654" align="aligncenter" width="497"]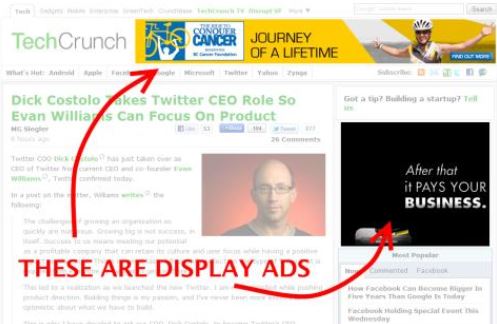 Source: LinkedIn[/caption]
3. Selling Ad Space
Apart from Google AdSense, you can sell your ad space directly to companies who
are on the lookout for sponsoring blogs/websites. You can decide the price of each ad space, like the main banner, side banner, etc.
Your payment will depend on the number of visitors that you get. If your website is getting a lot of traffic from multiple sources, your pricing and earning can be very high. However, if your website is new without much traffic, do not expect high revenues.
[caption id="attachment_6658" align="aligncenter" width="565"]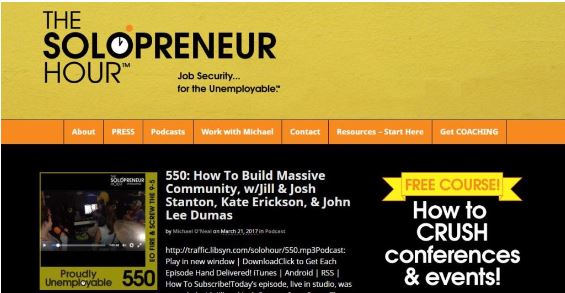 Source: Make A Website Hub[/caption]
4. Generating leads for other businesses
It is a fact that every business thrives on new leads that come their way, eager to know about their products and
services
. Your website can play the role of a matchmaker, connecting two different parties who can be of use to one another.
Say, for example you have a website that deals with culinary skills and all things related to cooking. The contact information of your readers (email id) can provide a lot of value to people who are providing online cooking courses or selling bakery items, etc.
While this method is like affiliate marketing, in case of lead generation it does not matter if your readers buy their products or not. The only requirement here is your readers to get introduced to the other business.
5. Setting up an ecommerce store
A great way to earn money from your website is by transforming it to an ecommerce store. Say you have a WordPress website, you can easily turn it into a WooCommerce 
store. There are several ecommerce and online stores in the market, so you must ensure that you have a certain USP to stand out in the crowd.
Keep in mind the recent marketing techniques and have a detailed strategy before you decide to set up an online store.
[caption id="attachment_6656" align="aligncenter" width="489"]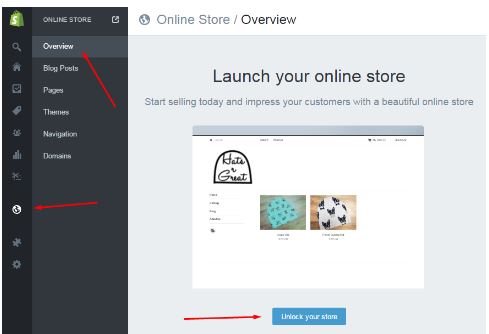 Source: E commerce Guide[/caption]
6. Accept Donations
If your website has a strong and engaged community, asking for a donation from your readers can be a good way to earn some money. Donations will not make you rich overnight, but are a good way to cover expenses initially, especially if you have just started out.
Websites related to productivity, social and personal development generally have higher chances of getting donations compared to others. Place a 'Donate Now' link or button on the website with some engaging,
good-quality content
that will encourage your readers to donate.
7. In-text advertising
In-text ad networks place sponsored links in the text/content on your website. These ad links have a double underline so that they can be differentiated from normal hyperlinks. When a user going through the content on your website hovers on that double link, the ad will pop out. If your readers click on that site, being the website owner, you will earn some revenue.
While some people have generated quite an amount of revenue with this method, many website owners find it distracting and intrusive for their readers and refrain from using this method.
[caption id="attachment_6657" align="aligncenter" width="487"]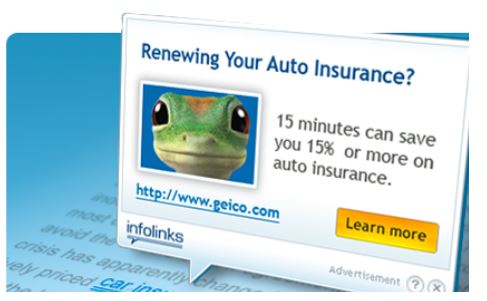 Source: brandchannel[/caption]
Making money from your website is not an alien concept, it is a reality. To know more about how your website can help you generate revenue, leave us a message and we will get back to you!