December 12, 2017
Tips To Increase Ecommerce Sales
Digital is affecting the way businesses are being conducted in more and more ways. Traditional brands and consumer driven companies are opening up online stores to stay relevant, fight competition and improve the bottom line. You may think that just by setting up an ecommerce store, your sales will improve drastically. But this is not true. Merely having an online presence is no longer enough, you have to encourage customers to purchase your products to increase sales. While spending a considerable amount of money for ads and promotions is an obvious way to increase sales, it has a drawback on the revenue generated. Here are some tips that you can use to achieve your target sales without spending a dime-
1. Upselling Products
Often customers are unaware of additional accessories or a newer upgraded version of a particular product that they wish to purchase. This is where the prospect of upselling comes into play. Upselling means persuading your customers to buy something additional (like a power bank with a phone) or a more expensive version of the product they are looking for (Iphone 6S instead of Iphone 6) by displaying and explaining the benefits. Once you educate your customer about the recommended and more expensive product, he/she will evaluate the value and if presented well- make the purchase, leading to extra sales. Upselling is a wise business strategy, being 20 times more effective than normal cross selling. Two important things to keep in mind are- the product you recommend must fulfil the original need of the customer and secondly the superiority of the recommended product should be made absolutely clear. [caption id="attachment_6922" align="aligncenter" width="581"]
Source: Shopify[/caption]
2. Customer hesitation? Provide a solution
This is a common problem often experienced in ecommerce business  - be it big or small. Customers may like something and add it to their shopping cart, only to forget about it later. Statistics reveal that more than two thirds of online shopping carts are abandoned which means you are losing out on sales. Leaving a product in the shopping cart means that people have liked the product, but there was some hesitation due to which they did not purchase it. It could be due to the high costs or a sudden problem in connectivity. Making an effort to resolve these hesitations can ensure increase in your sales. Reminder emails, an expiring small discount, free shipping etc all help to remove hesitations and encourage faster decision making. [caption id="attachment_6919" align="aligncenter" width="418"]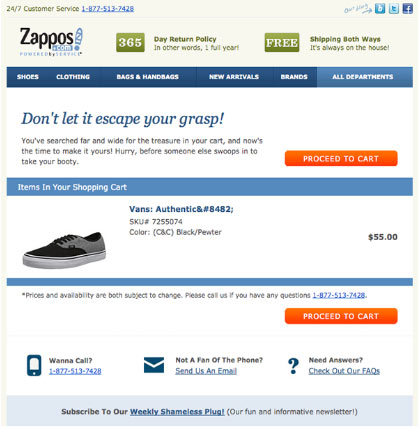 Source: Zappos[/caption]
3. All hail e-mail!
Never underestimate the power of a simple email when it comes to ecommerce and
online marketing
.  They work better than social media channels, even outperforming Facebook and Twitter.
More than 60% of customers subscribe to email especially for offers, discounts and free coupons. 70% of such offers and coupons that are sent through emails are used by customers. Almost 80% of people check these marketing emails on a regular basis.
These figures are enough to understand the potential that
email marketing
has in an ecommerce business. Invest some time in crafting a creative and appealing emails and then wait for the magic to happen! [caption id="attachment_6916" align="aligncenter" width="487"]
Source: Starbucks[/caption]
4. Leaving (Checkout) should be easy
A simple, easy and quick checkout process is one of the most popular purchase drivers in case of online shopping. A confusing, long and tedious or complicated checkout process can often lead to cart abandonment. Keep your checkout process as simple as possible to increase ecommerce sales. Almost
20% customers abandon the cart if they have to create an account on your site before making a purchase. So, it is always better to keep a 'checkout as guest' option.
Remember that your goal is to ensure that customers make a purchase rather than spend unimaginable time on your website. Therefore, facilitate a quick check-in and get out process before they can change their mind. [caption id="attachment_6920" align="aligncenter" width="578"]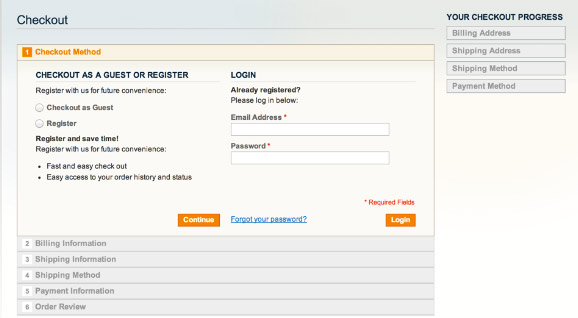 Source: The Search Engine Shop[/caption]
5. Let people review your products and let other people see it
Customers trust what other customers have to say more than what you say. Therefore, genuine customer reviews are a must. Often one review is not enough, people normally do not trust a product unless there are multiple buyers backing it. It doesn't matter if you have a few negative reviews. By responding and acknowledging those reviews, you increase the credibility of your brand. Product reviews also help in the brand's
SEO
ranking. [caption id="attachment_6918" align="aligncenter" width="400"]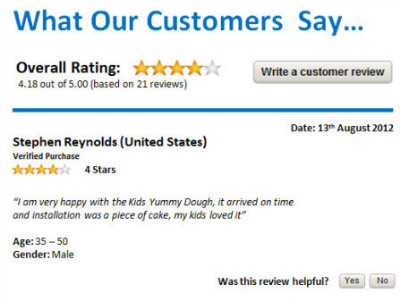 Source: Econsultancy[/caption]
6. Install Live Chat support
At times, leads fail to convert into customers because they may have some questions or doubts that they need to clarify before going ahead with the purchase. They check out from your site, with an intention to drop you a mail or give a call to clear their doubts. Unfortunately, they might simply forget about it later or avoid going through such a long process. A live chat support can be of great help in such circumstances, solving the queries of people then and there. It not only provides real-time assistance, but also enhances customer experience and satisfaction. A quick solution to queries and increased customer experience can help you to increase your ecommerce sales. [caption id="attachment_6921" align="aligncenter" width="521"]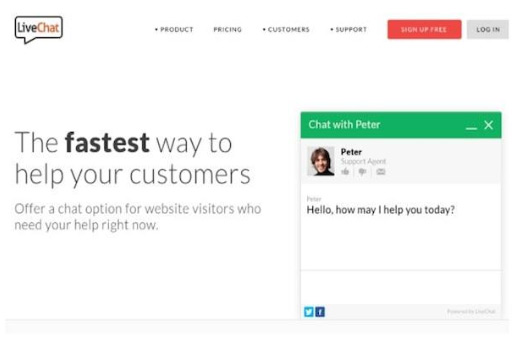 Source: E commerce Platforms[/caption] Ecommerce has caught the fancy of traditionally offline businesses because of the huge profits that can be earned with low investments. To know more about how you can increase your ecommerce sales and keep your customers happy, just drop us a message and we will get back to you.