August 29, 2019
Why it is important to take risks on Social Media?
If you don't take risks on Social Media somebody else will. We are now in an era of experimentation as our online audience is always on the lookout for something new, something interesting, something that they have never seen before. This is the time when advertisers can really start getting creative and take more risks and learn what works and unfortunately what backfires. A recent experiment that has totally worked for various brands is brand conversations on Twitter. Zomato India has been one of the first ones to start these conversations and become trendsetters in the space.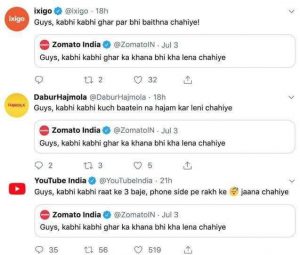 Zomato's tweet
"Guys, kabhi kabhi ghar ka khana bhi kha lena chaiye"
is something that is a complete 1800 from their positioning of being a food delivery app. Zomato challenged the status quo and broke the monotony by this tweet. The tweet being different broke the clutter resulting in conversations around the brand to an extent that other big brands like Ixigo, Dabur Hajmola, Youtube India, and such also participated in the conversation. This tweet started a trend where most of the major brands on social media started conversing with other brands via Twitter making it fun for consumers to follow the brands. Another tweet that went viral was Zomato's
"Save Water, otherwise chai kaise banaoge"
tweet which was essentially Zomato preying on its consumers' social awareness. The unconventional take on a serious topic was a risk that worked in their favor but it could've totally backfired. Just like Zomato, there are multiple brands that have taken risks that have generated conversations around them. Here are 3 reasons why you should take risks on Social Media:
Consumers are inspired by brands that take stands. Taking a stand on social and political conversations can be risky for brands but the youthful consumer is more welcoming to brands that take a stand. They want to hear from brands that converse in intelligent, quirky and impactful ways. According to Sprout's research, two-thirds (66%) of the respondents felt it's important for brands to take a public stance on leading social and political issues.
Personifying the Brand. Mr. Anand Mahindra, Chairman Mahindra Group, is a role model for all CXOs of the country. With the followership of 7.2 M people, he has the capability to reach out to the consumers and establish a connection, and that is exactly what he does. Whether it is about starting a movement or a quick chat with Elon Musk or engaging in fun, light-hearted conversations with fans, Mr. Mahindra has established himself as a brand on Twitter. Twitter is a platform where the top management can directly connect with the consumers and as a result, act as an advocate while personifying the brand.
Recognizing other brands on Social Media. Recognizing a brand on Social Media can seem risky as interacting with them might give them the leverage to connect to your network of audience. But, it could also mean you leveraging their network along with highlighting your product/service USPs.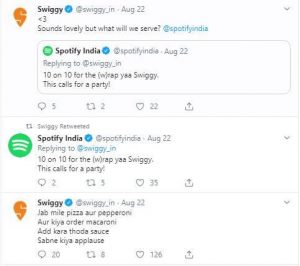 As brands strategize about how to best use social media to engage with consumers, they're also increasingly engaging with each other. Whether the banter is friendly or snarky, it is to capture some recognition for being clever and quick and gain attention and followers on platforms like Twitter. Spotify and Swiggy, a recent brand partnership that rose in lieu of the brand conversation trend on Twitter. The two brands partnered on Twitter to reach a wider network of consumers. A quote from Beth Comstock (former Vice-Chair and Chief Marketing Officer at GE) new book,
Imagine It Forward: Courage, Creativity, and the Power of Change
,
"What I tell them is that it really comes down to a (relatively) simple equation: great content + the right time, right place, right audience + amplification through conversation + shout louder than we spend = massive ROI. You have to grab shares of people's hearts and minds before you can hope to grab shares of their wallets or loyalty. And you always have to make room in your budget—and mindset—to challenge and experiment"
is a piece of well-thought advice to all the marketers in this world of ever-changing social media. So, take risks and take over people's hearts and minds with content that speaks to them.